Ask the trade: Where are your supply concerns the greatest?
With Spring around the corner many in the trade are banking on a swell in demand for the great outdoors, but supply concerns remain rife. With many stockpiling any goods available some big bets have been placed, but will there be bumps in the road? CI.N asks retailers large and small what's in play and where the greatest gaps exist…

Which product areas or service parts do you have genuine concern you may struggle to service demand for as we head into warmer weather?
Graeme Hart, Hart's Cyclery
Bikes, mainly. I have been getting decent dates and supply from some manufacturers and I rented a storage unit at the end of last year and filled it with all the bikes I could get my hands on and to give me space for bigger than average orders that I don't have space for in the shop. The bikes I have now should mostly see me through to the Spring, but I'll need more stock to start arriving by then.
Some components I have concerns with. Certain Shimano lines are looking bleak, like GRX. As long as I can get what I need for repairs and servicing that's the main thing: chains, cassettes, tyres, tubes. I've got pretty healthy stock of that in the shop already. Folk planning fancy builds might have to wait for parts, but there's not much we can do about that. I have a couple of builds planned for March already, when I'm hoping certain framesets and groupsets will arrive.
Neil Holman, George Halls Cycle Centre
I don't think we will have the major shortages of service parts like we had in April and May when everyone ran out of 26-inch tyres and tubes, but I do think when we need some of the higher echelon equipment there will still be long lead times and shops will have to do more research and even buy from other retailers to keep the shop fronts and workshops fed. I am already seeing it with Shimano Ultegra and Dura Ace parts.
I know myself, during the first lockdown and well into the summer months, some weeks I would be sat on the computer going through different supplier's websites for hours every few days sourcing the parts to keep the workshop fed with the equipment the mechanics needed so not to form a large backlog of half completed repairs.
Peter Lazarus, Decathlon
For servicing the lead time for all main manufacturers is getting longer by the day. You may find a groupset here, a bottom bracket there, but not enough to finish a bike. I think we will require a degree of flexibility from both the trade and consumer alike. For example, if a specific crankset and BB is desired maybe we will now have to be happy to instead carry an equally good bit from another label. This might open trade up to mixing componentry. That may mean too that after sales care needs to carry that same understanding for a period of time.
Decathlon is now preparing a circular economy strategy for launch in 2021 that will take a three-pronged approach to the challenge and future sustainability; these include resale of soiled, unsoiled and returned goods that have been refurbished; a policy that prompts our workshops to create a circular economy with componentry where the quality remains high; and the third we will call a buy back option. Here we will buy a customer's second-hand Decathlon bike for money, or vouchers to spend in store. That bike will be resold once certified fit by our mechanics.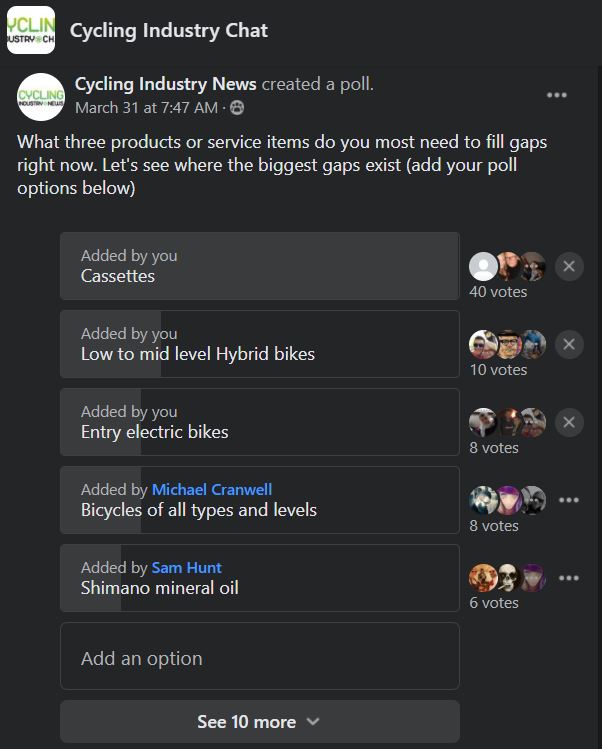 Price increase are now inevitable on many goods, but what factors are suppliers blaming most of all – shipping costs, Covid, Brexit?
Graeme Hart, Hart's Cyclery
It seems to be a combination of worldwide shipping, container prices (up six-fold, I'm told) which is Covid related, and customs admin fees because of Brexit. I have been speaking to all my big brands this week and some have better, more dealer-friendly solutions, than others. One has said they will absorb all port admin costs, another has put its prices up by £100 across the board.
I think once they have worked out how best to manage consignments to minimise admin fees the financial penalty will be minimal, but bikes might take a few days extra to arrive from the EU to fit with a forecast schedule, rather than ship to order as before. Brands that make the shipping easy will gain sales in the UK, those that make it difficult will lose them.
I got a call from another supplier at the end of January saying they are increasing prices by 14% and that they will absorb 3%. So that will mean more expensive bikes in the case of that brand. Honestly, there's not much point losing sleep over as most brands will be in the same boat and the main currency this year is going to be having stock.
Neil Holman, George Halls Cycle Centre
The few I have spoken too, it is a mixture of all three. Shipping container costs have gone up, there are container supply shortages and not just in the bike industry, but across the board. Because of social distancing a lot of the factories have a third to half of the amount of staff in. UK firm Pashley is a good example. Currently it is 26 weeks from ordering to supply whereas it used to be six weeks if it wasn't already on a production run.
Brexit has many new rules and regulations to source products from Europe. Until this has been running for a while, like most new things, it takes time to adapt and iron out the kinks.
Peter Lazarus, Decathlon
To be blunt, price increases are coming from Brexit for us. Import duties are applicable to EU shipped goods we carry. There is an increase in shipping costs too. Not four-fold as I've heard, but substantially up at present, nonetheless. Boats being idle at the docks is not normal, normally they're turning around right away.
Covid of course helps nothing. Because manufacturing capacity is down, it is more difficult for shift work patterns to be consistent; people can't work in the same density and pattern as before.
Every percentage drop in our exchange rate has an immediate direct impact on cost of goods, so volatility is unwelcome. You may hedge currency for a limited period, but this carries inherent risk of buying at poor rate in the end.
The final issue is local demand, which can be volatile in both directions. With bonkers growth demand moves beyond supply and it's simple economics that you have to compensate with price adjustments. The trick for our business is that we still wish to make cycling accessible, so Decathlon has to be strategic about that.
How are you managing customer expectations on supply?
Graeme Hart, Hart's Cyclery
I am just trying to encourage people to buy and order bikes that exist. I'm basically saying, if this bike ticks 80% of the boxes (apart from size, I never sell someone the wrong size) and you want a bike sooner rather later, just buy it. Obviously, if they are prepared to wait, then that's fine, but some bikes are going to be a long time coming. They give me a deposit, I'll order it and we wait.
Neil Holman, George Halls Cycle Centre
We will only sell bikes we have in stock; if we have a bike on order that a customer wants then we will reserve it for them and keep them informed 100% of any changes. We tell these customers that if they can source the bike they want themselves, then great, just let us know so a "reserved bike" would then become "Free stock" and if they did get one and it arrived in a box, they can bring it to us and we would build it up for them, at our normal build up cost.
Even now with repairs we tell customers if we have to order in a part it might be days or weeks, but we will keep them informed. I think providing you do this, 99% of them understand. Giving guarantees can lead to big trouble.
I remember some years ago when we sold a whole load of BMX bikes for Christmas and the beginning of December the docks were all frozen up and the containers couldn't land. One of our suppliers had a container guaranteed to be with them on the 22nd December, over two weeks later than it should have been. I drove down to their place, booked myself into a B&B around the corner the night before and then drove round at 6am that morning, helped them unload the container picking out my 13 bikes and then got them all in my Kangoo and drove over 150 miles back to my shop so not to disappoint my customers.
Peter Lazarus, Decathlon
Customers have been extremely understanding on the whole, so it's manageable. We have shifted our resource around to meet where the demand is coming from at present, so the central customer team is bolstered. We have also begun handling live online video calls so that customers can outline their problem or request and we can guide them accordingly. It has saved money and time for both parties.
They've been brilliant, actually. Many know there's no point kicking a business while we're down. I know we may have disappointed some, but who hasn't, this entire period has been unplanned and traumatic for all.
For further insight into the goods that are most sought in the trade, check out CI.N's trade-locked Facebook group discussion here. Furthermore, you can read our assessment of the industry's drivetrain supply picture here.