Beryl launches week-long amnesty in Bournemouth & Poole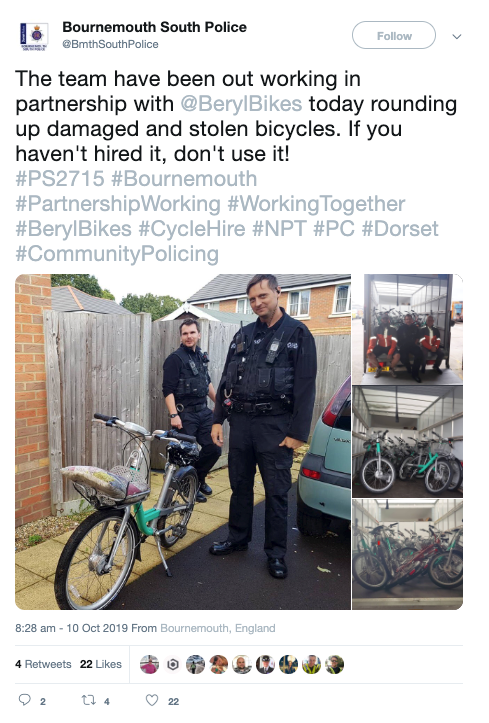 Hybrid bike share scheme provider Beryl is encouraging members of the public in Bournemouth and Poole to help return its fleet to full capacity in a week-long amnesty, running 21-27 October.
In conjunction with Dorset Police, Beryl is calling for people to anonymously report or return misused, vandalised or stolen bikes to the scheme. The amnesty follows recent action from Beryl and Dorset Police where they jointly retrieved bikes from several private properties.
Those with the bikes currently in their possession are asked to return them to their closest Beryl bay during the amnesty period. No action will be taken against anyone returning or being in possession of a bike during this week.
Beryl CEO Phillip Ellis hoped the amnesty would appeal to the better nature of vandals: "In recent months we have seen a few instances of misuse of our bike share scheme. We want to use this amnesty to inform the wider community, those individuals who are taking bikes into private properties and the few that are vandalising bikes, that these actions are criminal offences. Our aim is ultimately to run the bike share scheme at its full capacity."
Beryl announced it had been appointed operator of the bike share scheme for the area in February this year, and has since launched schemes in Hereford and City of London.
Chief Inspector Pete Browning of Dorset Police added: "Recently we've worked with Beryl to provide advice around crime prevention and ways to reduce opportunities for the scheme to be misused by a small minority. If you cause damage to a bike or fail to return it to the scheme, this is a crime and we will investigate it in line with other similar offences."
Members of the community can anonymously report bikes that are held on private property, vandalised or stolen on 02030035044 (7am-9pm Mon-Sun) or via email support@beryl.cc or by reaching their local support team via the app.