Olympians' signature cycling lines drive Halfords trading
Halfords' trading update has pointed to strong sales of signature lines produced alongside a number of cycling Olympians as a driver for positive financial results.
Like-for-like revenue in cycling for the seven weeks to August 19th produced a 12.5% rise, particularly promising given the last quarter's 4% fall.
Having teamed with Bradley Wiggins and Laura Trott, among other UK cycling stars, chief executive Jill McDonald singled out the deals as key to offsetting previous underperformance.
She said: "I am pleased to report a solid year-to-date trading performance, with Group sales up 4.8% and service-related sales in double-digit growth as we continue to strengthen Halfords' position as the first choice for customers' journeys. Motoring sales were robust, driven by car and motorcycle parts, roof boxes and child seats. Good growth in Cycling sales during the peak summer period was supported by new ranges, strong promotional activity, good weather and the success of Halfords' Olympic cycling heroes. We continue to make good progress on our strategic initiatives; we can now match 25% of our Retail sales to specific customers compared to only 3% last year and in recent weeks we have successfully piloted contactless payments and also launched the new Cycle Republic website."
The group's sales were further bolstered by +4.8% in retail sales, as well as 4.6% more trade across the autocentre portfolio. Service-related trade grew by some 13.9%.
The firm now runs 461 Halfords stores and 12 Cycle Republic shops in the UK and Republic of Ireland.  Customers can also shop at three Tredz stores and a Giant store in South Wales as well as online at tredz.co.uk and wheelies.co.uk for cycling products and direct home delivery.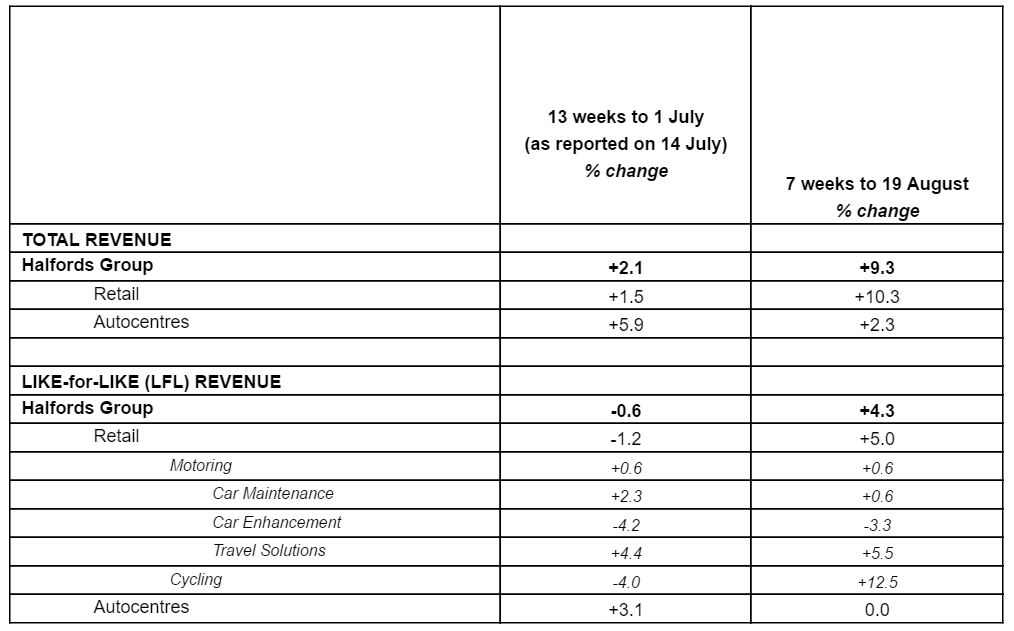 David Cheetham from analyst XTB.com commented on the results:
"The latest trading statement from Halfords has seen a decent pick up in activity, as the firm has reported a substantial increase in its retail operations in the 7 weeks to the 19th August. The best performing business segment was cycling which has seen sales shift up through the gears with the twin boons of good weather this summer and perhaps more importantly an exceptional performance in the Olympics by team GB.
"New ranges from Laura Trott and Sir Bradley Wiggins have raced off the starting line and contributed to a 12.5% increase in sales of cycling products on a like for like basis. The last trading update in the middle of July disappointed investors, but this latest release goes some way to get the firm back on the right track.
"The share price experienced a significant decline along with many UK stocks in the immediate aftermath of the Brexit vote, but has since recovered well, and in rising almost 10% in the past month has recouped the majority of the declines to trade back close to pre-referendum levels. The road ahead may prove tricky and filled with potholes as the UK attempts to negotiate the terms on which it will leave the EU, but this latest trading update leaves the firm well positioned to emulate it's Olympic heroes and break away from the pack."