Need cycle project funding? ECF launch observatory for up to €2Bn in EU cash
The European Cyclists' Federation has announced what it calls an EU Funds Monitoring Observatory – a tool to assist project managers in the allocation of cash to their cycling development projects.
In creating the tools, the ECF "conservatively estimate" that there's a potential €1.325 billion in EU cash available to cycling between now and 2020. That figure could potentially be far greater if indirect implications of EU allowances are accounted for. At a maximum of €2.041 billion, the ECF believe that the funding pool is between two and three times higher than the prior window.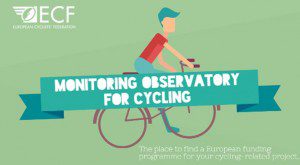 Aiming to assist planners in finding funding, the tools will offer a searchable platform whereby you can easily identify under which programmes EU cash is available.
The Observatory provides an overview of over 200 different programming documents covering the whole of the 2014-2020 EU financial period. For each document the ECF has checked both the wording, to highlight useful references, and the funding distribution to estimate how much could potentially be spent on cycling-related projects.
The tools provided are Operation Programme and best practice Case Study searches, each offering territory specific searches.
The ECF stress that identifying funding opportunities is only part of the process. Projects will need to put together a successful application for the cash, something for which the organisation will be developing further tools to assist candidates. The best practice case study tool is a good starting point if you've a project you'd like to see come to fruition.
See here for more details.