Bikmo and StolenRide insights show UK's deteriorating bike theft problem
Fresh insights stemming from specialist insurer Bikmo and bike theft portal Stolen Ride have painted a picture of the UK's torrid time tackling the issue of stolen bicycles.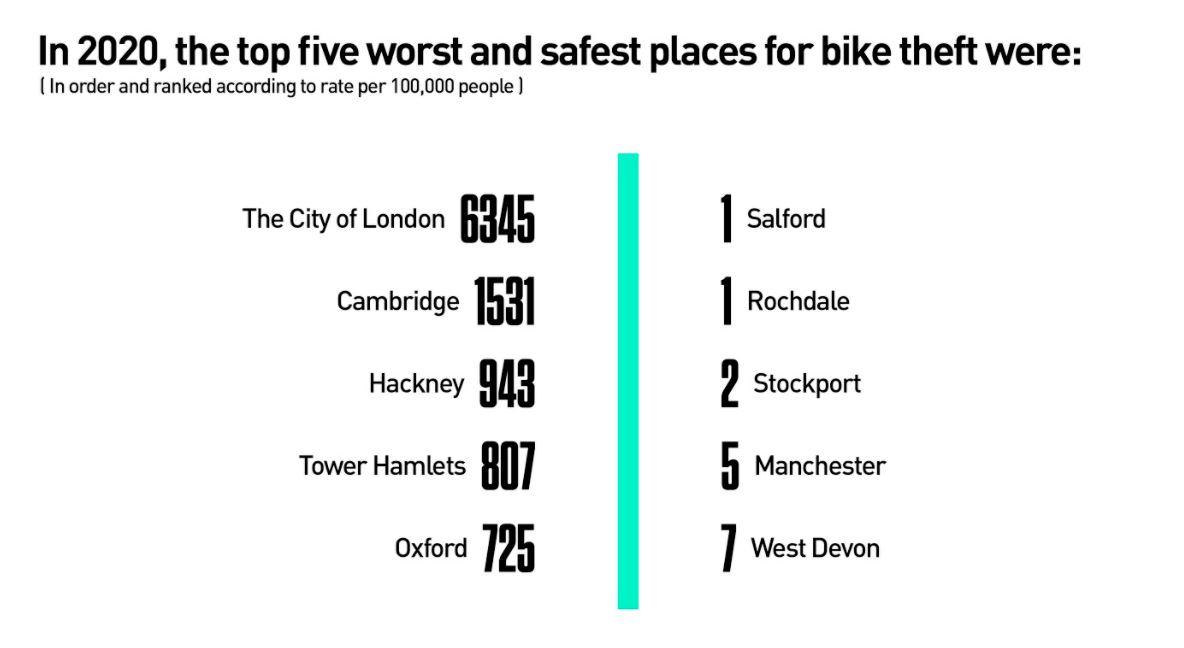 Today Bikmo launches an interactive bike theft tracking tool, based on publicly available police data, which it has made available free.
Bikmo's new heatmap shows bike thefts in England and Wales for the whole of 2020. Overlaying this with population data, areas are then given a rate of theft per 100,000 residents. Showing a live table of the worst and safest areas for bike theft, cyclists can now view theft trends in their local areas and identify hotspots of reported incidents.
According to the aggregated data, a whopping 74,573 bikes were reported stolen in England and Wales in 2020.
When grouped and split into the UK's 12 regions, Greater London had the highest rate of bike theft. With 492 thefts per 100,000 residents, this was well over twice the rate of the next worst region – the East of England  with 159.
In 2020 the worst location for bike theft in terms of total number of thefts was Hackney, with a staggering 2,324 reported thefts – up 46% from 2019. Such a hotspot for cycle theft was Hackney that incidents in that borough alone made up over 3% of total reported bike thefts across England and Wales.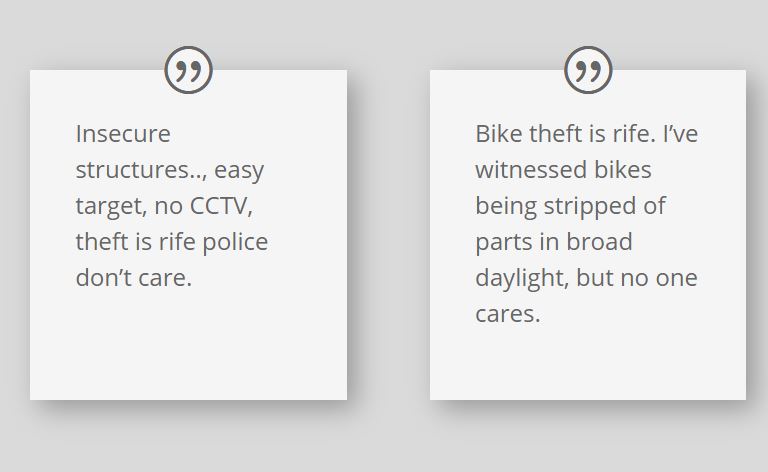 Also specifically in London, Stolen Ride undertook a flash 24 hour study of active users of cycle parking facilities, drawing on the feedback of over 250. The resulting data highlights how cycle users struggle with suitable and secure cycle parking, with 91% describing their cycle parking experience as lacking in meaningful protection such as CCTV coverage. Likewise 91% said the cycle parking in London was "inadequate".
Comments included: "I personally avoid locking my bike up outside in London. Which limits my journeys by bike", "Once you get a bike that is above a certain value threshold you CANNOT lock it outside," and "Cameras usually point at them, but then police don't bother checking cameras anyway."
There is, sadly, seemingly some truth in the latter comment on the police's priority when it comes to theft investigations in the city. Crime data shows that year-on-year cases investigated and dropped by the MET within 24 hours of a report more than tripled.
Just 5% of the Londoners surveyed described the cycle parking in the city as 'good, with 95% believing their bike to essentially be unprotected from damage when parked.
Though cycle parking availability is gradually improving, cyclists felt kept in the dark about upcoming developments and thus were often of the belief that no secure parking existed on certain legs of their journey.
With the issue of safety at the forefront of Londoner's minds given recent headlines, Stolen Ride received a startling response to perceived safety around parking hubs. 77% said they felt unsafe in such environments, with fears of on the spot muggings running high in the comments gathered.
According to Bikmo's assessment of the data the North West recorded low bike theft data, though the cycle insurer did point out that Greater Manchester Police had not reported some crime data, potentially skewing the figures. It therefore believes Wales to be among the safest parts of the UK for bike security, running at just a tenth of the crime rate of London.
Bikmo are apparently able to determine from its heat map the safest areas to park a bike and found the top four "safest" spots are within the jurisdiction of the Greater Manchester Police. The next lowest figure came from the picturesque borough of West Devon with a rate of just 7 thefts per 100,000 residents. This was then followed closely by Torridge in Devon and the Welsh principal area Ceredigion, with rates of 9 and 11 respectively.
High modal share Cambridge fared predictably badly with a rate of 1,531 bike theft incidents per 100,000 people. Likewise, fellow university town Oxford was in the top five at 725 thefts per 100,000. Whilst still the second worst area for bike theft, Cambridge showed promise for the future with the biggest fall in rate of thefts; dropping 554% from 2019 to 2020.
Commenting on the launch of Bikmo's new bike theft tracker, CEO David George said: "As more and more people begin to realise the many benefits of cycling during the Pandemic, it is only natural that fears around bike theft will rise. We are proud to today unveil a brand new public tool, allowing riders across the country to view annual bike theft rates in their local area and identity hotspots where crimes are being reported. The new tool will be regularly updated to provide an ongoing resource to members of the public. We hope this will be useful to the fast growing number of riders, and help increase awareness in high-risk areas."