Buxum bike boxes brings production home to Devon
In the second story of its kind this month, flight case maker Buxum is reshoring its production to Devon.
Currently produced in Hong Kong, the aluminium flight boxes are soon to be produced in a new unit on Okehampton's Exeter Road industrial estate. Initially the facility will house the firm's European distribution, but will grow to house assembly operations.
Set up by Ed Morris in 2013, the firm now produces three flight boxes; the compact 'Tourmalet' for road bikes, as well as two versions of the larger 'Ventoux' for road-bikes and for mountain bikes.
"The first two years have seen the development of our three-model product line-up manufactured in Buxum's workshop in Hong Kong, but this is now set to change as I relocate back to my home county of Devon and bring the business with me, added Morris. "I'm delighted it is all coming together. We signed a lease on a manufacturing unit in Okehampton at the end of February and are now starting the process of gradually transitioning production of boxes from Hong Kong to Devon over the course of 2016."
A further advantage of the relocation will be lower logistics costs and with a customer base largely split between Asia, Europe and North America at present, Morris says he'll be able to offer competitive shipping to European customers, among others.
North American sales have risen 100% year-on-year and the appointment of Exeter-based Bleep Communications to handle the firm's digital marketing, social and PR activity has offered key assistance in the expansion.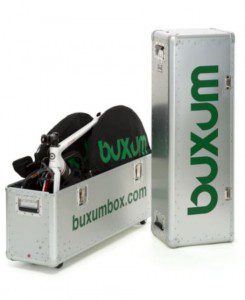 A final driver in Buxum's move is the macro-economic environment which has seen the cost of Asian manufacturing steadily increasing, to the point where assembly and a proportion of component-sourcing is increasingly viable in the UK and Europe.
China, where most of the Buxum components are currently sourced from, is no longer considered a low cost destination, says Morris, nor does it want to be as China's government transitions the economy from one of export-driven manufacturing to one of domestic service and consumption.
The focus of the design, concludes Buxum's boss, has been around four key elements; best-in-class strength/safety, to be light enough to avoid excessive baggage costs, eminently recyclable (95% aluminium) and highly functional in terms of ease of packing, airline security inspections and manoeuvrability.
Councillor Andrew Leadbetter, Devon County Council Cabinet Member for Economy and Growth, said of the reshoring: "We would like to extend a very warm Devon welcome to Buxum and its founder Ed Morris. We're delighted that the company has chosen our county as its new home as it continues its expansion plans. As a manufacturing business trading internationally, its relocation from Hong Kong to Okehampton is further proof that in a global marketplace Devon is a premium business location. It's good news for our local economy to hear that Buxum is planning to recruit locally in line with the company's plans for growth."
Aprire Bicycles too has this month announced reshoring plans, with the set up of a carbon fibre frame and component production line now in the works. Read CyclingIndustry.News interview with founder Phil Dempsey here.