Comment: HighStreetMentor goes shopping for inspiration
During the Spring HighStreetMentor.co.uk director and bicycle business consultant Mark O'Dolan visited Bryan Avory's Basing Cycles in Hampshire. Writing from the customer's point of view, O'Dolan reports back on what he found most engaging about the business and how it manages the customer interaction…
The experience started on entry with a friendly welcome from a member of the sales team standing at the front of the shop, not behind the till.
The welcome was spot on; from the staff member's acknowledgment of my entry down to the shop ambiance. Potential customers make a decision within the first five seconds if a shop is logical and meets their desired shopping experience. That takes in a number of factors; is the shop easy to navigate, do staff appear knowledgeable, excited to help, and do they deserve your spend. This is achieved in Basing Cycles and it's a "recipe of good retail disciplines" that make this work. First impressions are critical and there are a number of factors that help customers feel at home. Cleanliness is a must, imagery and signage
on the walls to visually engage the customer is also crucial. Then there's the more subtle design features; like front wheels of the bikes facing the same way with point of sale swing tickets that are professionally printed with price and information.
The owner
Bryan looked like an expert. Wearing his Pearl Izumi top and trainers, he was more than happy to tell me about himself and why he opened the shop four years ago. He explained he had a background in heading up IT companies and not retail. He also said he loved cycling, but this was not the reason he invested in a cycle shop. He did it because he could foresee an opportunity to make money. The fact that he wanted to turn a profit meant that he recognised the need to learn about retail and crucially, he is still learning. He explained he has built his business up carefully growing at around 10% year on year and he has done this through strong cash flow management and a critical stock turn
of five times a year.
He also has a keen focus on market trends. When it comes to product none of us get it right every time. There will always be a colour, size or, at worst, a whole category that simply does not sell, but that is not a mistake. A mistake is not having the controls in place and commercial acumen to spot a 'dog' and then turn it into cash. 'A dog is a dog' and won't suddenly turn into a seller if you have merchandised badly and therefore the first action is do it right.
Bryan's attitude is clear when it comes to slow sellers; his policy is to turn them into cash with promotions. Retailer's should consider clever all year round promotions like of "two for" style offers as an ongoing strategy to stimulate sluggish sales. Don't just wait to clear stock in a sale and destroy the margin. Consider buying in high margin 'deals' in advance of the sale then put it in the sale. Bryan puts the product line into a promotion and turns the stock into cash so he can keep investing in new stock. Worth mentioning is Bryan's attitude to learning. He confesses to "stepping out of his box" to visits other high street retailers. Superdry is one such fashion outlet he flags as having delivered merchandising inspiration. This is important because customers walk from these kind of businesses into yours. Bryan agrees to keep consumers happy the experience needs to be as special as you can make it, or they might as well go to the internet.
Product offering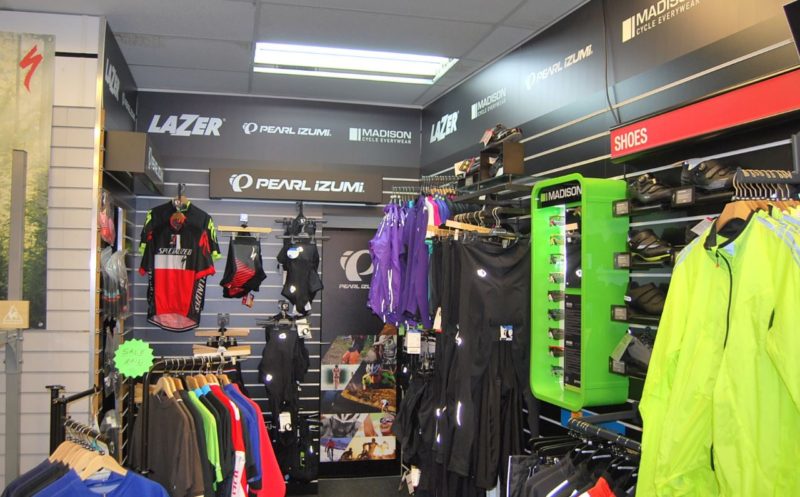 Customers need to see clear categorisation of the product without having to ask a member of the team otherwise risk low conversion. In Basing Cycles accessories, clothing and bikes are all clear in terms of merchandising and themed with great use of the walls, but what stands out is the fantastic EBike range. We worked out it must represent 30% of the bike range with an entry price of a little over £1,000 up to £3,999.
I wanted to drill down further to understand which were best sellers and why. Bryan was quick to respond, but due to lack of EPOS we could not get to the detail we wanted at the touch of a button. I wanted to know the sales participation of each product category, the margin, and the sales percentage to space to understand the profit productivity to see if there was commercial action to be taken. He acknowledged EPOS is one of his next investments, but he wanted to make sure he got the right system to move the business on to the next level.
Without looking at numbers, Bryan is doing well with electric. He offers a fantastic display and without any strong website or SEO presence he is becoming famous within his area for his depth of range.
Imagery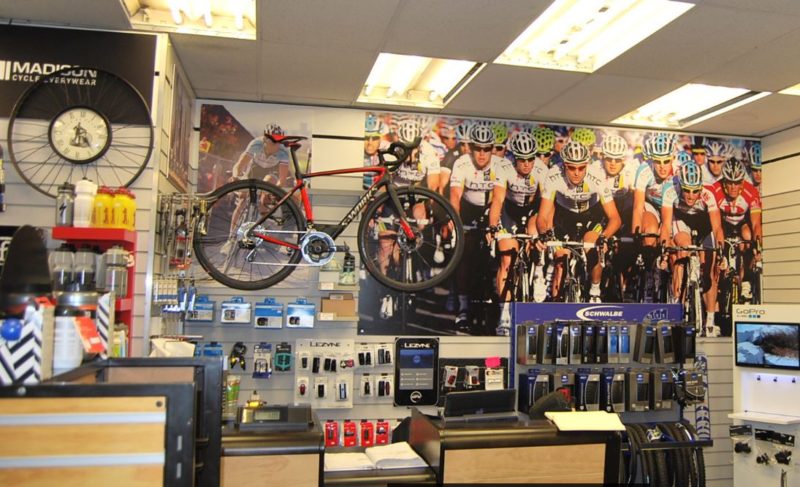 Bryan strives to improve shop ambience with imagery, display techniques and of course good customer engagement. A mandatory daily shop standards inspection is how you lift and sustain shop standards. The inspection starts from the windows and continues throughout the store. What's more, it is undertaken from a newbie's perspective if you can adopt that mindset.
An important point Bryan makes is that when he started out he got great support from Specialized, Bianchi and particularly Madison. He still gets great advice in terms of what product he should offer, imagery and merchandising techniques.
Pearl Izumi clothing stands out well with good branding and good retail principles. Bryan tells me he does good business with Pearl Izumi bibs and Madison jackets and that's not surprising when you look at the
presentation. Gone are the days of hand written signage. This kind of poor product management only devalues a brand and kills full margin sales.
Development
I recommend store managers visit other retail organisations once a month to pick up ideas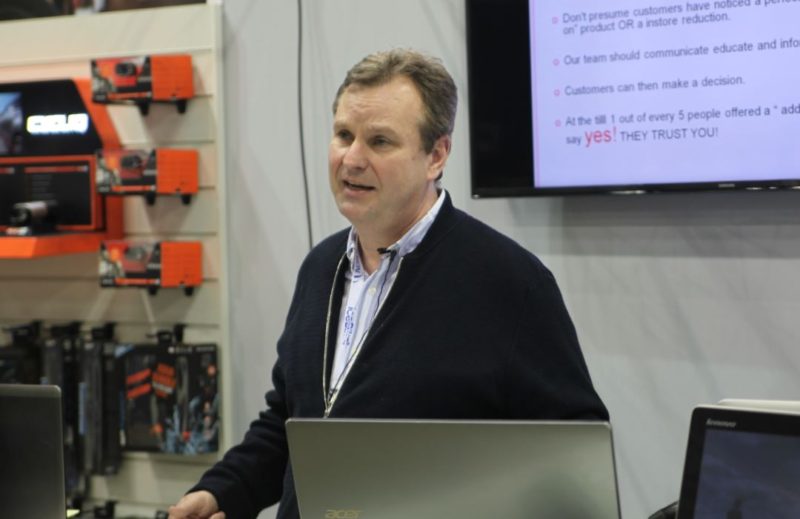 and invest in self development books and training courses. I recommend a book called "Retail Success Today" available from Amazon, or my website. It is designed to help independents in all retail sectors with focus on three critical areas to running a profitable business; visual merchandising, marketing and finance management.
Contacting Mark…
If you should require help to improve your profits, please call 07951022907, or email him here.