Updated: Giant debut e-road category in UK and Ireland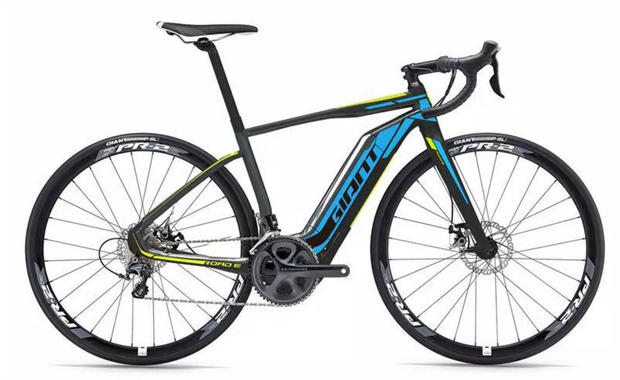 Giant has revealed a new segment for its electric portfolio with the Road E Plus.
Giant's UK product and training manager David Ward has now confirmed: "The Road E is a brand new product for 2016 and the first delivery is planned for May. We showed a mock up at our dealer launch in August last year as it will arrive mid season. As far as I'm aware only the UK and Eire will have these bike this season. The rest of Europe are waiting to launch with the MY17 range. These 2 models will run for 15 months so won't change in August."
In the firm's marketing, the E+ 2 appeared to be a 2017 model year bike and the rendering also appears to have very subtle changes to the frame design. The battery is built into the downtube on both.
The E+1 (£2,749 and Ultegra) and E+2 (£2,299 and Tiagra) builds both use SyncDrive Yamaha mid-motors and 500Wh/400Wh Lithium Ion batteries, which pair to offer 90Nm of torque.
When asked about conforming with European legal assist limit (EU reg 168/2013) of 15mph/25kph, Ward added: "All E bikes that we supply and sell in the UK and Eire are completely road legal and need no modifications or licences, so they are restricted to 25kph/250 watts/pedal assist only."
Could this be a category that emerges in numbers come Eurobike? We expect so and there are already teasers from Haibike, among others, of production units.
Giant concluded that they will test the market with these two, but "As for bringing the price down, the restricting factors here are the cost of the electric tech and the battery cost. We could slash the battery capacity to reduce the RRP, but feel that this customer will want the high capacity battery to exploit the bike's ability. 80Nm of torque so it accelerates and climbs."