Evoc reveals Enduro Shirt, fresh luggage, new bike stand and free crash replacement
Prior to a full range debut at Eurobike, Evoc has revealed a number of new items for 2017, including hip-mounted race packs, an 'Enduro Shirt' and a new bike stand for its travel cases.
Enduro Shirt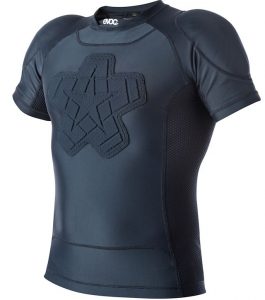 Supplementing its back protection range, Evoc has introduced what it calls an 'Enduro Shirt'.
Designed as a first layer, the shirt is designed with shoulder and chest protection in mind. For the shoulder region Evoc used CE-certified (EN 1621-1) joint protectors from SAS-TEC. The high elasticity of the removable, viscoelastic pads provide a comfortable fit, while careful consideration has been applied to the pads, which are very competitive when it comes to weight, temperature resistance and cushioning behaviour. They are also soft and flexible, and follow every movement on the bike. Thin padding on the chest in the form of a star offers light cushioning. Microperforation adds ventilation and breathability characteristics.
Hip Race Pack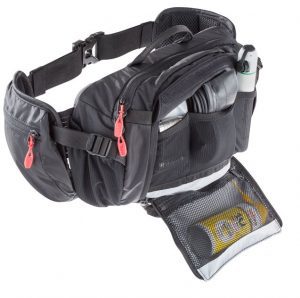 With feedback from team riders, Evoc has bowed to pressure to provide a hip-mounted racepack.
Priced €65 or €90 with a 1.5 litre bladder, the packs carry plenty of the tech you'll find in the brand's backpack portfolio, including the Air Flow Contact system, which, via specific cutouts, channels airflow and reduces contact with the rider.
A cleverly laid-out compartment structure with tool pocket, external pockets and two interior compartments offer sufficient space for tools, snacks, keys, smartphone etc. The Munich-based brand has also looked to provide riders with enough liquid while they are riding their bikes: The Hip Race Pack accommodates a 1.5-litre drinking bladder. Thanks to a specific magnetic system you can direct the drinking tube along the hip belt. If you prefer to position it the classical way you can attach the magnetic clip to your jacket, too.
The Bike Stand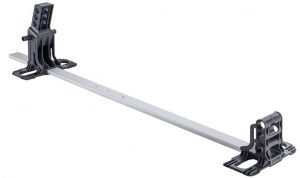 Accommodating 95% of axle types, Evoc's new Bike Stand is designed to reduce packing time, no matter which style of bike is being loaded.
Utilising two aluminium rails feature a front and rear hub connection at either end. The two aluminium rails are fitted into each another and fixed into the front hub. The rear is simply pushed onto the rail. Positions can be varied, according to the dimensions of the bike to be mounted. Thanks to its six-axle system (10 front axle adapters and 6 rear), immense versatility allows the owner to use one bag for all bikes.
If you're in the Eurozone, the cost will be €120.
Crash Replacement
Compliant with the standard for personal protection equipment (CE 1621-2), Evoc's Liteshield Protector technology now comes with a free crash replacement service.
"All protectors in this category should be replaced after a serious fall," says the brand. "We feel very strongly about the safety of our customers, we offer this service free of charge as part of our crash replacement. Customers with a broken or permanently deformed Evoc Liteshield (AIR) Back Protector register on our Evoc website. The request is directed to our Customer
Service, who will then contact the customer. The customer sends the protector back for us to check and we'll send a new Back Protector in the appropriate size, where necessary."
For customers outside of the EU, Evoc's distributor will handle the processing.