Merida's 2017 top-end packs in new tech while shaving the grams
Merida has broken cover with its 2017 line up, revealing heavy refinements to the successful Scultura and Big Nine, as well as hinting at a new Reacto track bike.
Scultura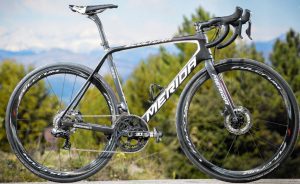 Starting with the Scultura, a bike debuted in 2016 yet overhauled for MY17 to accommodate disc brakes, Merida has worked hard to allow the rider as much time on the gas before stopping as possible.
Three builds are on offer, the carbon CF4 and CF2, as well as an aluminium entry level. A rim brake version does remain in the catalogue, if that's your customer's preference.
According to the firm, the Scultura is the beneficiary of "the biggest overhaul of tech" in the portfolio and it's evident in a number of subtle design features. Pictured here is a finned chainstay mounted heat dissipation sleeve, further driving down any chance of brake fade on long descents. During a four minute brake, the CNC-milled cooling fins reduced heat by around 35° Celsius,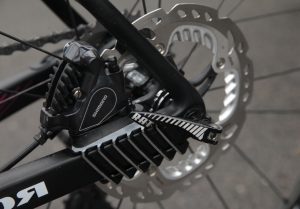 according to Merida.
You'll also notice the letters RAT on the QR lever – an indication of a 12mm thru axle skewer that requires just a quarter turn, allowing for speedy wheel changes.
Onto the frame and flatmounts at the front and rear feature on the CF4 and CF2, offering clean lines and reduced weight. In fact the frame come in at just 900 and 1,000 grams, respectively. The aluminium Lite tips the balance at 1,500 grams. As you might expect, adjustments to the fork and rear triangle grant stability under the one-sided braking forces that come with disc brakes.
Found under Team Lampre-Media, the flagship CF4 carries the most aggressive geometry of the three, while the CF2 and Lite are still performance-oriented but feature a much more upright seating position.
With a chainstay extension of 8mm, greater tyre clearance is on offer (up to 28mm), as well as fulfillment of Shimano's directive for disc frames.
Big Nine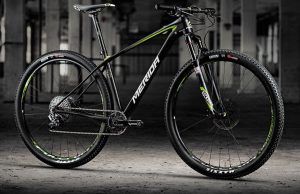 The featherweight Big Nine CF5 is now tipping the scales at just 900 grams for a medium frame.
Geared toward 1x drivetrains, Merida claims the flagship is still perfectly at home at marathon races and long endurance events. This is much thanks to engineering in comfort with 'Flexstay' chain and seat stays, paired with some clever finishing kit.
On that note, the seatpost stands out thanks to a tube shape has been manipulated to offer enhanced comfort. The 190 gram S-Flex offers vertical flex and will come in an all carbon Team version, or Expert version where the clamp is aluminium. There is, of course, also the option to internally route a 30.9mm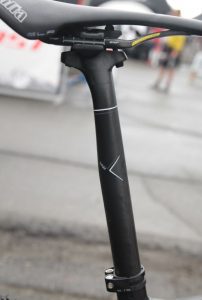 dropper post, if desired.
Influenced by the Scultura, the downtube too gets an aerodynamic tube profile. The front end has been tweaked to offer 25mm more reach, which in combination with a shorter stem and 7mm shorter chainstays make for an agile and capable hardtail. 1cm has been removed from the head tube in order to place more weight over the front wheel, boosting climbing ability and allowing more aggressive cornering.
Again, three builds are 0n offer and the geometry on the CF5, CF3 and Lite is identical.
Away from the attention grabbers, Merida did hint at an imminently due Reacto-based track bike, which would be a first for the brand.
There was also talk of a carbon commuter and a promise that urban bikes can be done with "sex appeal". Two urban ranges will feature in MY17 and the firm expects to sell "big numbers", we were told.
As far as electric bikes go, Merida will offer a new 160mm electric trail build and promises a much larger stock of the ever-popular power-assist builds going into 2017.