International cycling trade shows: Which should you visit and what do you need to know?
By Edward Benjamin Senior Managing Director, eCycleElectric Consultants with additional research by CyclingIndustry.News.

Pretty much everyone who works in the bike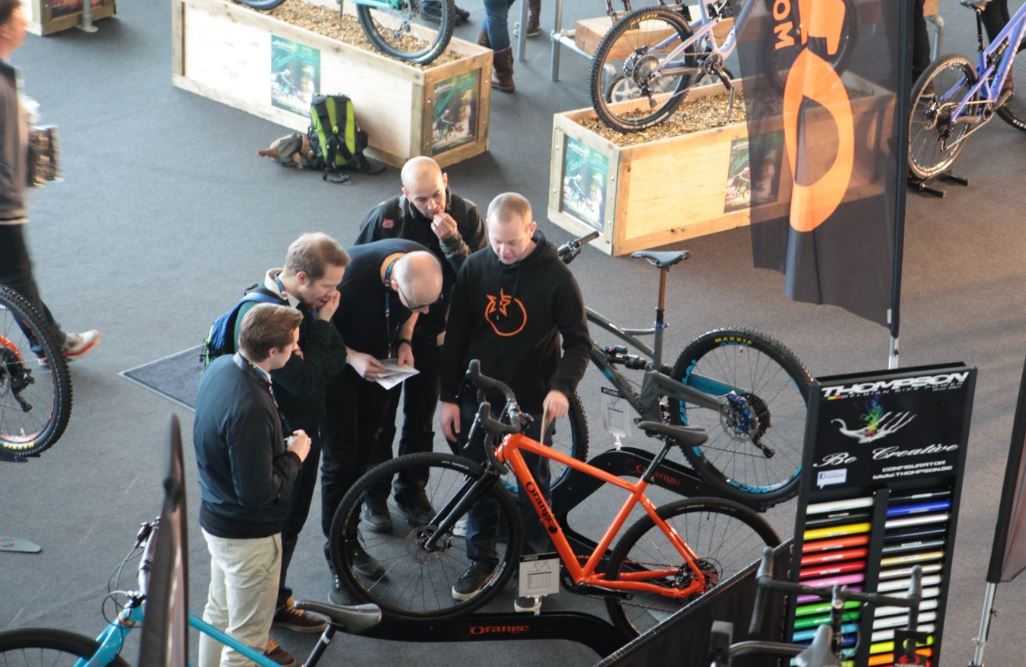 business has heard about the great international shows. Most of us harbor a desire to visit them, at least once.
But it can be a bit intimidating. Traveling to a foreign country, the cost of travel and hotel, can seem a barrier. So can the issues of language, culture, and knowing where to go and when.
So here is a guide and some advice to sit alongside CyclingIndustry.News' comprehensive global events calendar. I have attended 30 odd years of international shows, including Taipei Cycle, China Cycle, and Eurobike. Along with IFMA, INTERMOT, and a few trips to Tianjin Cycle, Taizhou Cycle, Taichung Bike Week, EICMA and Bangkok Motor Show.  (Then there's the domestic USA shows).
First thing I want to impart: This is not hard, it is fun and you will learn an enormous amount! With care, it does not need to be expensive. (You can camp at Eurobike!)
EUROBIKE
Eurobike is the largest event for western bike industry. It is held in Friedrichshafen, Germany. Look up the town. It is a cool place to visit and the area is great for road cycling and mountain bike riding. The weather is usually pleasant at the time of the show. Pretty much everyone in the world bike industry is at the show, either exhibiting or attending.
I have heard this show described as "Woodstock for Bike People". The energy, the big crowds, the live music, constant demos of free style and trials riding, the big test ride tracks, the back ground of the Zeppelin overhead, German beer garden in the courtyard, and more, and more, and more….is intense fun. Not to mention the enormous array of products on exhibition – although the exhibitor mix is changing as larger labels move toward house shows.
Admittance is a simple matter of having a bike business business card and paying a modest fee for admission ticket. You can do it online in advance, or your can do it in the lobby day of the show.
Hotels are a challenge at this show. The town is simply too small for the huge attendance of the show. The local hotels tend to prioritize rooms availability according to how long you have been a customer of theirs. For a first timer, this is a problem. But..there are some work arounds…there is a delightful town across the big lake, called Konstanz. There are usually rooms available there, and the ferry ride across the lake is a nice way to start the day. Or rent a car and stay some distance from the show. There is a camp ground adjacent to the show. You'll actually see a lot of people sleep in their car.
Food: there is a lot of international cuisine, as well as traditional German food and of course, excellent beer and wine. Many small places along the waterfront are worth a punt.
Tourism: this is a great place to ride your bike. Or to take the ferry about the lake. Of simply sit in the town with a beer and a relaxed attitude. Engineers will love the Zeppelin Museum.
INTERBIKE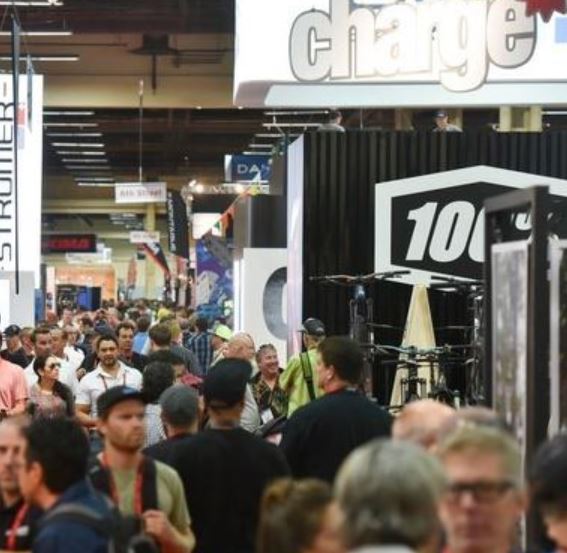 This is North America's largest exhibition and comes paired with a prior Outdoor Demo event.
There is currently suggestions that the show may not remain in Las Vegas, but for 2017 the industry will descend on the Mandalay Bay Convention Centre.
Visitors to Interbike have hotels in abundance to choose from, including the host venue and attached Luxor.
You may tend to discover a strong variety of up and coming businesses at Interbike shoulder to shoulder with many of the brands you'll also find at Eurobike. The show's layout is easy to navigate, organised in "streets" visible overhead.
The Outdoor Demo is considered an excellent opportunity to sling a leg over new bikes. If you're heading into the hills a free uplift service is provided to the summit. If you're heading toward Lake Mead the route is segregated from traffic and paved almost to the shore line and the water is warm enough in summer to have a dip mid way and be dry by the time you've cycled back to the demo area.
Food is widely available throughout the venues which tend to keep you fairly captive for the duration of the show.
Bordering Arizona, should you have spare time at either end of the show you are just hours away from the Grand Canyon and within cycling distance of the Hoover Dam (though beware the heat and take plenty of fluids).
TAICHUNG BIKE WEEK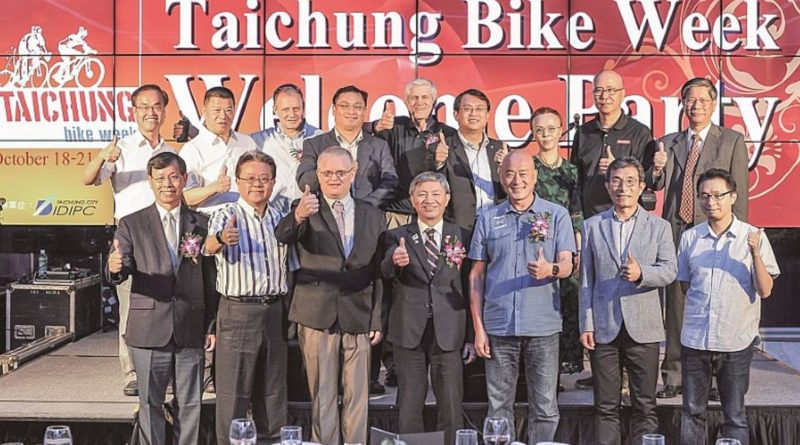 Having ruled out a collaboration with the Taipei Cycle Show, Taichung Bike Week is defiant in remaining its own purpose built industry event.
Outlining why he feels Taichung Bike Week to be key for the industry going forwards, organiser Steve Fenton said not only is the timing and venue right, but he believes it's the most cost-effective way for the industry to do business.
Fenton stressed: "My company spends on TBW only 3% of what it costs to be at Taipei cycle show. Not only that, we do real business, and in privacy. At exhibition center venues you say hello to people you talk to almost every week. That's a very expensive way of saying hello."
Indeed the show continues to grow, with the 2016 event adding accommodation of the Lin Hotel, adding a five-star resort for visitors.
Bike Week is considered the insider's show, and it is not so easy to attend. Admission to the show is easy, but most of the action is in hotel suites, by invitation only. It is not an easy place for the first time visitor, and unless you are a product manager or otherwise connected with the exhibitors, you may find it frustrating.
Dates for the 2017 event have now been set as October 17, 2017 and October 20, 2017.
TAIPEI CYCLE SHOW
Taipei Cycle Show is held in Taipei, Taiwan.
This show is the place where most of the goods that are offered for sale in western bike shops are purchased from the Asian bike and component factories by the brands.
Taipei is one of the great international cities of the world, with abundant hotel rooms, outstanding food, and almost everyone you will meet will speak English as well as Chinese.
For a first time visitor, the experience can be overwhelming as you will be immersed in a traditional Chinese culture. That is also a big part of the fun.
Admission to the show is easy – a business card is all that is needed. On line registration is also easy. Getting from your hotel to the show is best done on the metro. The blue line and the brown line both serve the Nangang convention center. If your hotel is close to a metro line, you are close to the show.
This show has two test tracks, and is heavy on component suppliers. if serious business discussions are wanted, advance appointments are best. Arranged by a mutual friend, if possible.
Hotels in Taipei are usually very good. And not too expensive. There are also very nice and comfortable hostels.
Food is a strength of Taiwan. There are legendary restaurants, and many small local places.
Be aware that the currency of Taiwan (New Taiwan Dollar) is also marked with a dollar symbol ($ or NT$). But NT$1 is worth about $0.03 US Dollar, leading to some initial confusion when you see a $100 cheeseburger, for example.
Tourism: Taiwan has a vigorous cycling culture. It also has scenic mountains, seashore, and the National Museum where all of the treasures of the Forbidden City wound up in 1948. Worth a visit all by itself.
For 2018 the show will shunt into Autumn.
CHINA CYCLE
China Cycle in Shanghai, China
This show is aimed at the domestic bicycle dealers of China. It has huge numbers of dealers in attendance, and a lot of exhibitors. It may be the world's largest show in terms of attendance.
While the focus is not on western bike business, there are many suppliers who do serve western markets. And many western buyers looking for suppliers. But not so much as at Taipei Cycle.
As an excuse to visit Shanghai, this show is outstanding. You will need a Chinese visa, and that needs to be arranged well ahead of time (six months beforehand is a good time to get started).
Almost everyone in hospitality, the airport, and tourism trades will speak English.
Hotels are good, and not expensive. And there is an abundance of western oriented hotels and restaurants in Shanghai. And of course, world class Chinese food.
Tourism in Shanghai is worth a trip in itself. There is so much to see that I cannot do it service here. As one of the largest cities in the world, and one of the great international cities of the world, it is a fascinating place. And…most of the population rides a bike, usually an electric bike.
http://www.e-chinacycle.com/WebsiteEn/
Both trade only invites held in the UK's midlands during January, these shows are mid-season catch up sessions for retailers and an opportunity to speak to your suppliers face to face.
For our summary of both exhibitions, head here.
Primarily a consumer show, The Cycle Show does begin with a trade only element allowing bike retailers a brief window to get some first looks at new lines and to chat in relative privacy with their suppliers.
From an exhibitors point of view, the show is one of the better cycling only crowd pullers in the UK and offers ample opportunity for consumers to sling a leg over on a variety of tests tracks.
SPIN LONDON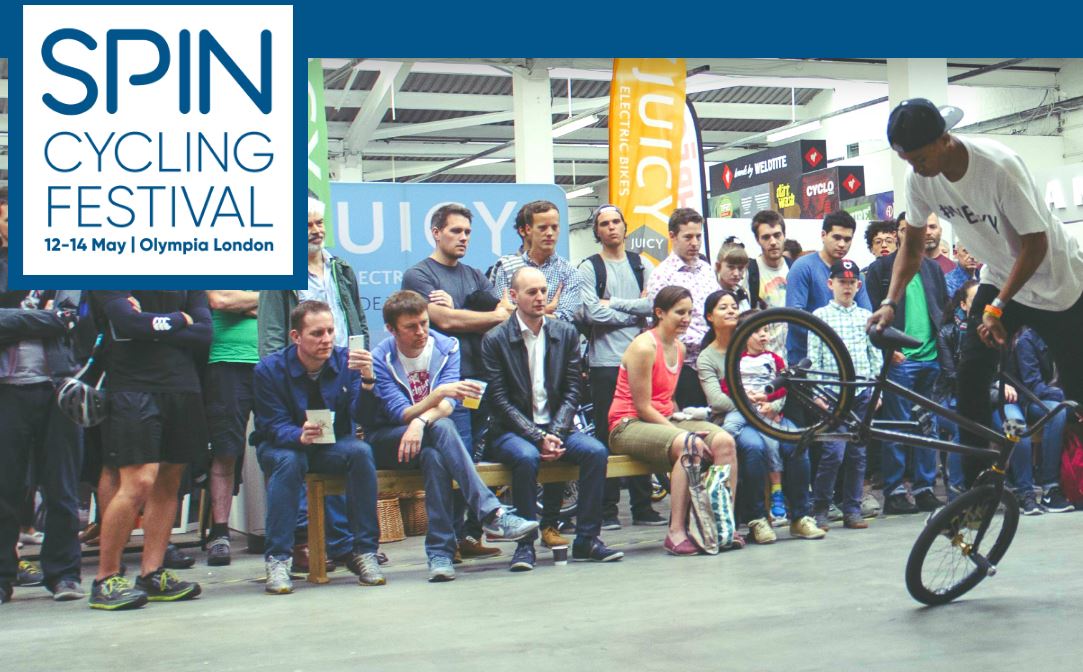 A wild card on the UK show calendar but one that's emerging as one of the UK capital's trendier exhibitions.
Held in May at Olympia, the exhibition is growing its appeal and will introduce a number of new features in 2017 to up its appeal to both exhibitors and consumers alike. The exhibitor mix, while growing to include big name brands, has typically proved to offer a hotbed of emerging talent.
There is now added private discussion space for buyers who may want to strike trade deals while visiting.
For space contact  alex.daw@mercuryevents.com.
EICMA is held in Milano, Italy. It is more of a motorcycle show than a bicycle show, but bikes and ebikes for the Italian market are part of it.
The business case for visiting EICMA may be weak, unless you are planning to enter the Italian market. But visiting Italy is always worth while by itself. Milano is in the north, not far from Venice, Lago De Como, Bellagio and more.
Hotels can be pricey, food can be outstanding, most people you will meet will speak English.
Intermot is every two years, and is focused on motorcycles and ebikes.
Cologne is a great place for a show, and old guys like me remember the many trips there for IFMA.
Better beer than Eurobike. (Sorry….) Easy to find a hotel, great food. A legendary cathedral, located on picturesque banks of Rhine River.
If you are thinking you would like to do this, but there are "obstacles", keep reading…
If you are a retailer, or a rep, you may make your supplier nervous when they see you at an international trade show. They know that you are about to learn a lot about the costs and the supply chain. They may worry that you are going to the show to find a way to cut them out of your supply chain, and they may worry that you are looking for a way to become their competitor. As a recovering retailer, I have learned that the distributors and brand managers that I bought from provided a remarkable level of service, and that they more than earned their margins, and that I was better off buying from them (Much better off) than trying to import my own goods. So….talk to them and reassure them that your visit to the shows is not a threat to them in any way.
Language. Since you are reading this, you are probably a native speaker of English. That is convenient, for all the business, travel, and hospitality people in the world speak English or have an English translator close by. You may find that some situations, such as taxis or small restaurants may require you to bring a note in the local language, or some sign language and pointing at maps or the dishes on other tables. There will be moments when you cannot communicate easily or at all, and this will be uncomfortable or discouraging. In those cases, remember that there are three international methods of communication that can resolve almost any situation: simple body language (such as pointing and finger-counting – but be aware that other cultures point and count differently from your own, and that you should familiarize yourself with these differences beforehand), the word "OK", (which is understood by almost everyone, regardless of their native language) and a friendly smile, which needs no translation. Learning a few simple words or phrases in the local language can be a great help – and may earn you a more welcoming attitude from the locals. Don't worry about sounding silly – they'll think you sound silly regardless of what you do, but they will appreciate the effort you put forth.
Flying to the event. It amazes me that one can travel half way around the world for about $1,000 US. (EVA Air from USA to Taiwan) and less than that to travel to Europe. The hours in the air can be long, but that is not as bad as most people think. Figure 14 hours to Asia from most USA airports, and 6 -8 hours for Europe. If you look, you will find that Elite Class on EVA, Premium Economy on various air lines, or Business Class on other-than-major-USA-carriers for modest additional cost. Planning to sleep on the flight will make the hours more bearable and leave you less tired when you arrive.
Jet Lag. During your first trip, adrenaline and the enormous input of new sensation and information will often carry you past the misery of jet lag without noticing it. But you may feel tired and disoriented, either at the destination or on your return. It is a bit like being drunk – you think you are fine, but your judgement and energy levels are affected more than you realize. Give yourself some time at your destination to rest, and plan on resting a bit when you get back home.
Finding your way about the show. At the international shows, you will probably not find people you know in the booth, so it can feel a bit lonely and you may struggle to get attention for questions and conversation.  And in some cases, the main action in a particular booth is in the meeting rooms in the back. The displays out front may be attended to by folks who know only a minimal amount, or may be the wrong person for your inquiry – make certain to first establish who it is you should talk to before attempting to get information out of someone. For serious business discussions, appointments arranged by someone the company already knows are important. In international business, relationships are very important and being introduced or referred by a mutual friend can be key. You may have such mutual friends, so think carefully about who you know that can introduce you. (One of the popular services of eCycleElectric is to help with exactly this sort of contact and appointment setting.)
Hotels. At Eurobike, getting a hotel can be a challenge. At the other shows, it is not really a problem. Be aware of how far your hotel may be from the show, and how you will travel to the show (and back). Book in advance and keep a copy of what they send you in confirmation. Give some thought to how you will get from the airport to the hotel. If by taxi, take the hotel address in the local language. Consider asking hotel to arrange a car to pick you up.
Eating out. This can be great fun. Read up on the local eateries. Don't be shy. Expect the nice ones to be busy – you wont be the only ones who heard about them. Some of the food will be strange and unpalatable, but most will be more familiar to you than you may have realized at first, even if you cannot actually identify what it is you've ordered.
Being a Tourist. Save time for local visiting, shopping, seeing the sights.
Read a guide book from Fodor's or Lonely Planet, to learn about the local culture and what to do, what to expect.
Don't forget to check in with our full events calendar for more trade-facing events around the globe.