Latest print editions now available to read online
The latest issue of CyclingIndustry.News is now available to read online, or is downloadable in pdf format by clicking here.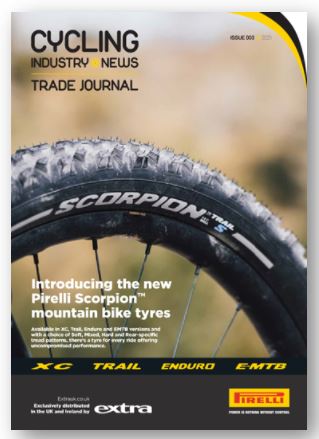 Within this edition you will open up to the usual front line retail opinion, this time addressing the subject of what the main competition to bicycle stores is perceived to be nowadays. CI.N seeks to understand whether opinions are shifting over time; Has the focus moved away from online retail competition and has Brexit's ripple effects made any difference to overseas competition? We ask the trade.
Overleaf, a further snippet from CyclingIndustry.News' annual market report (purchased in full here) details the investments of bicycle stores in taking the business digital, as well as where the average store positions itself in the marketplace nowadays. While not yet the leading 'speciality store' type, it is interesting to see just how far the footprint of the electric bike has come in just a few short years; a similar number of businesses cite pedal assist emphasis to those describing themselves as a mountain biking specialist.
The fourth in our interview series with politicians exploring cycling policy this time takes in the views of Liberal Democrat peer Liz Barker. Barker discusses her personal ambition to "open doors" to cycling for more women, people with disabilities and those from minority groups who have been shown to use bikes less.
Taking in the viewpoints from industry veterans and CEOs alike, next up we turn back time to explore the subject of cycling's fortunes during an economic downturn. Is it in fact true that in a down market cycling rides high?
Continuing the theme of trend spotting, from page 24 we explore the notion that the dirt jump marketplace is having a resurgence. Speaking with dirt jump influencers and brands with a high profile in the segment it appears there is an appetite both with the youth, but also with rad dads rediscovery the joys of airtime.
In this month's product focus the subject is "under the radar innovations" and product highlights that may have gone under the radar in the flurry of pandemic trading.
There's plenty more too:
An assessment of what we really know about the Covid induced Bike Boom, with input from the Bicycle Association (This piece is available to read separately online here)
A profile with Pirelli
What is IAA Mobility and will this German trade show begin to eat into Eurobike's trade show dominance?
A profile with bike retailer turned brand franchiser Bristol Bicycles, run by Jake Voelcker
The first in a series of deep dive, algorithm-driven analysis pieces exploring the trade of online giants with specialist Andrew Isenman
A profile with Squire locks
A profile with Pendle Bike Racks
We conclude with our recent exclusive interview with CSG boss Nikki Hawyes, also readable here.
Published alongside, CI.N sister site EV Fleet World has published its April 2021 issue. EV Fleet World is a new digital magazine launched by our publisher Stag Publications, covering the expanding electric vehicle market. You can subscribe to EV Fleet World online here.