Magura talks keeping integration trend simple to service
With Bosch now heavily behind the Magura business we are seeing some very clever product integration developments from a brand that made its name in braking, but that now thinks bigger. Tony Barton talks over the modern Magura…
In July of this year Bosch upped its interest in a neighbour, taking a 50% stake in Magura Bike Parts, also based in Bad Urach, Germany. It is the location where 90 employees now work on joint ventures between the two labels, both of which have come to earn a reputation for innovation in recent years.
For Magura, the partnership has borne fruit in the form of Bosch's ABS system, an industry first and something that anyone who has tried it will vouch is actually pretty damned hard to crash. As much as that's down to clever sensors that refuse to let you go over the bars, or to allow the wheel to lock up, the braking stems from Magura's MT5 brakes, rotors and sensor rings. It's the reliability of Magura's system that first drew Bosch, we're told, but also the firm's vision for design.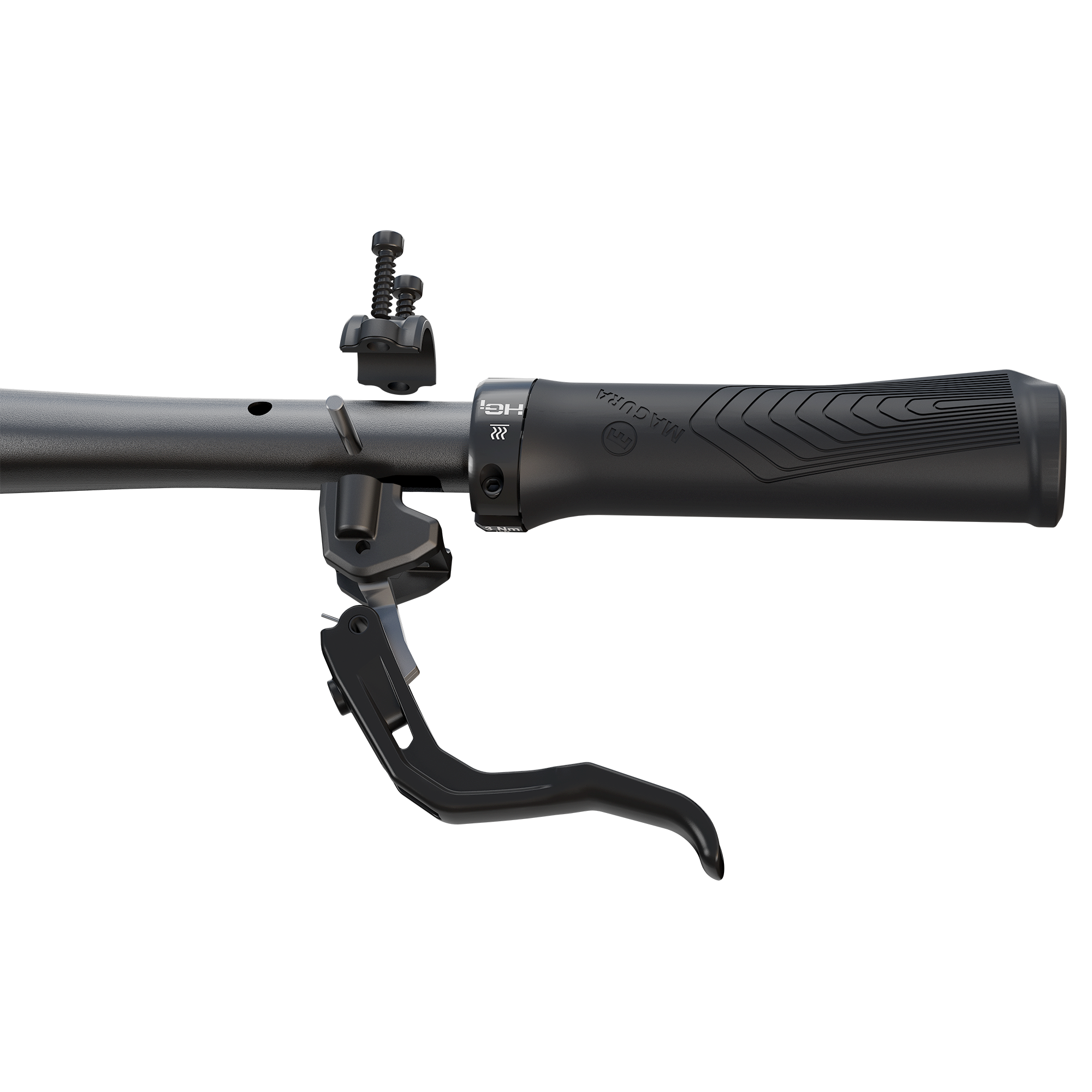 It's products like the head-turning MCI that forms the basis of a collaboration that serves the industry with new integration concepts and advanced products. This system, for the uninitiated, integrates braking inside the handlebar freeing up acres of prime real estate for other gadgets, or simply to have an entirely clean cockpit. While Bosch is not involved in this particular project, a further precedent has been set for design integration.
Magura UK's Tony Barton says that he's heard it all from dubious mechanics and that there's little to be afraid of.
"It is very simple to service and bleed the system, just as with the existing MT series of brakes. You still use the same tools and procedures. I think when people see new products, at first they think it is complicated, but when they understand and see how simple it is to service this goes away. The Bosch partnership will be interesting going forward and closer integration only helps push the boundaries of what is possible as you have already seen with Bosch ABS system."
That said, Barton's team in Leicestershire only tend to find out about new products once in final stages of testing. All the same, the trend is clear, we're told.
"I believe that there will be more integration going forward with all companies. The march of the e-Mobility demands this, and we should look forward to exciting new products across braking, suspension, lighting, heated grips and displays, among other innovations," says Barton.
Developments that require such a high level of tech-savvy will require new approaches to training, something Magura and Bosch have been pro-active in providing in ample measure.
"Demand is always strong for both Bosch and Magura training sessions," starts Barton. "We try to keep it to between 15 to 20 people as personal interaction is valuable. Mechanics also get more hands-on training on bleeding systems, how to shorten hoses, problem solving and on Bosch they have Mark Haylett and Jack Puller who deliver know-how."
For those handling more Bosch or Magura products it pays to have an account, even if only for replacement parts, argues Barton, who is a particular advocate for the entry-level service goods.
"Our value for money MT Sport is ideal as it is £25 trade with RRP of £50 and that's with a  five-year leak proof guarantee. From there we have two and four piston brake systems ranging from £50 trade per brake up to £125. As we offer next day delivery it allows shops to manage the cash flow and stock better."
Of course it's Magura's performance innovations that will excite the enthusiast and they're well catered for too. The original electronic dropper post, Magura's Vyron, retails at a competitively priced £385. Sales of the Vyron have grown nicely as people have learned more about the product, says Barton, who further points to customisation as another sub-trend attached to his best-sellers.
"We offer shops a full  program with different pad materials, different rotors, coloured clamps, coloured rings for calipers, plus lever blades with different leverage ratios and lengths; be it two-finger or one-finger. Plus, you can visit our micro site and designing custom decals for the master cylinders."
To keep customers curious, Magura has invested in a range of have full POS, from Acrylic displays to mount brakes on to, to shop welcome mats in different sizes. POP displays fast-selling consumable items like brake pads, lever blades and clamps in an appealing and easy to digest way.
"Or we can work with the dealer to create individual solutions for the required display areas," adds Barton. "We have also a select number of Pro Shops in the UK who have placed great faith in the product."
That faith has been repaid too, with the company reporting a 25% increase in trade like-for-like. This, says Barton, is in part down to a return to dealer-direct selling and the Brascote team's back up for those accounts.
"From the Bosch side, we are seeing that replacement batteries are now selling very well and often to customers who are looking to upgrade from and existing 300w original fitment to either 400w or 500w rack or frame battery."
Circling back on the trend for integration, Barton concludes by pointing to a dramatic rise in Powertube batteries. "These have quickly risen to similar levels of frame-mounted batteries that have been around in OE fitment for a lot longer."
To open an account with Magura UK, contact the team on +44 1455 823 303, or head to magura-b2b.com.
Magura and Bosch training schedule 2020
To register head to Magura-b2b.com

Denham 03.02.20 and 04.02.20
Motherwell 10.02.20 and 11.02.20
Preston 12.02.20 and 13.02.20
Leicester 17.02.20 and 18.02.20
Bosch Training costs £59.50 for the day, which includes drinks, food and training.