Magura's new concept bike dispenses with external tubings and cables
Following last year's first hydraulic brake fully integrated into a flat bar, Magura has launched a new concept bike featuring no external cables and tubings.
2019's fully integrated brake was part of the Magura Cockpit Integration (MCi) system which has now been taken to the next stage with the concept bike which almost completely dispenses with external tubings and cables.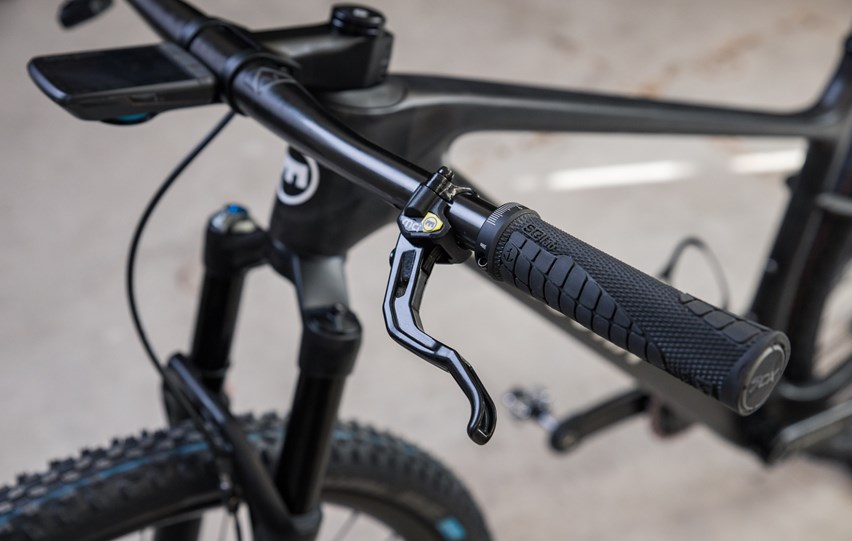 Starting from the MCi cylinder inside the handlebars, the invisible tubings run through the handlebars and stem unit. The front tubing then goes through a prepared hole in the stem unit directly to the line routing at the suspension fork and to the brake calliper.
The rear wheel tubing is led through the headset system into the frame. The diameter of the upper headset bearing is oversized to enable the guiding of the tubing between the tapered steerer tube and the bearing. A reducing sleeve provides a guide hole for the tubing – an invisible entry into the frame. This type of routing is already available in serial production from a number of headset and bicycle manufacturers.
The clean design is thanks to the MCi, a wireless shifting system and the VYRON eLECT wireless seatpost. The Cross-Country Bike has been weight optimised (less than 9 kg / 20 lbs).
The prototype handlebar was constructed in cooperation with Bike Ahead Composites, a German carbon specialist. The frame is made by Müsing-Bikes. The bike already uses the MAGURA Easy Link Tube coupling to enhance the level of user-friendly service and maintenance.
There are more details with Magura.