Play Sports Group heads for Austria with new Global Bike Festival
The Play Sports Network will launch the Global Bike Festival in the Saalbach region of Austria, which will run June 18th to 21st.
The publishing giant, which is best known to its GCN, EMBN and GMBN platforms, will pitch up in the alpine region, which offers a huge plethora of cycling terrain, ranging trails, climbs and descents suited to riders enthused by everything from gravel to road and more. Found in the region is Austria's highest paved road, the Grossglockner, as well as over 400 kilometres of off road routes.
Coming in at four days and badged as a 'summer party', the event will build in après-ride, music and entertainment. Festival-goers can enjoy world-class riding, live shows, hands-on bike tech tuition and coaching clinics by day, with parties and DJ sets by night.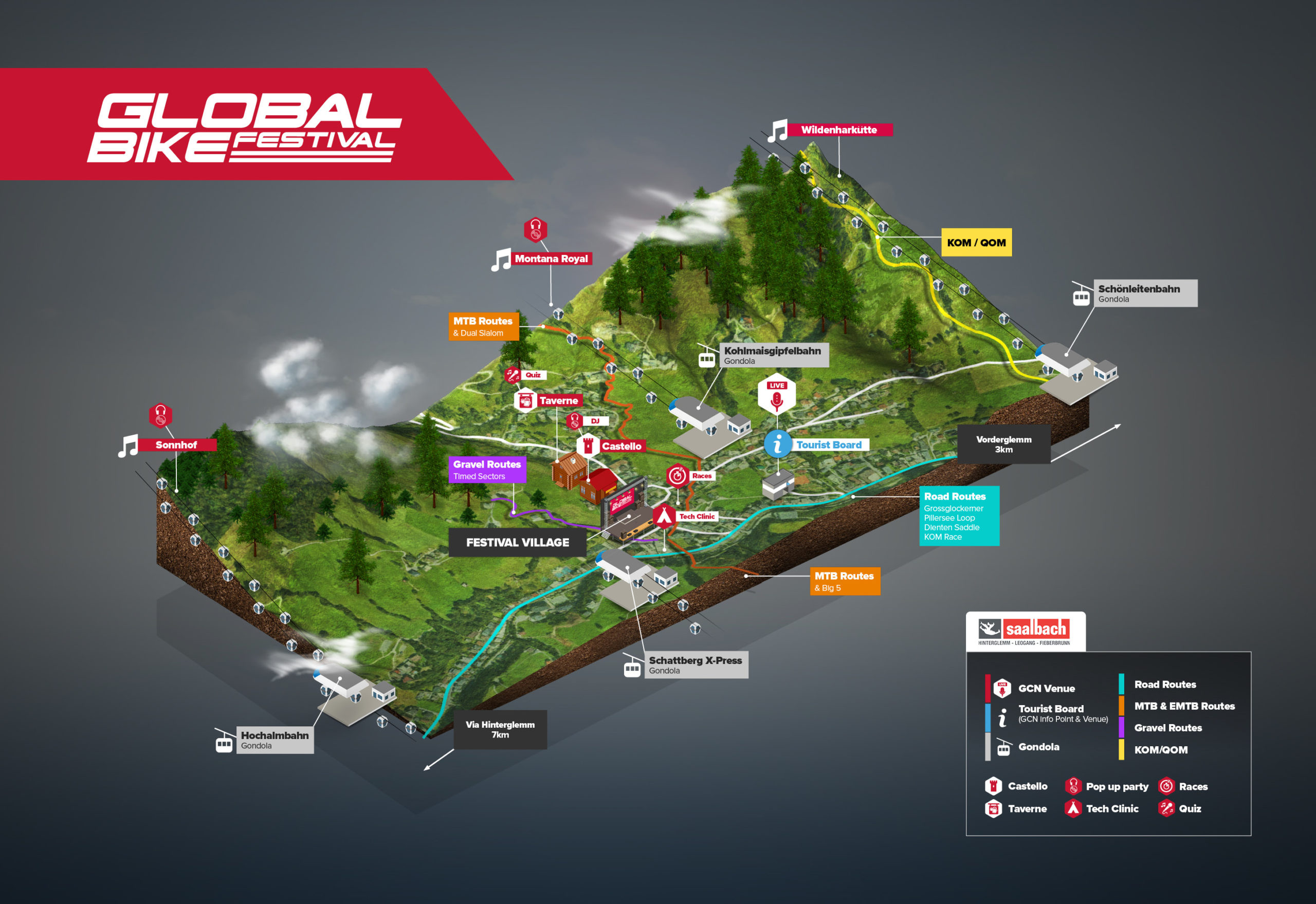 The festival is the first all-encompassing cycling event from the UK-based media company Play Sports Group (PSG), which was acquired by media giant Discovery, Inc. last year. The event in June is powered by PSG's industry-leading channels GCN, GMBN and EMBN, which have achieved more than 3.3 million YouTube subscribers across the three channels alone.
James Pope, Events Director at the Play Sports Group, said: "The launch of Global Bike Festival marks an important stage in the development of the events business at Play Sports Group, bringing together our road and off-road channels GCN, GMBN and EMBN to create a new multi-discipline cycling experience. We are excited to bring this concept to life in partnership with Saalbach to capitalise upon the location's world-class reputation as a mountain bike destination and combine this with excellent road and gravel routes, as well as plenty of entertainment off the bike to create the ultimate weekend for cycling fans."
The inaugural Global Bike Festival is to become an annual fixture, according to the publisher, which has signed a three-year partnership with the Saalbach region's tourism board.
Wolfgang Breitfuß, Director of the Tourism Board in Saalbach, said: "We are super happy to bring this world-class event to Saalbach and proud to be a partner of the Global Cycling Network. Hosting such an event is the perfect fit for our destination and we're looking forward to four days of action in Austria's biggest bike region."