Raleigh becomes sole distributor of See.Sense in UK and Ireland
Raleigh has become the sole UK and Irish distributor for cycling tech company See.Sense.
Creator of the responsive Icon, See.Sense's patent-pending flagship light uses sensors and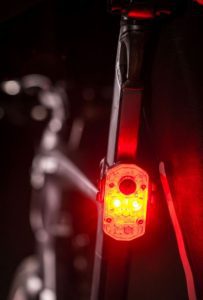 communication chips to adjust its output to reflect the cyclist's speed and environment. Connected via a smartphone app, the unit will also alert the cyclist to theft attempts, among other smart features.
"See.Sense is excited to be working with Raleigh to bring Icon to even more stockists across UK and Ireland," said Philip McAleese, See.Sense CEO. He added, "With the newly released Icon, we've built on all the good things from our groundbreaking intelligent light and delivered something even more exciting by adding connected features".
Since its October 2013 launch, See.Sense has rapidly gathered momentum, scooping awards and top reviews, as well as distribution deals as far away as Mexico and Australia. In addition, the Icon is featured in the Design Museum's 'Cycle Revolution Exhibition'.
A bonus from the retail point of view is that the connected features such as crash detection and theft alerts allow opportunity for it to be sold as a year round product, not confining it to the typical 'light buying season.
Irene McAleese, Co-founder and CMO says that, 'With our two successful Kickstarter campaigns we have built up a strong community of cyclists because we keep their needs closely in focus. Raleigh bring with them a heritage as one of the UK's best loved cycling brands as well as the expertise and market power of being one of the leading distributors across both UK and Ireland. We feel that they are a great fit for us'.