Read CyclingIndustry.News latest Trade Journal online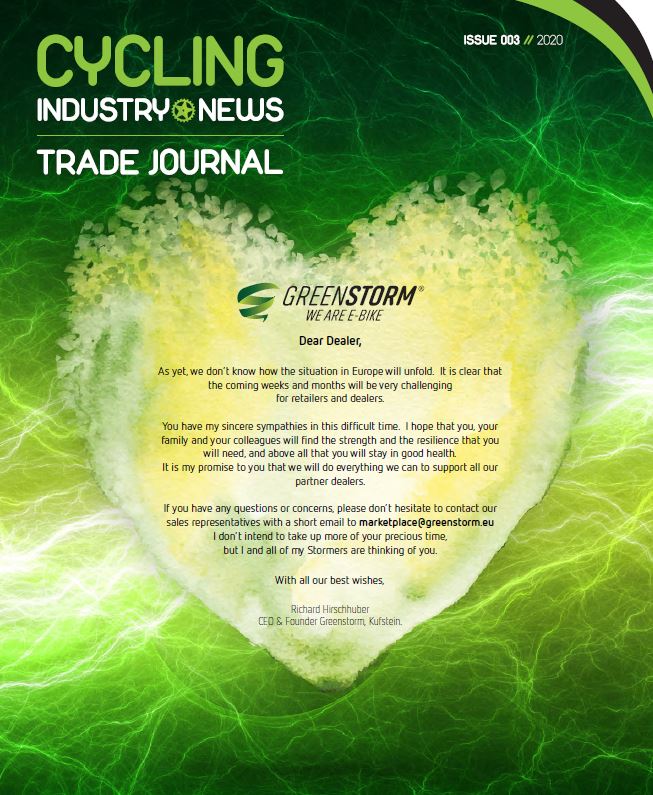 CyclingIndustry.News' third Trade Journal of 2020 is now available to read online by clicking here.
We begin the issue, as always, with the voices of a panel of independent retailers, asking their views on topics ranging teaching workshop classes in store through to the importance of an in store experience. Mark Almond of Revo Bikes, Chris Cahill of Blood, Sweat and Gears and Daniel Fox of Brampton Valley Cycles lend us their thoughts.
Next up is the second snippet of CyclingIndustry.News' own Independent Retailer Study, which remains available to purchase in full (Just email the editor with subject line CI.N Study).
Over four pages we explore the trends and average ticket prices attached to the workshop. The assessment of workshop charges has been a hot topic of late, with mobile mechanic rate cards tending to differ from in store rates. As reported at the close of last month, there appears to be a trend for more mobile businesses opening on the back of a wave in demand for bicycle repairs attributed to the Coronavirus.
The following four pages are dedicated to a detailed discussion on the subject of helmet standards and if, with greater knowledge coming to the fore on rotational injuries, standards could use a revision.
"Bikes are the new toilet paper", reads the headline overleaf. CI.N undertook a broad assessment of the industry's response to the Covid-19 pandemic thus far, charting the significant spike in sales and asking what comes next for those concerned by a lack of supply over the Summer.
Our first guest columnist is Paul Power, owner of the Littlehampton Dutch Bike Shop, who makes a case for the bike shop 'choosing' their customer wisely. Find that on page 26.
With consumer spending likely to face an uphill battle as economic progress retraces we speak to providers of retail finance with V12 and Klarna to get their view on the risks and opportunity ahead for retailers utilising the sales tool.
Starting on page 30, BICO's Tom Nutley shares his insight into the world of AI, explaining its role in shaping mobility as a service (MaaS).
Science in Sport, Torq, NamedSport and OTE deliver insight into the evolution of sports nutrition in three-page article starting on page 32. Topics covered include the benefits of product sampling, effective methods to set up and sell in store and training your staff to understand the differences in different product types.
Independent retailers Harts Cyclery of Edinburgh and Fully Charged of London share insight into the development of their respective businesses towards the back of our third 2020 edition. Harts advocates getting involved in local politics as a means to grow cycling in your region, while Fully Charged explains the thinking behind a steady expansion of it's stock and a new premises at Silverstone.
Manufacturing's evolution is discussed with both Bosch and Herrmans in an assessment of how new technologies are streamlining production and adding efficiency for the supply chain over on page 40.
Ison Distribution gave CI.N a pre-lockdown insight into their business starting on page 44. Product development, adapting to modern buying trends and spotting unique products in a crowded marketplace were all on the discussion table for the distributor, which now carries over 11,000 SKUs.
Rounding out this issue, Roger Sparrow and Mark Swift take on this issue's Ask the Boss interview. Entering its 30th year, USE Exposure will give a nod to the past with the redevelopment and reintroduction of products that proved an early hit for the UK manufacturer. Head to page 49 to find out what's in development as you read this.
To read prior editions of our Trade Journal, head here.