Saris Group marks new launches with rebrand
The Saris Group, whose products are now found in the UK with Raleigh, has timed a rebrand to coincide with the launch of new products today.
Replacing the H2, the flagship launch is the H3, which can come paired at £1,600 (or sold separately) with the new MP1 motion platform.
The H3 is virtually silent with only drive train noise audible and a new lowered retail price point of £849. It has a new belt and internal drive system to achieve this result and a new black paint job.
The H3 is in production and we will have stock in the UK by early September.
Next up, the MP1 is a new wooden-topped motion platform which gives a 'side to side' and 'fore-aft' feel. The MP1 features "Nfinity Technology", said by Saris to increase comfort, maximise use of muscles and is compatible with nearly all indoor trainers.
The fully-serviceable MP1 RRP is £999. Stock will become available from October, according to Raleigh.
Elsewhere in the portfolio another significant change comes from the M2's price point. It now matches Wahoo's wheel on trainer the snap at £425.
Saris' other key speciality, car racking, remains much the same, with the one-million unit selling Bones 3 remaining a recommended stock item for stores tapping into a bouncing staycation market.
Rebranding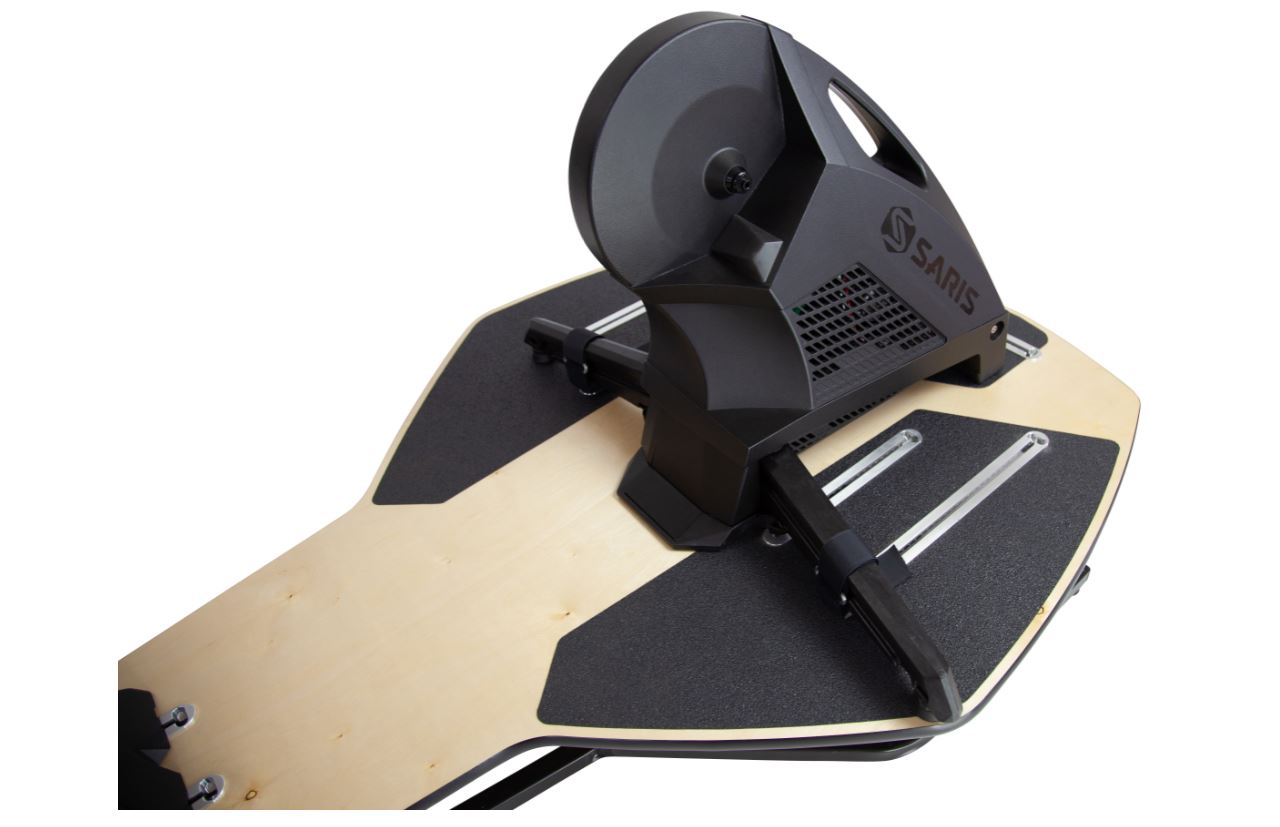 Saris said of the rebrand: "That's right – we're putting Saris Cycling Group badge to bed and welcoming "Saris" as the endorser brand for all three of our categories; car racks, indoor training and infrastructure. With your feedback, we realised that our passion for creating great places to ride and our dedication to American manufacturing could be amplified by linking our brands together under one endorsing name".
Along with the new products, IBDs will have the option to become a demonstration centre so consumers can try before they buy. The indoor training market has seen considerable growth over the last few years with the rise of online training platforms such as Zwift.
To support retailers, Raleigh will soon be retailing Zwift subscriptions along with the new Saris indoor training products. The distributor will also be driving people to stores with a presence at key events through October and November.
Raleigh UK's Parts and Accessories Business Manager, Lee Kidger, added: "We are extremely excited by the brand realignment change to the Saris portfolio and will be a massive benefit to our customers. This will bring continuity into stores stock both car racks and indoor training with in store POS and online digital assets to assist with sell through of the brand. Alongside Saris we both have the same ethos – give consumers the best brands, offer extremely good availability and industry leading logistics services with 9pm cut off time for next day delivery."
For stock head to www.raleighb2b.co.uk or email sales@raleigh.co.uk