Shift Up Podcast: The bike trade's "gateway drug" to selling high-end bikes is creating new casual cyclists
Following last week's discussion on the bicycle industry's role in advocacy, this week's Shift Up Podcast explores how the bicycle business is yet to tap in to the potential of everyday casual cycling and mobility.
This week's guest is the co-author of a study in to the subject titled "The surprising Promise of Bicycling in America". In addition to that, Melissa Balmer is the former media director for the California Bicycle Coalition and Founder/Director of PedalLove.org. She is a writer, media relations specialist and speaker dedicated to growing more active,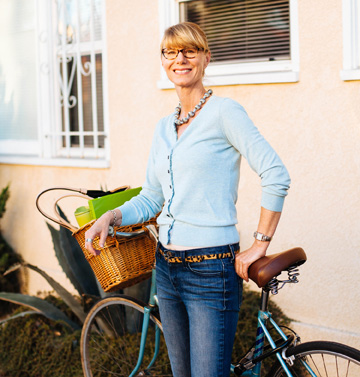 mindful mobility. What's more, she's one of a team of researchers recruited to deliver unique content right here on CI.N in the near future.
Produced alongside Jay Wallasper, the Surprising Promise paper has delivered a rosy outlook for the U.S. market's future, but only if efforts are made to capture new cyclists. Readable here, the paper presents the bike industry with a wealth of data on untapped demographic potential, as well as assessing the potential of the electric bike market.
Balmer begins the podcast with some food for thought, stating: "You can only have so many carbon fibre bikes, that market has been so well served. I want to say to the bike industry, listen, you all make great casual bikes, but you've got to market them, because they are your gateway drug. You've got to throw your net wider to get the athletes you want."
Herself a lapsed cyclist of 30 years, Balmer got back into cycling nine years ago and has been campaigning for better conditions for cycling ever since.
Discussing major trade shows role in educating and driving progress on the issue, Balmer says of Interbike's efforts to get various discussion started: "Interbike for me should be celebrating the growth market possibilities, showing the bike retailers what can happen. Retail is going through a transformation and what's going to thrive is experiences that people can't get online.
"To get more people to bike you've got to go beyond athletes to people that have never ridden, haven't ridden for 30 years, or people starting to think about replacing short car trips because they've found a bike path. those are the growth markets and they're not going to look like what the bike industry is used to selling to."
On grassroots efforts to profile raise for cycling, Balmer points to the efforts of fashion publicist Lorenzo Martone who began Martone Cyclery, having been intimidated by his local bike shop experience. As well as having the attention of the fashion business, Martone recently succeeded in placing Oprah Winfrey aboard one of his bikes.
So without further ado, hit play below to hear Melissa make a case for refocusing the industry's efforts on creating new cyclists.
A focal point of discussion among bike retailers of late, further discussion on the topic of growing transportation cycling can be read here.