Stigo folding E-scooter to target bike shops worldwide
Got a customer looking for portable electric assistance? The award-winning Stigo has opened up its scope to cover bicycle shops worldwide.
Produced by Ming Cycles, which has recently upped its production capacity to 2 million bicycles annually, the Stigo has previously scooped an EDF Pulse Award in the category of Electricity and Smart Living. Mass production began on Monday and stock will be filtering through to partner stores from June.
Hailing from Estonia, the 13.9kg, (30.6lbs) Stigo folds horizontal for storage in overhead spaces, or to be wheeled behind you at transport hubs. The firm says the design folds in just two seconds down to just 48 x 40 centimetres, or 19 by 16 inches.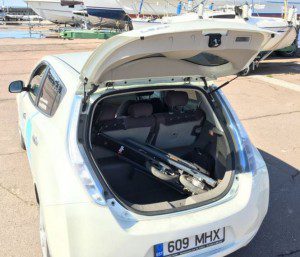 Per charge the unit will offer 30km of power assistance up to 15.5mph. Power comes from either a 200 or 250 watt motor.
Harold Saar of Stigo's marketing team told CyclingIndustry.news: "It is not a conventional bicycle, but as the industry moves towards electric mobility we have decided to sell the Stigo in cycle shops too. At the moment we're focused mainly on the UK, Germany, the Netherlands, Denmark, Belgium and Austria. The Stigo is EU type approved and classified as a moped (category L1e) and street legal in EU countries."
As a result, in Europe the build will require a license, plates, insurance, tax (though presumably that'll be in line with eco-friendly vehicles which currently pay £0) and a full face helmet for road use.
Bicycle shops interested in the Stigo can now apply on the firm's website.