Tapered headtubes coming to BMX?
WeThePeople has teased on its Instagram a snapshot of a headtube on one of the BMX label's MY18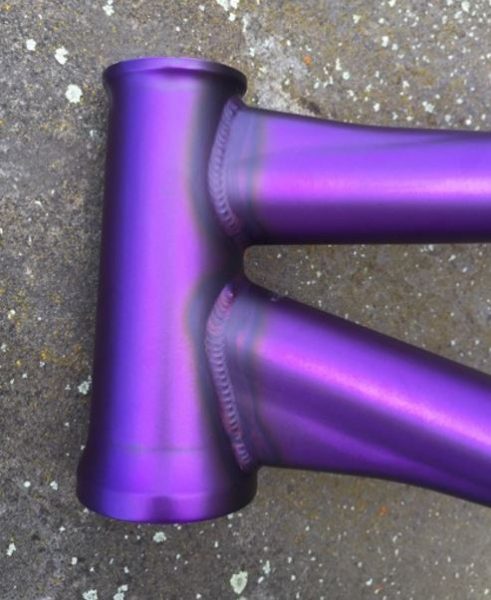 frames and one which appears to have adopted a tapered headtube design.
The frame concept is the firm's Battleship platform prototype, a high-end built-tough steel frame designed to withstand the rigors of modern street riding.
Product development and marketing man Dave Paterson told CyclingIndustry.News: "This tapered Battleship frame and fork concept is currently in the early development stages, and as with all Wethepeople products will go through an intense testing phase in both the laboratory and with our PRO team before it progresses any further. We'll be posting more about this new concept as the project develops including photos and info on the matching tapered Battleship fork, as well as bike checks from the team riders who will be receiving their first samples very shortly and will be putting them to work on the streets around the world."
The German manufacturer has been known in recent years for beefing up what has for a long time been a relatively unchanged formula for BMX parts. Shown at Interbike last year the firm beefed up the bar and stem interface, bolstering the diameter to 25.4mm. It also boldly laid claim to having produced the "strongest" BMX fork.
Of this trend to strengthen vulnerable areas of BMX bikes Paterson added: "BMX riding (especially street riding) is evolving at such a high rate. Riders are doing bigger tricks down even bigger and more dangerous setups year after year. This kind of riding puts a huge amount of force and stress through this specific area of a frame and fork, so moving towards a tapered headtube system was something where we could instantly see the benefits design wise.
"By keeping a standard 1.125″ bearing at the top of the headtube, and a larger 1.5" bearing at the bottom, we are able to not only increase the diameter of the fork crown at an area of high stress, but also combine it with the hydroformed tubing of our Battleship street frame to allow far more welding surface area and resulting in the strongest frame and fork combination ever made. The taper it's self also acts like a natural conduit for the energy during an impact and channels it into the enlarged and strongest part of the frame and fork."