Tour de Suisse signs five-year revenue share deal with Velon
InFrontRingier, the owner of the Tour de Suisse, has announced a five-year revenue share partnership with Velon.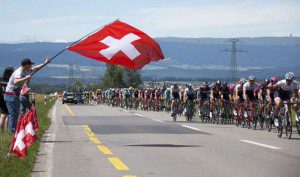 Velon, a business venture of 11 WorldTour teams, recently announced what it called a 'game-changing' ten-year agreement with Wanda Sports' owned Infront Sports & Media that will shortly deliver live data streaming technologies to offer new depth and race insights for both cycling fans and media partners.
This new partnership will see the profile of the nine day stage race pushed to cycle fans worldwide ahead of this year's installment, running June 11th through 19th.
Graham Bartlett – CEO of Velon said: "It's fantastic to be in partnership with such a historic race in a heartland for cycling. Working with Infront Ringier we hope we can excite the fans more than ever over the next five years."
Velon will now commit its 11 WorldTour teams to the race for the next five years (2016-2020), as well as provide marketing and promotional services through its own and its teams digital platforms. The organisation will also be the exclusive Tour de Suisse partner for both live and delayed on bike footage and on bike streaming technology.
In signing partnerships such as this, Velon says that it nears its goal of establishing new revenue streams, alongside traditional sponsorships, to deliver greater financial stability and security for the teams, their staff and riders.