Velofix: "The floodgates opened with Trek's B2C announcement, dealers know what's coming"
It's just three and a half years since Vancouver's Velofix hit the road with a single van. Today the fleet is
46 strong and growing at a rapidly accelerating rate thanks to the franchise program created by the trio of founders.
We've written previously about the rise of the mobile mechanic on CyclingIndustry.News, but it came as some surprise to learn just how much scope for expansion CEO Chris Guillemet forecasts.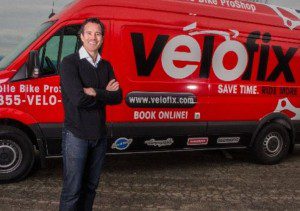 "We've eyes on the UK and Australia, but in theory our cloud-based infrastructure could easily go global. Setting up in a territory takes between 60 and 90 days," says Guillemet. "With 46 vans now on the road in the US and Canada, the model's proving a success. Some franchisees are profitable inside their first month. The floodgates have really opened. As soon as Trek made their announcement of B2C via the dealer I think countless dealers just lost faith in the future of traditional brick and mortar retail, despite being part of the plans. Requests tripled almost instantly. Raleigh USA has made a similar announcement and we expect yet more major labels will follow suit, so I expect our franchise requests won't slow soon."
Telling us that in the UK alone there have already been approaching 100 applicants, Guillemet places the territory next on his list for international expansion, with Australia the likely follow up. Further interest comes from Mexico, Norway, Belgium and Spain, we were told.
"We think we've found a partner to manage a fleet in the UK, so we think within the next 12 months we'll be live," he says. "Each territory will have a HQ like ours. In fact Europe is logistically a little easier as the Mercedes Sprinter vans we use – the biggest of their kind – ship from Germany."
Those vans, kitted out, signwritten and filled with Park Tool gear, sit within the $90,000 set up cost.
"They can be leased out, but in any case, that's your overhead, it's much smaller than that of a physical shop. Without the cost of renting on a High Street your turnover needn't be anywhere near as high."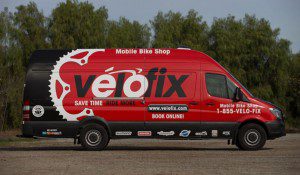 With the majority of the revenue coming from the workshop, margins are typically higher. But sales are part of the package too.
"Under the Velofix umbrella, franchisees are able to access stock at good rates for our partners and we've mechanisms in places to be able to offer sales items. In some cases a customer can order online and have Velofix chosen as the delivery method should they need a part fitted or tuned up," says Guillemot. "With this model your stock inventory is substantially lower and therefore so is both your risk and outgoings."
But isn't the charm of the humble bike shop lost when you're darting place to place? Guillemet disagrees.
"You can't replace the bike shop, that's true, in fact we often partner stores to handle their surplus workshop jobs. In return we pass on some sales that can only be fulfilled in store. You might think that the soul of it all is lost with our model, but the beauty of it is actually that we tend to spend more time with the customers that aren't just choosing us to fit around the work/life balance. The vans are designed for interaction, with coffee machines and TVs able to be fitted in the back so the customer can chat with the mechanic as they work." 
When asked if Velofix was busy cornering B2C contracts as has been the case elsewhere, Guillemet said it's one of many avenues for securing easy business.
"The manufacturers exploring omni-channel like the idea of a last mile service. It removes the potential for a customer to mess up the build themselves and potentially then more than likely blame the manufacturer. It's peace of mind more than anything. So yes, we are in talks with a number of brands. The tie ups likely won't be exclusive, but we've plenty lined up with mountain bike, road and even electric bike brands to ensure their bikes are properly delivered and safely set up."
Interested in the mobile mechanic model? Velofix claim that on average you can be on the road satisfying service a radius of 10 to 20 miles (in US) inside three months. Industry standard training must be completed before anyone is handed the keys to the van, warns Guillemet.
Workflow will be the next question for anyone curious, but Velofix's CEO says that's not been an issue to date. In fact, press coverage is helping, with Entrepreneur Magazine most recently recognizing Velofix as "one of the most impressive mobile franchises". Events, of which the firm currently visits up to 40 a year, held further drive trade for partners.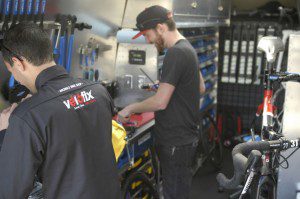 "We've had some great corporate business growth. Big business has never been so interested in a healthy workforce and we've had Microsoft, Hootsuite and Snapchat, among many others hire our members to service entire fleets. Further to that, the online system is super simple for the consumer. They can book a service in 4 or 5 clicks, including the basket addition of extras ranging tubes to powermeters."
With the bike industry currently changing at a rapid pace, Guillemet says he anticipates there's room for as many as 400 US franchisees on the road – a good chunk of the estimated 4,000 bricks and mortar IBDs in the market.
"At first we had a bit of kickback with dealers worried it was us stealing their trade. But i think many are accepting that times are changing and we far from invented this model, simply adapted it to scale out quickly at a time when it meets the needs of the web savvy customer more than ever.
"Evolution has to happen and there's a consolidation of bike shops already underway as they battle online undercutting their trade costs, overheads and countless other counterproductive barriers to bricks and mortar retail. Meanwhile, manufacturers feel removed from their end users and are having to adapt in the face of tougher competition. All things considered, we think Velofix's model is an excellent solution for those passionate about working with bikes and more importantly, a way to make some money."