Townley: Why should the American bicycle trade pay attention as dockless bike share giants move in?
Wednesday September 20, 2017 was the day Interbike opened its doors to the exhibit hall in Las Vegas for the last time and the already stressed American Bicycle Business focused on the immediate need to sell product to bike shops and other specialty bicycle retailers, and looking forward to 2018 and the move to Reno.
On the same day Mobike, the largest of the Chinese based dock-less ride share, or smart bike sharing leviathans announced that it launched "officially" in the U.S. market with the agreement and cooperation of the District of Columbia.
With this initial dock-less-ride share program in the nation's capital, Mobike, in less then eighteen months, has established this new smart bike form of bicycle ride share that doesn't require docking stations in over 180 cities, primarily in China.
What's the big deal? This is just another bicycle ride share program, right?  No, not even close!
An April 11, 2017 article appeared in the Global Times, a Chinese business magazine and reported:
"China's once waning bicycle manufacturing industry has experienced a revival thanks to the recent bike-sharing boom. No longer struggling with overcapacity, bike makers and bicycle parts manufacturers face a new dilemma: Should they expand capacity to meet the soaring demand of bike-sharing start-ups? Meanwhile, the price of bike parts has significantly increased and labor costs have risen."
According to the Global Times "many" of China's bicycle manufacturers were financially on the verge of going bankrupt in early 2016 because of slow orders from customers around the world, forcing some factories to shut down and lay off workers.
However, the situation dramatically changed because literally coming out of no-where the dock-less-bike-sharing business in China took off. In the second half of 2016, orders for bicycles flooded back into bike factories, giving the Chinese bicycle industry new life.
In January 2017, the Global Times counted seven Chinese dock-less-bike-sharing brand companies and published this table. Each of the brand companies uses a bright color to differentiate it ride-share bicycles from its competitors and those colors are used in the bars in this table. Note that Mobike was estimated as the largest of the seven at the first of this year with a 62 percent share.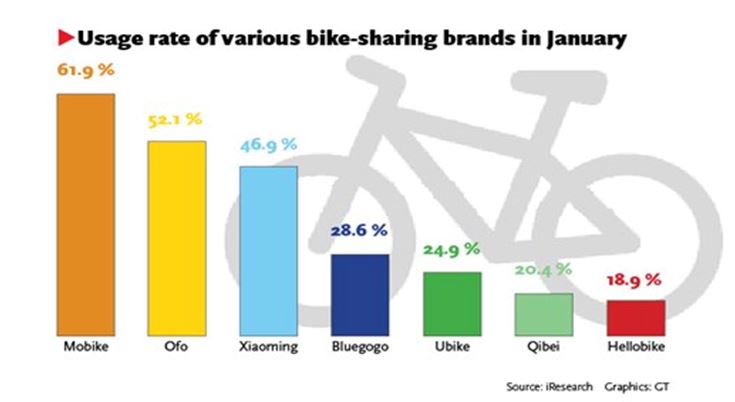 This begs the question of – share of what?  It has been estimated that bicycle orders from dock-less-bike-ride share start-ups like Mobike will grow to more than 30 million units in 2017.

According to Chinese bicycle industry executives, planned production to meet demand from bike-sharing start-ups is equivalent to about 50 percent of the whole industry's current 2017 capacity. This has led to a shortage of bike parts, which in turn has driven up parts pricing.  Labor costs had also been increasing independently from the surge in bike-sharing, which only served to further increase labor costs.
In a May 31, 2017 article from Bloomberg Technology Gao Yuan who lives in Beijing offered the opinion that "Bike sharing is one of China's hottest tech trends."  Dockless bicycle ride sharing a hot tech trend?  It may be hard to believe, but yes it is.
As Gao Yuan reports: "Startups Mobike and Ofo have raised hundreds of millions of dollars and became early unicorns. It's just like the multibillion-yuan battle of car-hailing apps like Didi and Kuaidi a short while ago."
What isn't readily apparent is dock-less-ride-share, or smart-bikes are equipped with features including smart-lock technology, airless tires, bike status sensors and built-in GPS locators.
Using Mobike as an example, users, who are subscribers in China and if they are not at the beginning, will be in the U.S. download a Mobike app to their smart phone. They use the app to find a nearby Mobike and scan its QR code so the smart-lock technology can unlock it. The rider pedals to their destination using the app to get directions if needed and leaves the smart bike in a designated area and uses the app to lock the bike.
The announcement concerning the U.S. launch notes that changes were made to the smart bike to specifically serve Washington D.C, including the shape of the bike itself and the addition of a three-speed internal shifting rear hub.
All of the features of a dock-less-ride-share bicycle still don't explain why this is one of "…China's hottest tech trends," attracting large investments from the likes of Apple, Alibaba, and Tencent, just to name a few.
It is the app utilising smart phones and the ability of the dockless-bicycle-ride share brand companies to track and archive financial transactions and their partners that manage their financial transactions, including credit cards and what individual bicycling preferences are and where individuals ride. In other-words, FinTech and the monetising of financial transactions and eventually monetising big consumer data that is being archived and compiled on the cloud!
In a June 17, 2017 article Shane Connaughton, a veteran of bicycle retail and new manager of a Dublin based dock-less-bicycle ride share start-up in Ireland said: "This is the most disruptive thing that's happened to our industry for a long time," and he concluded that: "The cash that is being pumped into the sector is unprecedented in the bike world."
On August 30 of this year John Sudworth writing for BBC News about the "sharing craze" that is exploding in China reported that: "China has embraced mobile phone based payment technology like nowhere else on the planet and it has led to the spectacular take-off of the so-called 'sharing' economy."
Sudworth reports that some of the activity is real peer-to-peer sharing of things like cars or rides in cars that are going were someone else wants to go. Others, like bike share, are viewed as "hi-tech rental" that involve millions upon millions of small payments made on individual smart phones that are aggregated into huge revenue streams on a daily basis.
The so called "sharing craze" is so hot in China right now and is growing so rapidly that it is attracting billions in U.S. dollars in venture capital funding. The scale of funding is beyond anything the American bicycle business has ever seen in its history.
To give you some idea of the financial scale, Ofo is ranked by the Global Times as the second largest of the dockless-bicycle-ride share brands with 52-percent of the Chinese market. Ofo is listed as a subsidiary of Tencent a Chinese FinTech company valued at $62 billion. Ofo is currently valued at $2.4 billion. Shimano is the largest publicly traded corporation in the global bicycle world with a market cap in May 2017 of $13.6 billion and Giant Manufacturing Company with a market cap of $8.1 billion.
On June 5, 2017 Giant was quick to dismiss a rumor that Ofo was looking to purchase Giant Manufacturing Company. At the time the traditional bicycle business had a hard understanding how a bike-ride-share company that was founded in 2014 could even consider making an offer to purchase a "big" established and decades old company like Giant Manufacturing Company.
The short back-story is Ofo placed a very large order for multiple thousands of dock-less-ride share bicycles with Giant Manufacturing Company in China. Because of an environmental regulation issue Giant, allegedly, could not deliver on time and the owner of Tencent who sits on the Ofo board of directors told a Chinese financial publication that Ofo was seriously thinking of purchasing Giant so it could get the ride-share bicycles that it had ordered.
Tencent owns Ofo and is a $62 billion dollar company thinking of purchasing an $8.1 million dollar company (Giant).  This, in turn, is why the "rumour" was given credibility in Chinese financial circles – and illustrates the change in financial scale the "hot" Chinese bike-ride-share economy has already brought to the traditional, mainstream bicycle business.
There have also been articles from time-to-time about the down-sides and problems the Chinese dock-less-bicycle-ride-share business has encountered during the past year of rapid growth.
Pictures have circulated around the internet of thousands of bikes, impounded in large fields or tossed into big heaps for being illegally parked. In the cities of China these pictures are visual reminders that the success of dockless-bicycle ride share business models depends on a lot more than just signing up enough customers and requires the cooperation and help of city governments.
Despite the downsides graphically shown in pictures and on the internet, the revolutionary potential of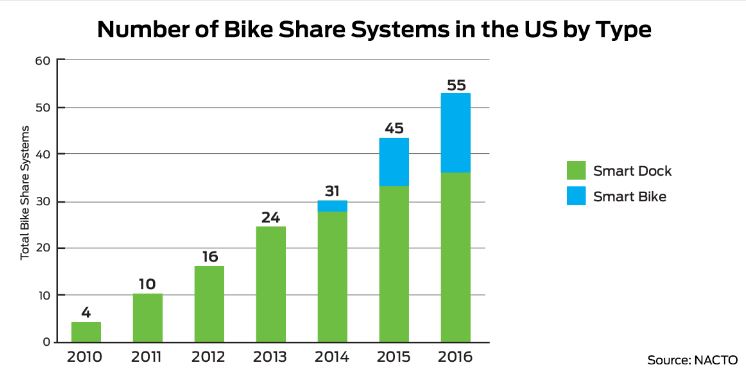 the sharing economy and of dockless-bicycle share remains strong because it uses an individual customers' smart phone to enable the apps and the tracking technology that allows a smart bike to be left anywhere – rather than only at docking stations.
In addition to the commercial aspects – in simple terms the money to be made from the consolidated financial transactions and the eventual monetising of the big data collected and archived – the statistics collected already shows that in some Chinese cities, the explosion of dock-less bike sharing, or smart bikes has, in just a year or so, been responsible for a doubling in the number of cyclists.
It is obvious that China has a far greater air pollution and air quality problem than the U.S., but there are other lifestyle problems, including how dock-less ride share smart bikes can be a sustainable solution for America.
The August 30, 2017 piece by John Sudworth writing for BBC News included this interview with Karl Fyellstrom, an urban transport consultant with Far East BRT based in the city of Guangzhou. Fyellstrom argues that the new dock-less ride share businesses have done more for cycling, almost overnight, than decades of campaigning ever did.
"I've been promoting cycling for ten years, not just in China but around the world, and it's hard. And then this bike sharing came along and it's just revolutionary. I see this as a really historic opportunity."
In summary, the greatest single disruptive force to affect the Chinese bicycle industry since World War II entered the U.S. bicycle market September 20, 2017 in Washington, DC in the form of Mobike and dock-less bicycle ride share smart bikes.
This force will add to the disruptions already impacting the American bicycle business, having the funding and technological scale to further change and increase the economic impact of the New-Wave and Outlier fringe bicycle economy, hitherto the smallest, of the three economic paths [1] being pursued by the various elements of the bicycle business in this country.
Whether this is a game changer remains to be seen, but it most certainly a very significant event in an already turbulent year for the American bicycle business.
[1] The three paths are: The Traditional Mainstream bicycle business, The New-Wave and Outlier fringe bicycle economy, The Emerging Tier One OEM supplier bicycle economy.
Enjoyed Jay's writing? There's plenty more of his commentary on the global bicycle business right here.