Transport modal mix shifts beyond business as usual as workers return
Data released by the Department of Transport has painted a picture of a quick return to business as usual for the UK transport mix, even ahead of many furloughed workers and school children likely returning in the near future.
In one of the most detailed snapshots of the Covid-19 lockdown to date, the data, which benchmarks against a typical equivalent day, illustrates how cycling boomed with quieter roads. Peaking at 387% normal levels, cycling was one daily exercise form permitted by the Government while the country was otherwise instructed to remain largely at home.
As a result, since mid-March cycling has generally run at north of 100% normal levels up towards its peak in May. In recent weeks, while still marginally above normal levels, the daily numbers have shrunk back towards what is to be expected for the time of year.
In an interesting trend, weekend levels do remain at around double the usual for the time of year, suggesting that while transport may be reverting to business as usual, the bikes bought during lockdown may still be seeing regular use; though with this trend it can be reasonably be assumed largely for leisure use rather than transport.
The trend is, unfortunately for cycling advocates who called for urgent action to sustain cycling's uptick, a downward one that demonstrates well that when cars return to the road vulnerable road users depart. Though Emergency Active Travel fund cash compelled local authorities to get to work to promote active travel and prioritise space for people over cars, many resisted the chance to change.
Motor traffic has, just recently returned to relatively normal levels, hitting 100% for the first time on the 2nd of August and sustaining between the high 80s and 102% since. Commercial vehicles and heavy goods vehicles are, if anything, trending at a slightly faster pace in a bid to balance supply and demand, as well as to address a significant trend toward online ordering. To address a surge in delivery vehicles on the roads the Government is mulling over an online sales tax at present.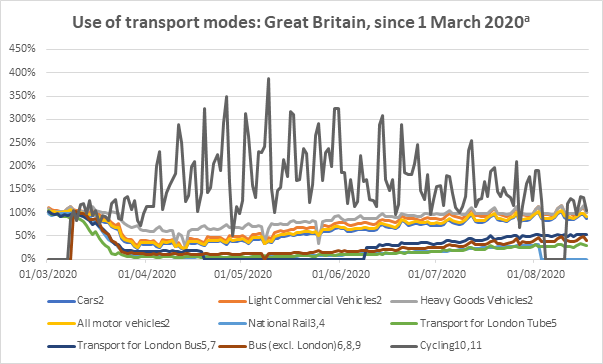 With a significant chunk of the country still affected in some form, the trend is expected to continue beyond normal levels, exacerbated by the onset of worse weather into the Autumn and Winter.
Furthermore, it is expected that a return of much of the workforce to offices, in tandem with the Government's furlough scheme winding down through to October, will further drive up motoring. Likewise, school children are strongly encouraged to return, despite concerns that the virus hasn't yet ceased to spread.
This comes at a time when the opposite is required to begin to address some of the congestion and climate problems faced, not just by the UK. Pollution, responsible for hundreds of thousands of premature deaths annually, had been widely reported to have dropped substantially with motor vehicle and industry output reduced. The trend is seen on a micro level every year alongside closed roads in London when the London Marathon and RideLondon take place.
"London could be a potential embarrassment for the Government; in the context of coronavirus and with Brexit looming, for a global city like London to struggle with a simple active travel solution like electric scooters is a not a good look," said Pure Electric's Director of Public Affairs, Tom McPhail in response to the data.
It is "crunch time", says the micromobility retailer, who flags that nine million school children and 9.6 million furloughed workers may well soon resume some normal transport habits in the coming weeks, potentially overwhelming the roads at a time when public transport use remains at reduced levels.
McPhail adds on quickly introducing alternative mobility to meet the demand in a sustainable way: "People need to be able to use electric scooters right across the country now, not just in selected trial areas and over the coming months. The government could confirm right now they will be changing the law on e-scooters and they could fast-track the outcome of the trials; they could be drafting legislation in anticipation, so they don't waste any time."
Cambridge, Northamptonshire and Norfolk are expected to announce the launch of electric scooter trials imminently, while Milton Keynes is partnering with Ford-owned Spin, who over the weekend rolled out the first 100 units. A further 200 are expected by mid-September.
To see the raw transport data, which runs March 1st to August 17th, click here.