Triathlon trade profits flagging, but existing customers spending more, hints study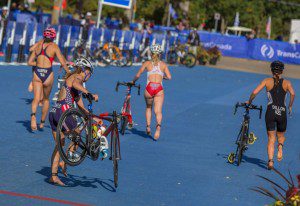 A Multisport Research study has concluded that the industry as a whole is largely suffering when it comes to profits, with new participation also stagnating.
Conducted for TriathlonBusiness.com, the survey is now in its second year, enabling some insightful year-on-year comparisons.
The study concludes that of the positives that can be taken from the data, customer demand; staffing; respondents' household finances; and prices are considered 'up' year on year'. Interestingly, this time last year, 28% of 2015 replies predicted stronger business in the year to 2016, something which doesn't appear to have occurred.
When it comes to profits, however, the data doesn't paint a rosy picture. US economic conditions are partly to blame, while other negatives cited include flat participation levels and overall business conditions. In the UK Triathlon specialist Royles was recently just one retail giant to be rescued. 
"As the world's most advanced triathlon market, the United States multisport industry is at a crossroads," said Gary Roethenbaugh, founder of MultiSport Research and the principal analyst on the TBI Industry Confidence survey.
"In the US, the industry has witnessed high levels of sales in recent years – from bikes, to apparel, accessories, coaching and event entries. Yet, the biggest concern among industry players appears to be a pressing need to drive participation rates upward."
The full TBI Confidence Index Study is available for $500. The study centred on 13 online questions spanning customer habits, participation, profits, pricing and plenty more.
Richard Adler, Interim President of Triathlon Business International added: ""We believe an influx of new athletes is necessary to energize the entry-level of the market and ensure a healthy marketplace as those new athletes continue a path towards more premium products.
"It is hoped that increased exposure for the sport around Rio 2016 and initiatives like WomenForTri will build a fresh influx of new triathletes, and re-engage lapsed triathletes."
Key findings from last year's study included:
73% reported annual profits (EBIT) to be either static or to have increased year-on-year
49% reported an increase in annual profits up 6% to 21% or more
Competition has increased. 65% stated they experienced slightly more or significantly more competition in the past year.
To obtain additional information, including details of further research, please email feedbackATtriathlonbusinessintl.com.