Upgrade Bikes picks up Nutcase Helmets distribution
Upgrade Bikes has inked a distribution deal to carry the Nutcase Helmets label with product set to debut to dealers at CoreBike.
Pre-ordering has now gone live for an expected February delivery on the range, which is largely focused on children, but has evolved to include urban designs.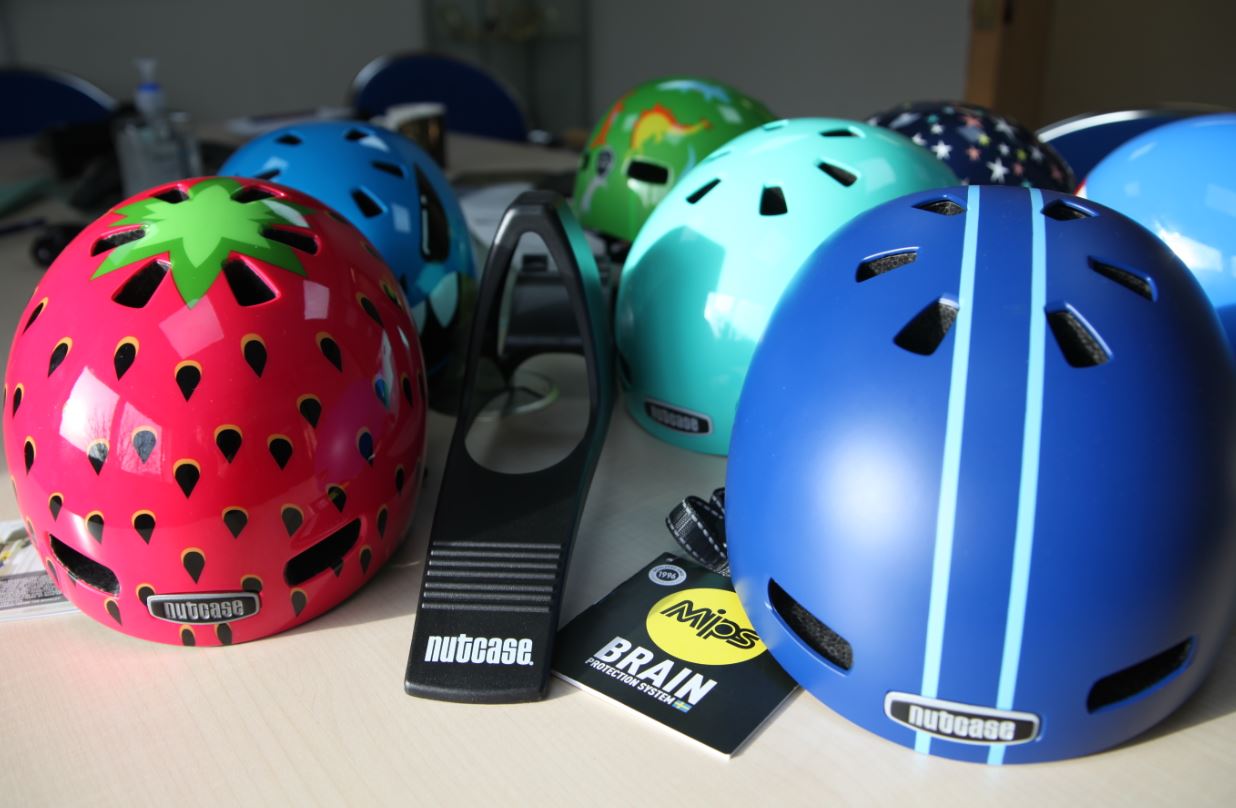 Shown to CI.N yesterday at Upgrade HQ, the range has three main tiers:
Baby Nutty, for which there are six designs, fitting 47-50cm heads and costing £60 at retail
Little Nutty, for which there are nine designs, fitting 52-56cm heads and costing £70 at retail
Street, for which there are 12 designs, fitting head sizes ranging 52 to 64cm, spanning small, medium and large. These cost £80 at retail
The brand also sell a range of £15 bicycle bells, design matched to the aforementioned helmets.
For the adult and the commuter in particular is the VIO helmet, a £150 lid that builds in lighting at the rear and comes in S/M (55-59cm) and L/XL (59-62cm).
The unique proposal for Nutcase and one key thing that adds significant value is that every helmet produced is pre-fitted with MIPS anti rotational injury protection, as well as Fidlock closure systems; deemed to be the safest and easiest to operate system for kids.
"The thought that has gone into the design is immense," said Upgrade's Matt Ryley. "At the rear of the helmet they've laid out the closure system so that girls can drop a ponytail through without it catching. The vents are perfectly spaced for a U-lock and that closure system is ideal as kids need a system that doesn't require too much strength to operate. Each helmet is supplied with a visor too, so the value for money here is strong. It'll really help brighten up store slatwall too."
CI.N learned that any accounts with the buying power to order 300 units could in theory have their own designs custom printed on to the helmets too. This opens the door for IBD exclusive designs down the road, we're told. For smaller accounts there are no MOQs, so the brand is highly accessible.
Oregon-based Nutcase is part of the Bravo Sports group, also the parent to the 661 label, among others.
Upgrade marketing lead Rory Hitchens added: "This has a broad appeal for Upgrade, so we hope to be able to introduce ourselves to some new shops, whether at the Core debut or on the road."
The distribution deal for Nutcase Helmets closely follows the addition of suspension fork brand Trust, a brand with input from suspension guru Dave Weagle.