Profile Velovixen: "The home of women's cycling"
Since its launch in the summer of 2012, Oxfordshire- based women's cycling retailer VeloVixen has grown into what they describe as "the home of women's cycling" and one with a large social media network of women and a regular presence at many cycle shows across the country.
After meeting in the summer of 2009, Phil and Liz Bingham, founders of VeloVixen, spent months as a new couple planning routes and acquiring equipment before setting off on a cycling adventure of around 10,500 kilometres up the Americas.
"It goes back to the summer of 2009 when I was introduced to Liz. We met on a blind date and everything was going in the right direction. In about November, we decided to go on a bike ride together," explained Phil.
The months of preparation saw the now Husband and Wife duo encounter a variety of problems when it came to sourcing and purchasing female cycling gear, and thus the idea of VeloVixen would become a reality.
"It was clear that women as a whole were not being looked after properly by traditional cycling retailers. That planted a seed for us which grew during our ride.
When we got back we wanted to set up something which hopefully brought in to play everything we'd experienced over a year on the road and something we could do with some degree of autonomy and unusualness. After thinking long and hard about bike cafés, which were popular at the time, and physical retail premises, eventually we decided to focus purely on the female market."
"We launched in the summer of 2012 from a small office in north west London and have grown over the last eight years into what we describe as the home of women's cycling."
The Bingham's initially ploughed their savings into the business for around four years. Until the recent coronavirus pandemic, they have been regular exhibitors at cycling industry events where they are often greeted by a significant following of supporters and customers.
"Until this year we've popped up frequently and met many of our customers face to face. We've exhibited at all sorts of events. Cycletta was just one regular series of female-only bike rides. We also went to the London bike show a number of times and had a very visible presence at the NEC cycle show for several years. The huge turnouts revealed to us that were respected in the industry and many women were coming to the shows purely to see us. We had people tell us that 'I wouldn't have come if it wasn't for VeloVixen'."
VeloVixen's popularity within the industry showed Phil and Liz several things; that women were still not being looked after properly and that if you are going to focus your efforts and drive a new message at all, you must do it well in order for customers to take the business seriously.
When asked about lessons learned from starting a niche retail brand, understanding your audience and what they want is high on the list for VeloVixen: "It's not a niche that's easy to get into and getting to grips with a female audience is no easy task," says Phil.
Additionally, building a sense of belonging amongst customers to ensure they stay loyal is something the brand has focused on through its female only Facebook group.
"If you're going to set up in the cycling industry, in particular the women's market, you really must get that tone right. It is a particular tone and it's something we've improved consistently over the course of eight years. The Facebook group is an embodiment of how our customers like it."
Not only are loyal customers important for building a successful brand, according to Phil, having a strong and dedicated team behind you is paramount for the success of the business.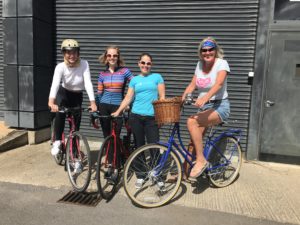 "It is important to make sure you have great people in your team. Even if it is only three or four people, make sure they are right and are really adding something to the business. In VeloVixen terms, we have been very lucky."
When asked about challenges within the cycling industry and the retail market in general, Phil spoke of the occasional loneliness of building a brand and running a niche business and the challenges associated with predicting your next sale.
"It can be a lonely business sometimes, we often appear bigger than we actually are which is a twin-edged sword. On the one hand people like and respect what we're doing, on the other hand keeping up can be hard to satisfy them! Especially this summer when it's been very busy and we have been introducing new systems, a new website, new staff and more."
"These are all challenges that come with running a small business. You're up against established businesses who have all the systems, experience and pricing edge through better margins and visibility. We are starting to catch up on that front and I think we are starting to show up on the radar far more than we were even a year ago."
"It has been very much a David and Goliath situation. But it is very gratifying in the end when you're feel like you're making an impact on the sector and people are coming back to you."
While coronavirus appears to be destroying large amounts of the economy, the opposite can be said of the cycling industry. The bike boom as a result of Covid-19 has meant that retail shops have struggled to keep up with the demand in the supply network. It has also left several retailers wondering whether the next few seasons will be the same and how much supply is needed.
The brand discussed the challenge of supply within the industry and the technical challenges of the wider cycling industry with regards to competing with larger retailers as a niche brand.
"With retailers, I think it's an absolute can of worms as to how it's going to go. If you can maintain strong engagement with your particular audience, whether it's women only or a particular type of cycling, I think you can develop a real affinity with your audience and a real loyalty, whether you're bricks and mortar or online. But you do have to work very hard at offering what the customers want as there's a lot of choice out there", said Phil.
"The barriers are multiple and that's saying nothing about the technical challenges. If you're turning over hundreds of millions, then you're in a position to utilise all the new innovations. The bigger players will be able to engage in that, where the smaller ones will have to be more inventive. It's just trying to find ways to keep up or even ways that to be ahead of the game with today's technology."
Although faced with the challenges of operating as a smaller brand, VeloVixen has positioned the business to capitalise on trends and has learned that serving these markets online can be a strategy that pays dividends.
When it comes to the future of VeloVixen, as a small company it is the brand's belief that that whilst it is important to grow at a decent rate, it is also important to ensure that you scale up properly.
"We would like to continue growing at the same sort of rate. Often with a small company you need to get to a certain scale in order to scale up properly. We've been fortunate enough with this pandemic that, while it's hurt so many sectors, it has played into the hands of the cycling sector and has given us that unexpected quantum leap forwards up to a point that we can now be more competitive within the sector and we can make more informed decisions about our direction and how we get there. At the moment we focus on cycling clothing, but I wouldn't rule out moving to tangential markets. We would like to grow into a household name and most definitely be a recognised brand amongst all cyclists", said Phil.
Huge growth is not off the cards for the women's only retailer as they embark on their next cycling adventure. Watch this space.