Volata "smart bicycles" head direct to European consumers
Having launched within the U.S. market and been hailed in local media as "among the most advanced bikes on the market," Volata has now outlined ambitions to break Europe.
Multiple pop-up events will now run throughout Europe to promote the new shipping availability, which comes in tandem with the debut of the new lower priced Model 1c. Like its predecessor, the 1C seamlessly blends a computer, lights and safety features into an elegant, cohesive Italian design. Thanks to internal gearing and a belt drive, maintenance schedules are greatly reduced.
Marco Salvioli, Co-founder and CEO at Volata offered: "We live an era of connected devices with new innovations daily. For people using the bicycle to get from A to B, functionality hasn't changed in decades. We believe Europe, with 46 million daily bike commuters, is the leader in cycling infrastructure and mobility. We're proud to finally bring our technology to urban commuters where every Volata feature will contribute to improving their lives on the bike."
The new Model 1c retails for €2,499 with mechanical shifting and €2,999 with Di2 electronic shifting, while the original Model 1 retails for €3,499. Starting from today, the Model 1c is available for online reservation at €299 through volatacycles.com. The balance is due upon delivery, which will begin in September 2017.
Volata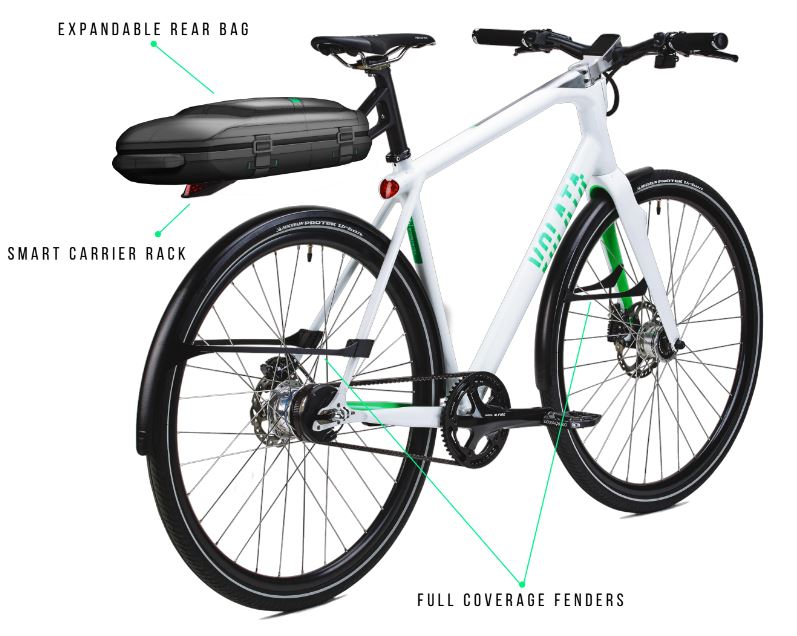 can be configured online and offers the choice of four sizes (S, M, L, XL), two colors (Ice White and Moon Grey), and two different saddles (men/women). The shipping fee is €90 and Volata will deliver the bike to the desired location 99% assembled.
The firm has also now lifted the lid on a handful of own-brand accessories, including a smart carrier rack with built-in tail light, full-coverage fenders, and an expandable, water-resistant rear bag with a magnetic slide lock system.