Weldtite talks enhancing UK made lines, its new MD's influence and selling bike care effectively
With a new boss at the helm, growth in exports and a steady trickle of specialist new lines, CI.N talks to Weldtite's Carl Davenport about how bike shops can maximise their ride care business through rain or shine…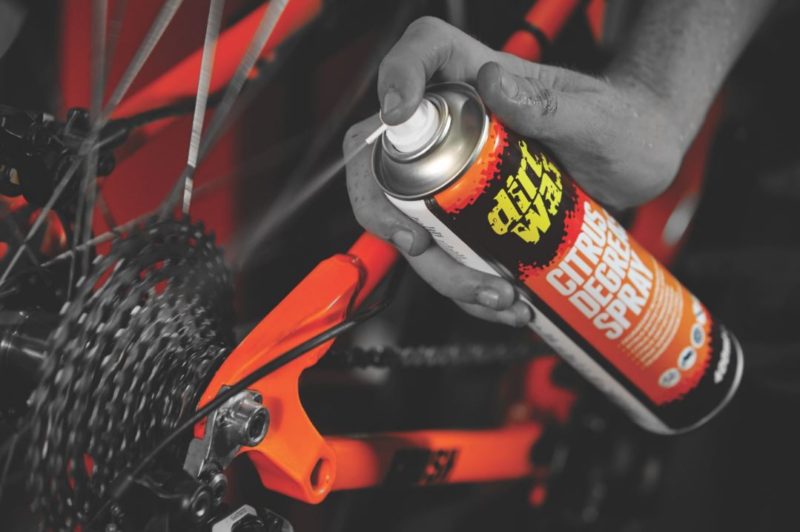 What's the best way to effectively set up cleaning and lubrication product in store?
Flexibility and positioning is key. You know your customers and their riding style, so position the products in high footfall areas with easy access. Our modular stand has just been re-designed for 2018 to make them easy to assemble and eye catching with a small foot print. They work well as individual merchandisers hung on a slatwall or as freestanding full-range merchandisers. The stand showcases the whole range and positions products in logical groupings.
What indicators on Weldtite's packaging are there to educate the buying customer on intended usage?
We aim to orient our products around customers and their intended use. The TF2 range for example has simple infographic for the type of weather – Rain clouds for wet lube, sunshine for dry lube, etc. The same goes for our Jetvalve CO2 Inflators, there are images indicating valve compatibility (Presta & Schrader), cylinder size (16g, 20g or 25g), and the maximum compatible seatpost size. We sell products in 50 different countries around the world and get consistent feedback on the importance of good quality simple imagery.
For shop floor staff, can you share with us some key knowledge to assist staff in selling such goods?
The public appreciate engagement with knowledgeable people who can share their knowledge in a non-techie or condescending way. Work on how you make your sales people non-technical but interesting. Don't take it for granted that a customer know the difference between wet lube and dry lube, or a degreaser and a frame cleaner; if they do, they will tell you. Wax is a really good recommendation for a mountain bike rider as it's fantastic in grit, gravel and sand and not as sticky as an oil. Road cyclists
typically don't consider wax, but it's equally at home on the road to keep dust and debris at bay while keeping a chain and the riders legs clean. We choose to add Teflon to our TF2 lubricants due to its unique ability to penetrate and coat surfaces other products do not reach.
What training material is available to help staff?
We produce product spotlights on all new lines that highlight the features and benefits as we put them into the marketplace. We also supply information sheets on specific applications or additives, for instance, we're often asked why we assert that Teflon remains the best additive for chain lubes, which has a specific leaflet and datasheet.
You've a new managing director now at the helm in Paul Davis; what's been on his to do list since he joined?
Paul is only a few months in and has an ever growing list of things to do. He brings a wealth of experience in manufacturing as well as brand development, customer service and sales and marketing. Paul's challenging many of the things we take for granted and bringing along some really fresh thinking. It's too early to share the developing plan, but suffice to say everyone's level of enthusiasm and engagement has stepped up a gear in the last few months.
Selected lines in the UK – will we see more of this in the future?
It's actually really important to us that our products continue to be made in the UK. We are continually challenging ourselves to produce more sub-components in house. Our factory is part automated and part manual operation which gives us a very high level of throughput and flexibility.
Will we look at bringing even more manufacturing in-house? Definitely. By controlling our production process in-house, we assure service and quality. We take pride in Weldtite's excellent reputation, especially with wholesalers and IBDs. Why outsource something this important?
How is Weldtite developing its lines to be eco-friendly?
We care about the impact our business and products have on the environment. We have even developed a range of products called PURE that are extremely environment friendly. Ingredients are from sustainable sources, with no propellants, fragrances or colourants. What's more PURE is 100% free from petroleum-based solvents and human carcinogens, and is classified as readily biodegradable by internationally recognised standards. The bottle is made from recyclable material and unusually, the label is made from the same material allowing the empty bottle to go into household recycling. When reviewing the products in the marketplace we found many products have paper labels meaning the products have to be placed in the less environmentally friendly mixed recycling.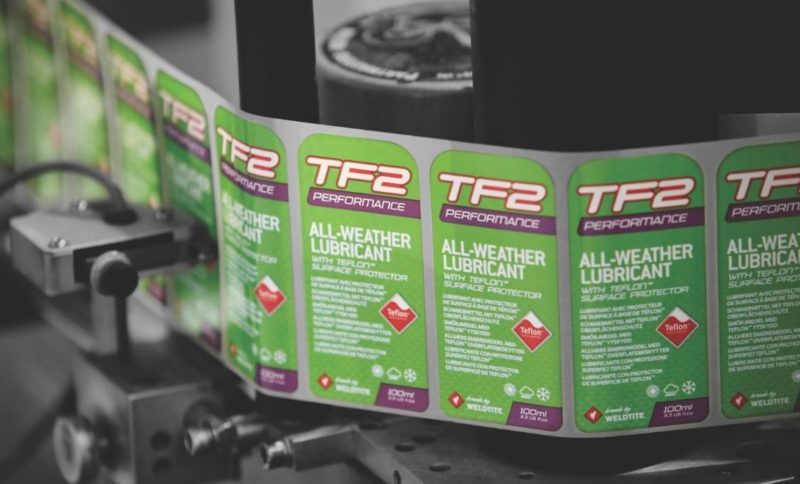 What key lines are landing at present that retailers should check out?
In the TF2 range we have our Advanced Ceramic Wax which is the best performing chain lube we have tested. In the Dirtwash range, we have our Maintenance Starter Pack with mini versions of our best-selling lines, an Expanding Sponge and Microfibre Cloth double pack, plus Frame Wipes for easier cleaning; new sizes in our Chain Degreaser range and a reformulated hand cleaner which excludes microbeads. In puncture repair we have a brand new tyre mounting gel for easier fitting, and after such a huge demand for our 75th Anniversary puncture repair kit back in 2015, we've produced a vintage repair kit in a weathered metal tin. The new shop stands are also getting great reviews.
What point of sale material is available to assist stores?
The Weldtite big news for 2018 is our shop stands. Elsewhere, we have over 100 items in our point of sale range, so many in fact, that we publish a catalogue specifically around POS (available at www.weldtite.co.uk) that covers everything from slatwall headers, merchandisers and desktop catalogue dispensers to window stickers, workshop wear and branded carrier bags. We even produce larger items such as gazebos, flags and banners for outdoor events.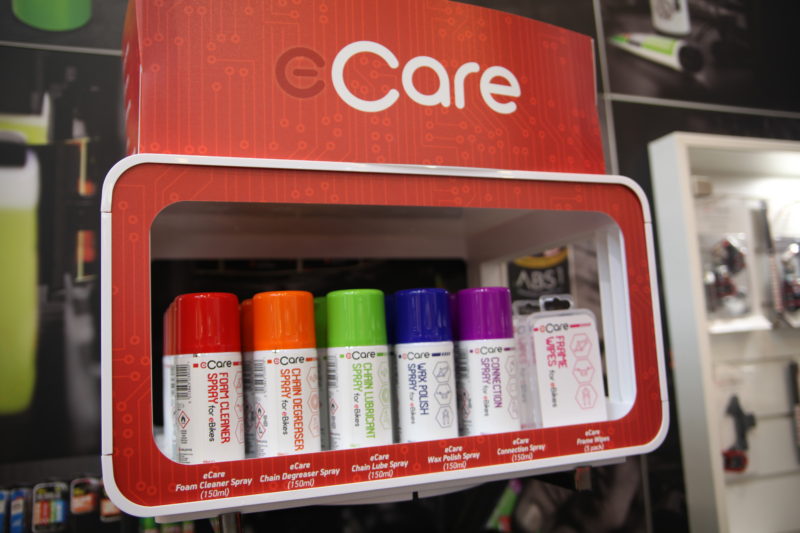 You've added e-Bike care goods too. What's available?
The eCare range is a bottom up development that has been produced after consultation with e-Bike riders about what issues they have had. The range includes an electrical contact cleaner, waterless frame cleaner, a chain degreaser, chain lube and a wax polish. Presented in a handy multipack, they make a great low-cost upsell. Completing the range we have a puncture repair kit and frame wipes that make the e-cyclists regular maintenance and basic repair much more manageable. Range sales to date and customer feedback has been excellent.
How can retailers take stock of Weldtite and what are the
minimum requirements?
In the UK, we deal with virtually every wholesaler making our products widely available to the market place and we would recommend discussing stocking quantities with your preferred wholesaler. Outside of the UK we have a wide network of dealers that stock our products. Anyone requiring Weldtite products or support can also call our office is Barton-Upon-Humber on 01652 660000 and we will happily advise.