What's the story with Rutland Cycling's rapid expansion?
If you've had eyes on CyclingIndustry.News' Jobs Board it won't have escaped your attention that Rutland Cycling has been relentlessly recruiting industry talent. Curious as to what's going on, we sat down with Managing Director David Middlemiss to get the full story on the chain's ambition…
Just two years ago the Rutland Cycling portfolio consisted of four shops, headed up by the flagship Whitwell location on Rutland Water. When the business came to be back in 1981, founder Dave Archer literally handbuilt the first building, a unit that still exists but is now dwarfed by the main building and functions to serve the adjacent climbing activity rig. Also dwarfing that building is the wider portfolio of stores, soon to be 12 strong and representing a tripling of locations in just 24 months.
At a time when there are an enormous number of independent bike shops either closing or for sale, to say that Rutland's trend bucking is eyebrow raising is an understatement. For a family-run business that prides itself on investing in its people it's hugely enviable too.
"We have no strategy to necessarily 'keep up' with the industry big boys, more to do our own thing and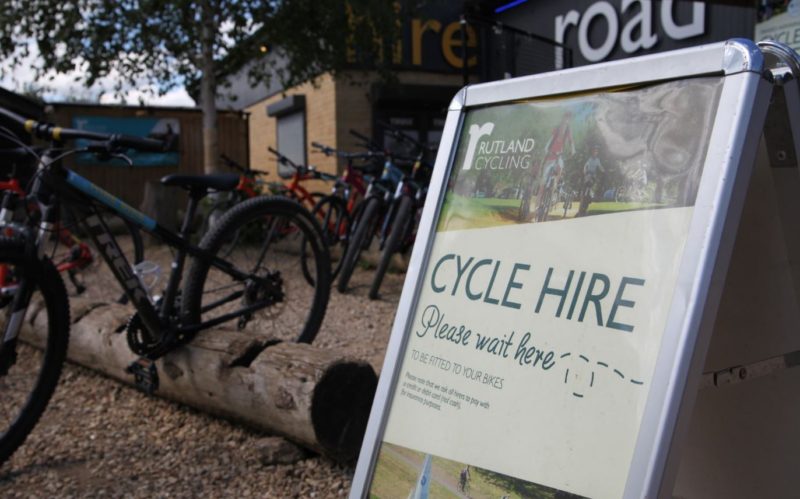 for us that is to tie up strategic locations that will best show off the brands we carry to customers," explains Middlemiss. "All of our hire bikes are current model year bikes, which I think is particularly important at the present time. Certainly we were among the very first retailers to be offering electric bike demos in a location quite like Rutland and I'd say that not only did we benefit as a result, but likely the wider industry too. As is commonly accepted, once a new customer has a go the new understanding sells the product immensely well."
Indeed during our second store visit of the day, Rutland's purpose built Peterborough store, a customer stopped Middlemiss to sing both the praises of staff and for the way an electric bike has changed his social circle. One purchase naturally lead to curiosity of others and Rutland has since benefited from a group of high-ticket sales.
"That wasn't staged, I promise," jokes Middlemiss, who coincidentally bolstered his e-bike knowledge reading for a Phd in lithium production, having studied on Bolivia's salt flats where 85% of the world's resource apparently resides. "But that goes to show that people are highly rating the Rutland experience and that's something that we've invested quite heavily in. Experiential retail is the buzzword, but we've been pressing forward the customer's enjoyment from the beginning. My father-in-law was only sharing with people his enjoyment of touring back when he founded the business and to this day it's all about showing the customer a great time on bicycles."
Creating an environment within which people are happy and comfortable has been a focal point of the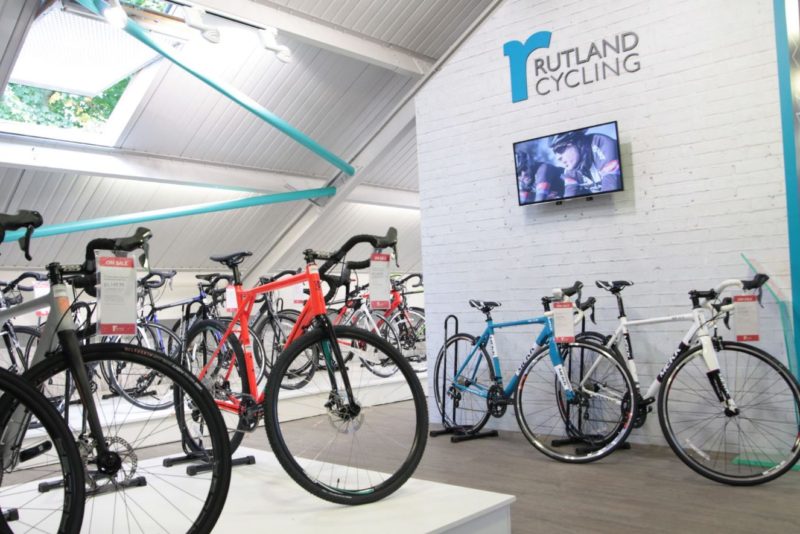 business, which now has pushed the Rutland brand and the firm's own merchandising out across all of its branches. It's notable that despite having several dedicated heavily branded segments within stores, the Rutland styling runs throughout and will continue to do so as the firm plots its course to open branches in Leicestershire and Nottingham as we head into 2018. The attention to detail is among the best we've seen in the industry, with signage clear, bright and effective. Rutland's stores are not places you'll spend long if you go in knowing what you're looking for, such is the effectiveness of the in-store visuals. You can, and of course are, invited to spend as long as you wish. As is now common in the industry a coffee bar offers the chance to peruse magazines and take in the Rutland story with a little nostalgia designed in where customers will dwell.
"The high class showroom feel is deliberate," we're told. "Point of sale can be immensely effective at telling brand stories and engaging a customer. Big format shops with emphasis on presentation can of course be costly, but there are big benefits to being able to merchandise well and make stores a place customers want to be and return to. We've gone through several full format overhauls since the 90s to keep up to speed."
As important as the visual journey is, Rutland's staff have a similarly professional, almost trained, approach to guiding customers.
"We have our own non cycle specific trainer to help staff get to the right level. There's brand training too, of course and an annual coaching event. I'd say the cycling business isn't necessarily one traditionally able to resource management training, but we do ensure this is taken care of. My wife and I come from corporate backgrounds, which are obviously highly trained and with big investment in staff. One good thing about our growth is that we've been able to offer some decent career progression for our 100 plus staff. It feels like Rutland's a good place to be at the moment," says Middlemiss. Like customer service, the process has to be ongoing, we're told. "You have to empower staff, it's important to have engaged and motivated people in the business to drive forward your vision," he adds.
Streamlining the business to operate on the same page also runs as a theme with Rutland's online strategy, a segment of the business presently kicking up a gear. Currently investing to tie in the brand's online appearance to in-store, Middlemiss believes Rutland to have been among the first to have click and collect services live in the UK trade, something that will be further developed over time. Having migrated three different back-end systems to one central Citrus-Lime platform running throughout the business, each shop is able to sing from the same hymn sheet on everything from stock to sales trends, handy given that each store sells different brands.
"Online is challenging, but necessary. It seems as a result many are no longer investing as heavily as they were. I'm keen that Rutland has a 'one customer view' that links the experience of in-store with a similarly engaging online platform. There are many customers out there who research online and buy in-store," says Middlemiss.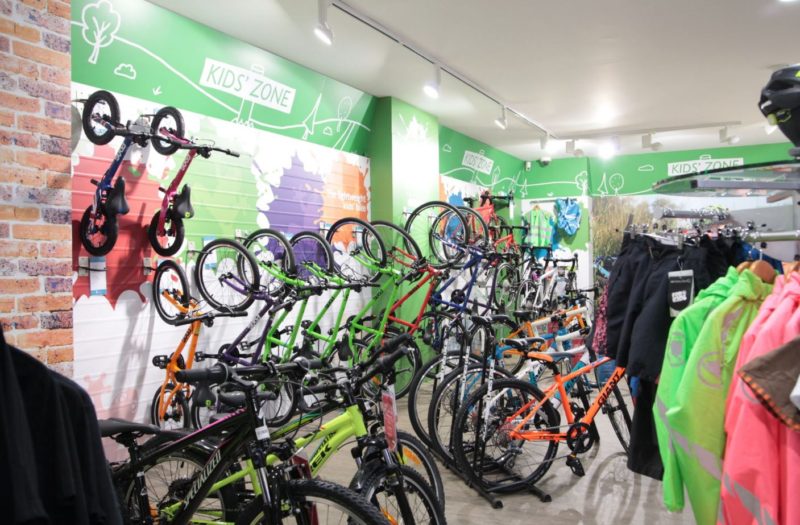 Carefully weighing investment against keeping a sharp eye on profits has been crucial in the expansion. Though Rutland has long–term funding from the Business Growth Fund to assist in its ambitions, family management remains at the forefront and for that reason Middlemiss speaks of carefully tuning stock in each shop. It's inescapable on entry to the Whitwell branch that electric bikes and women's bicycles take pride of place for much of the ground floor.
"These are the industry opportunity at present and tie in brilliantly with our hire business. Certainly we took that risk and placed faith in e-bikes early to best understand the potential and Whitwell demonstrates it in abundance. People tend to hire, go home and return to purchase later, so that first experience of Rutland and our bikes is key. Adding weight to some categories has meant removing lines that were less profitable and that's an ongoing process. Certainly we have a greater ratio of bikes over parts and accessories nowadays, which further helps with the showroom feel."
Planning ahead of the general industry benchmark is again part of the Rutland strategy and something inspired from Middlemiss's corporate days.
"I like to be thinking six months ahead and planning carefully how the business will turn customer experience into sales. Working very closely with brands is one method where we have particular success."
No two stores follow a copied and pasted strategy, we're told.
"In Cambridge, among other hire locations, one of the challenges we have is competition with other activities for people's disposable leisure income. Bike hire there needs to be cost effective for people to weigh up cycling against other activities," says Middlemiss. "It's a challenge to find the magic bullet for margin improvement in the cycling trade. That's why when it comes to things like bike fit we are strong on emphasis that this is a charged service. If we're selling a bike north of £4,000 we will perhaps include a fit, but the emphasis will always be there that this is an added value professional service and most customers understand the investment in time, equipment and experience."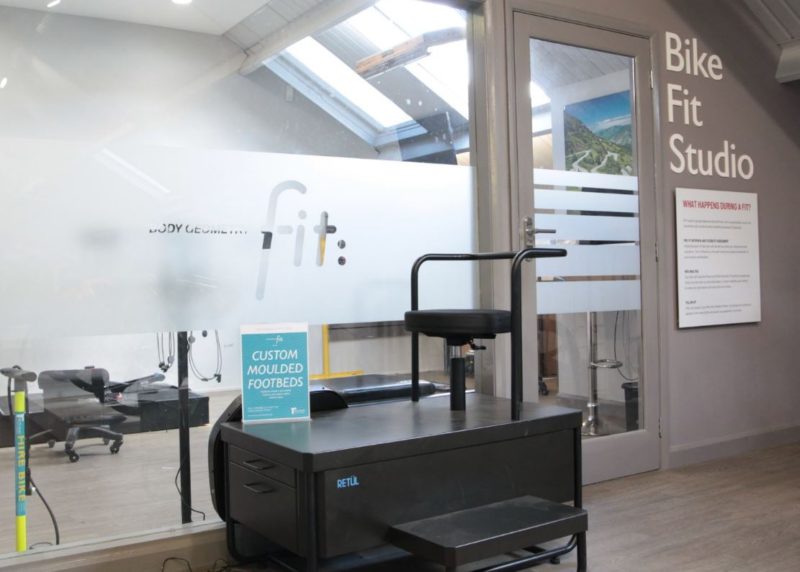 Middlemiss speaks passionately about the bike business not underselling itself, which is in large part down to his desire to be in the business "for the long haul."
"I've a long-term view of the trade and plan to be around to see Rutland into the next generation of bike retail. Of course we have a number in mind when it comes to acquisitions and store expansion, though it can't be uncontrolled. I like stores to be able to offer a traffic free experience of cycling nearby, that's part of the formula. With that in mind I think as an industry we could pull together a bit more on advocacy when it comes to championing cycling as a serious mode of transport as well as a sport and leisure pursuit. The Government could absolutely choose to be doing more to help, of course. The e-car is happening now, so we can only hope the e-bike will eventually complement transport strategy. This opportunity could be huge for our industry, every bike lane built adds weight and adds customers. We attend meetings where possible to drive forward developments for cycling, but you can never do enough to build that future," concludes Middlemiss.