Windwave picks up Scratch Cover suspension repair label
Windwave took to CoreBike to launch Scratch Cover, a French suspension repair kit maker that aims to give people a better solution to filling in scratches than nail polish.
Available for the relatively bargain price of £34.95, the kit contains five batches of repair solution, potentially giving service centres stocking the product a service turnover that more than justifies the investment.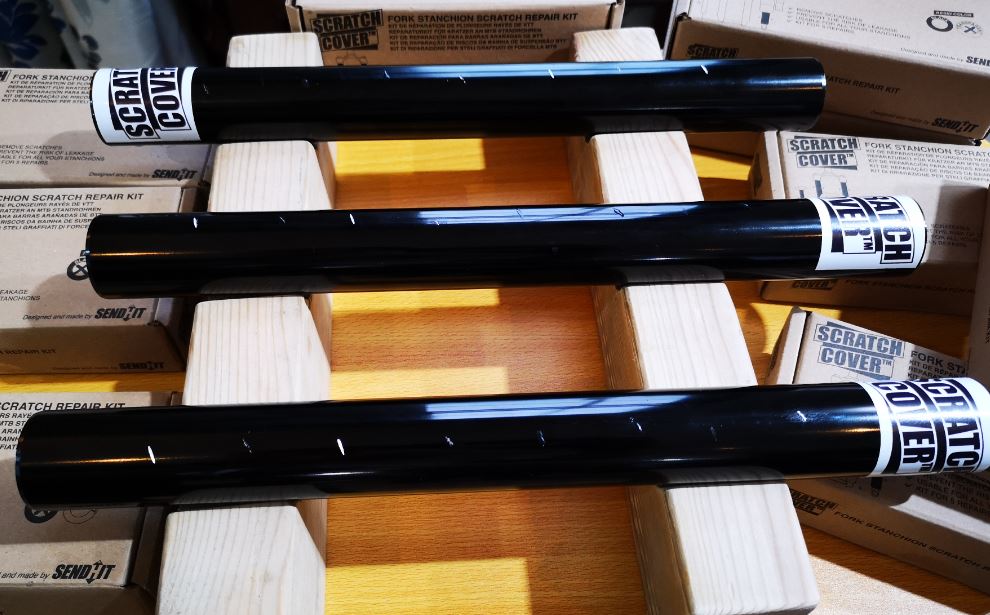 Windwave's marketing manager Dan Jones explained: "A full stanchion replacement doesn't bare thinking about at anywhere north of £250, so very often you'll see people do the best they can to fill blemishes on forks and dropper posts with things like nail polish. That of course isn't a very permanent suspension repair solution. With Scratch Cover we have a 15 minute repair formula that can comfortably be done at home, or from the bike shop's point of view, a kit that can service five different customers for whatever price the workshop deems fair."
The kit carries gloves, sandpaper, a surface cleaner and epoxy kit that can be mixed to deliver a two millilitre vial that "goes further than you think," according to Jones. An instructional video features online for those wishing to take on the task at home. To assist the mechanic the packaging is even designed with cutouts to hold the vial when in use.
At the present time the kit comes in both black and transparent versions, so there's no perfect match to Kashima coats as yet, but the firm is working on such things.
Windwave has stock of the kit now, as well as a strong range of the recently signed High 5 Nutrition products.