AquaBlue Sport announces Pro Tour ambition end following UCI audit
Online marketplace Aquablue Sport, a platform that virtually hosts nearly 100 independent bike shop's stock, has closed down the Pro Tour Team that drove the core of the platform's marketing.
The firm has made multiple layoffs in recent months rejigging the purpose of its Cork, Ireland office. CI.N has learned of at least 10 staff layoffs attached to the office, believed to have occurred earlier this summer. Many of the staff had been recruited in the past year. The firm, during March of this year, had 15 in-house staff on its books. Further staff attached to the team have similarly confirmed their departure.
UPDATE: CI.N has learned the last of the staff tied to the marketplace were laid off in Cork on Friday 24th of this month. A further staff member on the road was also let go.
AquaBlue Sport's marketplace is tied in with the pro tour team, founded only in January of 2017 by businessman Rick Delaney.
Aquablue announced on Monday that it will not apply for a 2019 UCI licence and that an announcement of a merger with Belgium's Sniper Cycling was both "premature" and now off the table.
Largely funded by the online marketplace's trade, the team's future may well now be in doubt, though the statement doesn't explicitly call time on the ambition to "create a sustainable cycling team".
CI.N has learned that selected members of the team's staff have similarly been affected by the cuts, with only essential support staff remaining at the present time. Of those staff let go, "essential" developers and digital marketing personnel behind the marketplace have confirmed their exit.
One staff member, who chose to remain anonymous, told CI.N: "I have been an employee for some time at Aqua Blue and I have been let go."
Most staff affected were let go by May 25th of this year as the firm relocated its operations. Former staff members report being sent a generic email from director Jamie Delaney informing them of the Cork Office ceasing operations ahead of a proposed move to London.
CI.N has also learned from staff that the UCI undertook an audit of the team's financial accounts during July.
On this a separate source formerly within the company told CI.N: "From the people I have spoken with that are still in Aqua Blue Sport they think that this could potentially be game over for them. At the start of the year when the UCI delayed issuing a license to ABS it was due to their concerns around how the team was financed."
According to the team's Wikipedia entry, funding for the team was assured for at least four seasons with two-year rolling contracts offered to the riders.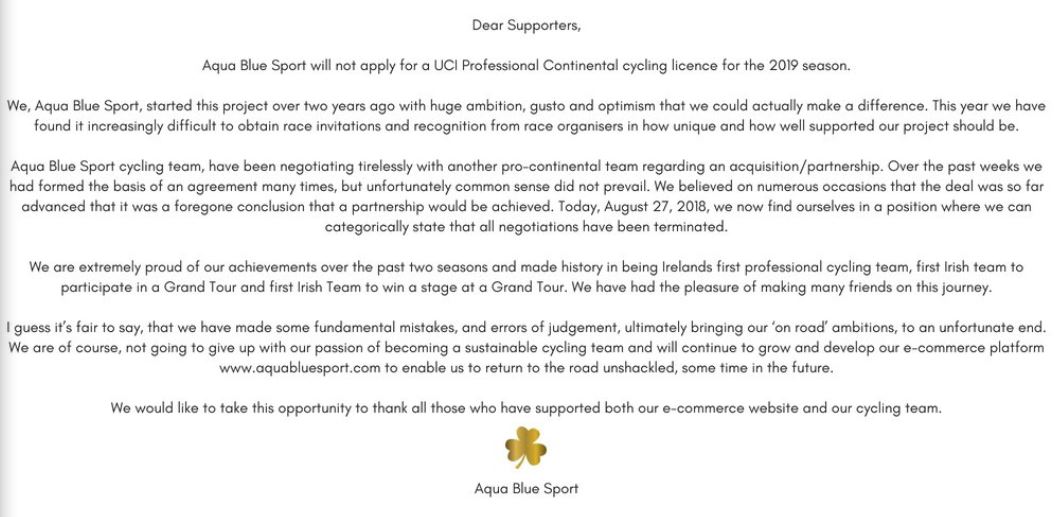 Founder Rick Delaney vented his frustrations earlier this summer at the process to become a Grand Tour team having seen AquaBlue not secure a Vuelta invite, despite having won stage 17 with Stefan Denifl in its maiden season invite. This is again criticised in Monday's statement, as seen above.
He wrote: "Last year we had no history & got some fantastic invites. This year we have a positive history and get little or no invites.
"I invest millions in this sport and try to offer something different in terms of funding in order to keep the sport alive.
"All I have asked for is respect in allowing us to showcase the project for the sport. No races means no traffic to our site which means no sales and therefore no funding for our team.
"We ask the sport over and over again to allow us to race on the big stages, to support our project and in turn, support the sport.
"We don't even get a courtesy call to say we've been overlooked. We, along with other teams, have to discover via social media if we are allowed to race. That's it.
"We can't get any race starts as a team who are trying to build and improve the sport. Yes I know, the sport will be around much longer than I, but it's currently controlled by a 'boys' club' mentality.
"We really need to question is this a real sport, is it giving real opportunities? Simply unbelievable! Over and out…"
Similarly drawing attention, Delaney also took to Twitter to criticise the choice of single ring set up on the team's 3T race bikes.
Much like its main competitor, Bike Exchange, Aquablue's online marketplace relies on retailers signing up to list their products in exchange for a commission on sales. In return, Aquablue's pro tour team presence and investment in SEO would, in theory, give retailers a much larger shop window online on which to sell goods.
The firm told CI.N earlier in 2018 that it had ambitions to expand its trade overseas. The platform had quickly accumulated a deep audience, said to amount to 27,000 on the email database, with competitions and promotions projected to "take that number north of 40,000 in the coming months".
There were complaints from associated parties that AquaBlue was selling Trek's bikes via mail order into the Irish market, where in November of 2017 the long-standing distributor Centro went bust. Trek's relationship with the Irish market was managed directly from Wisconsin with no landed UK bikes crossing the border.
A new private limited company under the Aqua Blue Sport LTD banner was created on the Companies House website earlier in summer with existing directors Jamie and Richard Delaney registering a new address in Bath for the business.