Belt driven carbon folding bike launches in London and looks East
"It's a niche within a niche, but we've sold a good amount before we've even launched, such has been the interest," says co-founder of Lios, Steve McCulley.
Launching the Nano yesterday in London, the build is likely the only mass produced belt-driven carbon fibre folding bike on the market, meaning Lios now sits at the summit of a fast evolving high-end market for folding commuter bikes.
At £3,250 for a singlespeed rig, which is optimised to churn out a solid 18mph average via around 65 gear inches, the Lios benefits from the carbon manufacturing expertise of a far-Eastern manufacturing goliath. For another £250 a eight-speed Alfine hub geared build joins the party, while a limited edition build is shipping to June's LikeBike show.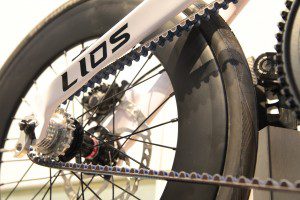 McCulley has tinkered with bikes from a young age, but Lios came about almost as a result of a life-altering event in Afghanistan. McCulley is also a Cytech Level 3 Bike Technician, one of less than 50 certified Retül 3D motion analysis bike fitters in the UK and the first to own and utilise the revolutionary BioBike dynamic fitting system, of which there are currently a handful in the world.
"I was leading a group in the Royal Marines in Afghanistan having followed a friend into the military many years ago. Unfortunately I was hit side on in an IED blast, which put me in a coma for three weeks and in hospital for three months. Following that I had a pretty intensive period of three years rehabilitation during which I began to tinker with bikes again, first producing 25 custom builds a year, but then exploring the potential of a folding bike.
"I met Brompton founder Andrew Ritchie in 2013 and asked if they were likely to explore a carbon folder in future. He laughed and said it was highly unlikely and gave me a blessing of sorts to explore the idea. A short while later and here we are. I took the Lios back to show him and we spent all day at the factory with many of Brompton's staff wanting to have a go."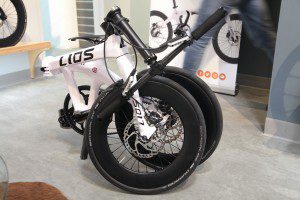 The bike's spec is unlike any other folding bike on the market, in that it sports 18-inch 60mm deep carbon rims, internal routing through the monocoque frame, Shimano hydraulic brakes and carbon finishing kit on the seatpost, handlebar, saddle and tapered steerer fork. All of that tips the scales at a featherlight 8.2kg for the singlespeed build and 9.2kg for the Shimano gearhub version and it's 20-inch wheel.
"It's built tough, we've had BMX riders drop it off our van roof with no trouble," McCulley says with a smile.
Got a store in an urban area that may benefit from a bike like the Lios? You may be in luck, says McCulley.
"At the present time we're selling via Bespoke Cycling and Cyclefit in the UK, but I'm very open to hearing from dealers elsewhere who would be the right fit. We think that this bikes' potential in south-east Asian cities, for example, would work well. Interest has already emerged from Europe and the USA. Given there's nothing quite like this on the market at present it shouldn't cannibalize a dealer's other business if a customer is considering their commute options."
www.liosbikes.com