Bombtrack interview: "Appearing on fashion blogs has helped us reach whole new markets"
Bombtrack is a brand that has always caught our eye at trade shows around the globe. Not afraid to experiment with new ideas and with a diverse, yet often well received catalogue, we talk to product designer Richard Shaw about 2017 plans, collaborating sportswear giants, grass roots cyclocross and plenty more:
For those who haven't come across Bombtrack before, tell us a bit about yourselves and what you do:
Bombtrack is one of many brands from the We Make Things portfolio. So we are an independent bicycle company based in Cologne, and probably based known for our BMX brand WeThePeople. Bombtrack is a brand born from a 26" fixed-freestyle model we made under our Radio BMX brand back in 2012. This kind of bike was a natural progression from our history in BMX. We felt there was a chance for us to expand on this model and so developed the first Bombtrack range in 2013. Since then the range has expanded into the fourteen models we have today.
Why should the bike retailer consider Bombtrack as an alternative brand for their shop floor?

Well at the core of our bikes is something that has been designed, built and assembled by a team of people who've been producing bikes together for twenty years. So although you may not know the brand there is a knowledge and experience of producing high quality bikes in the background. Everyone who sees the bikes in person comments on the attention to detail and feeling of quality. We work mainly in steel, largely because that is our background, but also it's fortunate timing with the renaissance it's having.  The slim lines of a steel frame standout among all the hydro-formed alloy and CFD optimized carbon out there. I think this has struck a nostalgic chord with the experienced cyclists.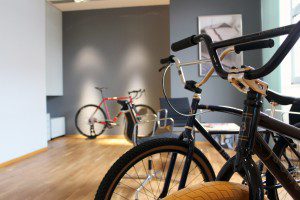 Combined with this, our more lifestyle-oriented image has put us on the radar of riders coming from 'alternative' backgrounds such as BMX, MTB, surf, snow and skateboarding.
The range is quite diverse and seemingly growing – which models and segments are performing well and what new areas are you exploring?
For us our Arise and Hook models have done well. They both offer a great deal of versatility, which has no doubt helped, but also having a CX / gravel oriented design has meant they're right on-trend at the moment. We'd like to continue exploring these areas, but additionally we see the growth in bike-packing as something we can evolve into. At the polar opposite is the fixed, Crit race scene, which continues to grow with more events and riders all the time. We're actively supporting riders in both of these areas and their input and ideas are really helping us develop new products.
Any exciting new projects, collaborations or events planned for 2016?
We have a few projects in progress for this year, we've got our friend Clement riding two unsupported races, first the Tuscany Trail, then later in the year the French Tour Divide. We're also supporting a couple of guys on some long distance tours, with Che Chorley riding 4,000Km along the south coast of Australia, and Aranus Verikas doing an 8,000Km coast-to-coast across Canada. Stefan (Fish) Vis will be riding all the Red Hook series as well as some other fixed crit races.
As far as collaborations, we have just completed a project with the Berlin Fahrrad Show, which involved a custom single speed CX bike that seems to have reached just about every bike blog out there.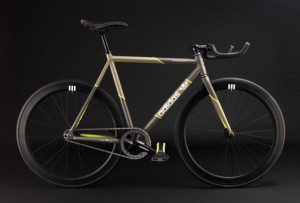 On the topic of collaborations, you partnered Adidas on a creation recently – how did that come about?
Yes, this was a really fun project. They approached us as they were launching a new range of accessories and were interested in doing a limited run of collaboration bikes as part of the launch. Using the accessories as the inspiration we came up with a new color scheme and made a few custom parts for the bikes, like the pedal straps trimmed with shoe laces. The bike was a great success and reached urban fashion/lifestyle blogs like Hypebeast and introduced our brand to a whole new market.
Rider feedback was something you've pointed to as being key to product development – what are consumers asking for at present?
What we're focused on is using their experience and knowledge to really optimize what we have. So geometry input is one of the main things and we like to validate each model through rider testing, and ideally with something that takes the bike beyond its expected limits. A good example of this is when we launched our Hook CX/gravel bike, we entered it into the Transalp seven day MTB race, and our Audax, which was proven in the Transcontinental. A lot of the feedback we get is specifically based around versatility, so we're working with riders to see what more we can develop along those lines.
It was evident at Eurobike last year that you've taken a keen interest in bikepacking as a segment – do you see this as an emerging market? Have any of the prototypes made the cut?
I think the segment is very interesting and fits well with our more lifestyle-oriented approach. Camping and hiking seem to have suddenly become very cool, and the bike is the perfect means to get out and explore. We have continued developing the 27+ hardtail you saw at Eurobike, and will have this in production for 2017. We feel the 27+ is the perfect platform for this kind of bike, and once the tent is up and the bags are off you've got a great trail bike to go play on.
Do any ideas from elsewhere in the WeMakeThings portfolio benefit Bombtrack's development?
Certainly, our fixed freestyle bikes in the beginning saw a lot of development and knowledge directly carried over from BMX into those bikes and parts. Strangely, these bikes got a lot of interest from riders who had no intention to ride them fixed, but rather as a tough urban commuter. So we developed our hubs with interchangeable drivers making it very easy to go from fixed to single speed. We also added removable brake pivots to the frames, another BMX trend making its way over. We've been developing our own BMX components for so many years we've actually got a good amount of patents as a result. It would be great to capitalize on this and bring some of these ideas to Bombtrack.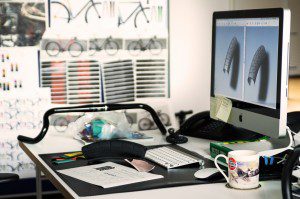 Can you give us any insight into what's in development for 2017?
So as well as the 27+ version of our Beyond we're also looking to expand on our other key models. So we will have a new version of our Arise, but with an internal geared hub and fenders making it an ideal commuter bike. We've also got a couple of 'road plus' models we're excited about. They were a real challenge to develop, but we see great potential in the 'plus' concept being applied to gravel and urban bikes.
How many countries is the brand now visible within?
We have thirteen distributors at the moment, including Europe, Canada, Australia and USA. We're always looking to expand on this as we really believe in having a distribution network and selling though IBD. Our bikes really benefit from being seen in the flesh, which is why IBD is very important to us. As a relatively new brand we also rely on our distributors to help with marketing and promoting the bikes and our projects within their regions.
You're particularly active in Cyclocross circles – has the brand been well received as the market's developed and what are you doing to be a cut above the competition's bikes?
Yes, we seem to have timed it right with our cyclocross bikes, and overall the bikes have been really well received. We're not trying to position ourselves as a competitive race brand though. We're really engaged by the grassroots level and the fun, alternative crowd that it attracts. We're passionate about this and having just organized the European single-speed Cyclocross Championships in Berlin. I can see us doing more of this kind of thing in the future.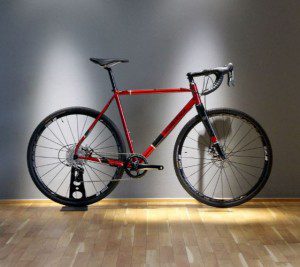 What's the road going highlight for 2016 and into 2017 what ideas are developing?
The Tempest is probably the highlight of our road bikes. We're really blown away by how well it's been received, especially as our first step into road bikes. Again, it's not aimed at the competitive end of the market, but has won over just about anyone who's ridden it. We just had a review go up on the Cyclist where it got 4.5/5, which is fantastic. For 2017 we will have a disc brake version, using the flat mount system and our own dropout casting which gives the bike something unique.
What models are proving particularly popular and which price points?
Different models seem to do well in different markets. The Arise has done really well since we introduced it. We've always offered two colours, which has certainly helped, but as a very versatile and affordable model it has a broad appeal. The Beyond too has done well for its first year on the market, we had quite a lot of promotion around it with the 'Journey Beyond' project and it was in pride of place on both the Eurobike and Interbike booths.
Bombtrack is just the latest in a series of interviews appearing on CyclingIndustry.News lately. If you missed them, check out:
Bonnie Tu: How Liv now makes up near 40% of Giant's US trade
Josh Hon: Why bikes for transport are still a blue ocean for product design
Moore Large: Why click and collect has just become more important and consolidation of house brands