Campagnolo Centaur benefits from top-end trickledown in overhaul
Campagnolo's aluminium Centaur groupset has been overhauled for MY18, integrating features found on Super-Record.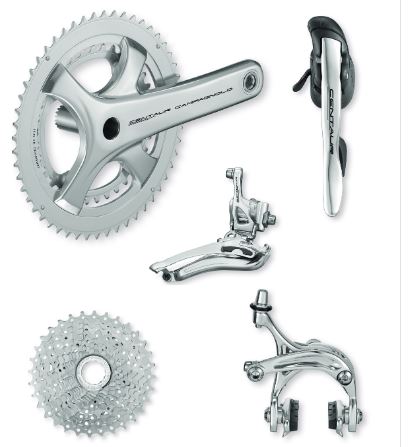 Tipping the scales at a highly respectable 2,471 grams, the complete Centaur groupset comes in nearly 30 grams lighter than its closest competitor (depending on the selected specs it can weigh in as much as 50 grams lighter).
The trickle-down effect sees the 4-arm spider design built in for the first time, allowing for an independent BCD (increased rigidity and structural integrity) in addition to a universal crankset made to accept all chainring combinations. Furthermore, the firm's Ultra-Torque axle trickles down, further mimicking the crankset found at the pinnacle of the firm's portfolio.
The new Centaur adopts its design and mechanical function from the original Revolution 11+ front derailleur developed initially for professionals. Ergopower internals couple with the longer rod and one-piece steel cage to ensure precise and reliable shifting with minimal effort required to upshift from internal ring to external.
One lever one action style commands remain and Power-Shift internals guarantee precise and lightning fast shifting even under load. The Power-Shift movement allows for the incorporation of an EPS-style downshifting lever, offering heightened ergonomics.
Rejigged to improve its angles, the Centaur's rear derailleur movement was studied in order to render it compatible with all cassette options up to 32 teeth. What's more, the derailleur is said to weigh 15 grams less than the long cage version of Campagnolo's nearest competitor.
Cassettes for the new groupset will come in the form of the same "Campagnolo 11" cassettes that were introduced along with the Potenza 11 transmission, but with a Centaur specific finish and are compatible with the entire line of Campagnolo transmissions.
Moving on to the newly designed brakes and 50 grams has been removed over Campagnolo's closest competitor.
Stock of Centaur, both in a dark or polished silver finish, is now available with UK distributor MDI Ltd, contactable on 01253 343090.