Christian Wolmar: Why Sadiq should build on Cycle Superhighway momentum and quickly
The peloton has now become the norm in parts of London. I always knew that the opening of the cycle superhighways would be transformational  for cycling in the capital, but even an optimist like me never dreamt it would happen so quickly and so thoroughly.
Cycling across Blackfriars Bridge on a recent sunny morning was an experience that felt like the best Copenhagen or Amsterdam could offer. There were literally hundreds, if not thousands of cyclists in both directions. Moreover, with the occasional exception, they were exceedingly well behaved, waiting at the red lights and manoeuvring carefully round each other, like the Tour de France peloton. That was always going to be the case. The tendency of cyclists to jump red lights has largely been stimulated by the fact that they feel their needs have been ignored and that therefore the rules of the road were not designed for them. There may well be cycle on cycle accidents in the future because of the crowds, but that is unlikely to lead to the serious injuries and fatalities that had become all too common in London recently.
This success greatly strengthens the case for more infrastructure. Not only will it be well used, but also it will encourage cyclists to respect road traffic legislation. So what is Sadiq waiting for? London's new mayor is not a regular cyclist like his predecessor, but does occasionally jump on a bike. He has signed up to the three pledges requested by the London Cycling Campaign but has so far, nearly three weeks after being elected, shown no sign of signing up a replacement for Andrew Gilligan, Boris Johnson's cycling commissioner who did so much to ensure that the second generation of segregated cycle superhighways saw the light of day.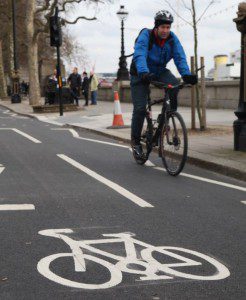 Sadiq's office was very quick to scotch a rumour that the mayor planned to scrap his predecessor's plan to use a lane of the elevated section of the A40 between Paddington and Shepherds Bush. Instead, on May 20 the mayor's office issued a statement reiterating the pledge to meet the LCC's demands and saying he would review all the existing schemes but with the clear implication that they would go ahead unless there were insuperable problems.
Fair enough, but there is a danger here. The momentum created by the popularity of the new Cycle Superhighways has to built on, and quickly. There are still people high up in TfL who are opposed to the reallocation of roadspace to cyclists. They want to see a pause before new ones are built which will severely damage Sadiq's ability to fulfil the LCC pledge of tripling the mileage of segregated routes by 2020 to which he has signed up.
Sadiq reiterated his pre-election commitment, in the press release, 'to make London a byword for cycling by making it an easier and safer choice for more Londoners'.  Nice words, but they must be turned into action. While it is understandable, as Sadiq's office reports, that he is biding his time in making appointments given the errors Johnson made with some of his early signings, it is essential that he sets the tone for the future direction of TfL quickly. He has been given a great opportunity with the opening of the superhighways, and must take full advantage.
To read more on Sadiq's pre-election pledges for cycling, click here.
Christian Wolmar, as well as being a regular contributor to CyclingIndustry.News, is a leading transport journalist, cycling advocate and politician.