What will Sadiq Khan do for cycling, transport and clean air in London?
Labour's Sadiq Khan has taken the reigns from former Mayor of London Boris Johnson and will thus serve London until at least 2020.
While the mainstream media is largely focusing on Khan's religion, we thought it more apt to take a closer look at his transport policies. Both cycling and wider transport issues were key to the London 2016 mayoral elections, with one poll showing live tweets on the topics at 9% and 25%, respectively.
Cycling

Though we're yet to see a firm funding figure from Khan, his pledges promise substantial change – most notably a claim to 'triple' cycling infrastructure on present levels.
"My intention (is) to continue the Cycle Superhighway programme, with a focus on segregated provision," Khan recently told the London Cycling Campaign.
With Johnson's parting gift to cyclists being the opening of the East-West cycle superhighway, Khan will have to make good on his pledge to deliver Mini Hollands within every borough to achieve that goal. The route now links with the North South infrastructure at Blackfriars. On opening the route, current cycling commissioner Andrew Gilligan kissed the fresh tarmac this morning.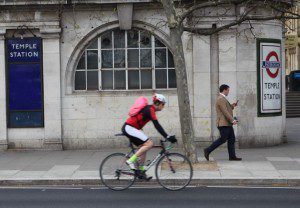 Transport for London's board is set for a shake up, with Khan pointing both to just three women and three non-white people currently serving. Diversity will presumably be key in appointments, but it is as yet unclear whether a representative with cycling's interests at heart will be appointed. In the past reps from other transport organisations have held positions, as well as business leaders with objections to cycling's growth.
Mini Hollands have thus far cost in the region of £30 million. Thus far Waltham Forest, Enfield and Kingston are on the map with such developments, leaving 29 boroughs to benefit from such a scheme. With that in mind Khan will have to find approximately £870 million for cycling, though we expect the schemes could be delivered cheaper and with less complications going forwards.
Khan suggested in a recent hustings on active travel issues that he would appoint a cycling commissioner, with additional focus on walking. Many commentators have called for Gilligan to retain the role, though if he doesn't Khan could perhaps (among others) turn to Labour colleagues like Christian Wolmar, a noted transport expert and cycling advocate.
On safety issues, Khan has pledged to reduce the prevalence of blind spots on HGVs entering the city.
"I will promote safer, cleaner lorries. I will work with the boroughs and using City Hall procurement to set new safety standards, work to make sure City Hall and TfL contracts specify 'direct-vision' lorries, and use planning and other powers available to me, so that the safest lorry types become the norm on London's streets as soon as possible," Khan said.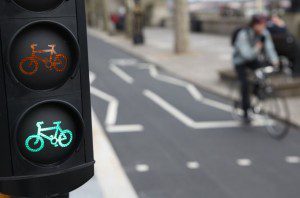 Khan has made much of his family history in the run up to the election, reminding crowds that he is a bus driver's son on numerous occasions. As such we expect the former minister of state for transport to get to work on his pledge of making public transport "affordable" in his early months in power.
Another point stressed by Khan is his feelings that Transport for London is "bloated" with over 450 staff apparently earning north of £100,000 a year and £383 million a year spent on consultancy and agency staff. Savings made here will be re-invested largely in new pricing structures for the bus network, as well as upgrades to electricity powered vehicles, Khan has said.
Crossrail 2, which incidentally has a budget 90 times larger than the entire UK cycling budget (at the lower £27 billion estimate), is part of Khan's plans. The funding gap between cycling and other transport is quite likely already far larger and widening quickly.
Whatever funding is pledged, Johnson's legacy has thus far increased cycling levels to match 20% of London's entire tube traffic and that's something that Khan will want to continue to grow if the city is to rid itself of dirty air.
Pollution
Air Quality too accounted for 6% of tweets on polling day and is increasingly becoming a concern among those in the UK's capital and no wonder, it's said to kill 9,000 annually in London – the highest rate in any UK city.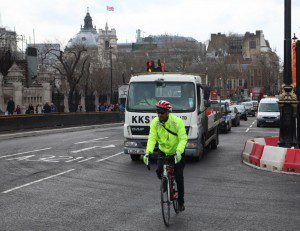 Though a Cambridge University study this week declared that cycling's benefits outweigh the negative consequences of pollution, we hope that Khan won't rest on reducing the number of dangerous particulates in the air.
"Green issues aren't just some add-on to the things we do as a city – they must run through the way we manage our transport system," Says Khan's website.
The long campaigned for pedestrianisation of Oxford street was among Khan's pledges, which means the most polluted part of London on a regular basis will now become Europe's longest pedestrianised shopping street. Further to this, Khan has also suggested he will remove traffic from Parliament Square, stating that it is a "national disgrace that one of our most iconic squares is choked with traffic."
As far as increasing or widening the congestion charge zone, Khan hasn't offered much as yet and isn't expected to make this a priority. With the charge having generated a net income of £172.5 million in 2014/15, approximately five years worth of revenue from the present zones could potentially pay for all of the remaining Mini Hollands.
It is of course unlikely that revenue would be allocated like that. Thus far around 5% of congestion charge funding has directly returned cycling benefits, say the ECF.
Pledging to push high-polluting vehicles out of London and certainly away from primary commuter arteries, Khan has also stated that he will look at public transport's energy consumption.
By 2020, Khan has further stated a goal to plant some two million trees.
One London cycling retailer recently told us that, at present levels, 2mm of black dust is cleaned off the shop's parapet daily and adjacent residents never open their windows.