Comment: Lessons from across the pond – growing bike sales with the longevity economy
The painful reality in the cycling industry is that rather than growing, the market has been in a slow decline for the last 10 to 15 years. This is as much the case in the UK / Europe as it is in North America, where I'm based. 
Many have looked to electric bicycles as the ticket to restoring sales growth, and as CEO of an electric bike company, I'm certainly a big believer in electric bikes. But, I believe that simply throwing an ebike model or two into every company's lineup won't drive real success. It may even end up damaging some companies further. 
As more and more electric bike startups emerge, and more companies add them to their portfolios, our industry risks returning to the old status quo that's caused the dreary profit margins we see currently. Today, it seems every brand wants to highlight its latest gadgets and breakthroughs – whether it's a new carbon fibre frame that's shaved one more ounce off a bike's weight, or the latest accessory that seemingly makes a bike even more like a smartphone. At the same time, bike retailers continuously pound home how they're offering "the best price ever" or are having some unbeatable sale, no matter what the season. 
These two trends are inherently unsustainable. On one hand we keep offering more and more costly product options, which offer little value to the average rider. And on the other, we've trained shoppers to only look for the best price, devaluing our brands and blinding riders to any real product or service that may be worth their money.
Focus on the longevity economy 
I believe the road ahead for our industry involves growing the pool of people interested in bike riding. And we can do that by tapping into a segment we've ignored for too long: the longevity economy. This includes baby boomers, retirees, empty nesters, truly anyone who is now 50 or older. In the US alone, that represents 76 million people who have been largely ignored by most bike brands. The opportunity is even larger in the UK & Europe, thanks to not just a larger overall population, but a populace that is on average a good half-decade older.
These are people who have long controlled the bulk of the economy's spending, and they show no signs of giving that up now that they've started to retire. On the contrary, they now have more and more time to spend on leisurely activities like bike riding. Thanks to ever improving health and life expectancies, they have many years ahead of them. It's up to us, as an industry, to offer them an experience that brings them into the cycling community.
What the 50+ demographic wants
For an older person, a bicycle ride can represent something drastically different than it does for a younger rider. Going on a bike ride, especially on an electric bicycle, can mean the ability to maintain one's independence, freedom, and mobility. A bike becomes a tool to stay healthy and active, while maintaining social connections with friends, family, and the town and countryside around you. 
At EVELO, we didn't initially understand this either, rather it was a discovery five years in the making. Like many other brands, when we launched we focused on appealing to commuters, and competed on price, tech specs, and "looking hip." But as we grew, we found more and more of our customers fell into the 50+ age set. And as we spoke with our customers, and better understood their needs and motivations, we realized just what a great opportunity this was: not just to sell bikes, but to also make a significant impact on the lifestyle of a largely underserved customer demographic.
The more we spoke with our older customers, the more we learned what they wanted out of a bicycle.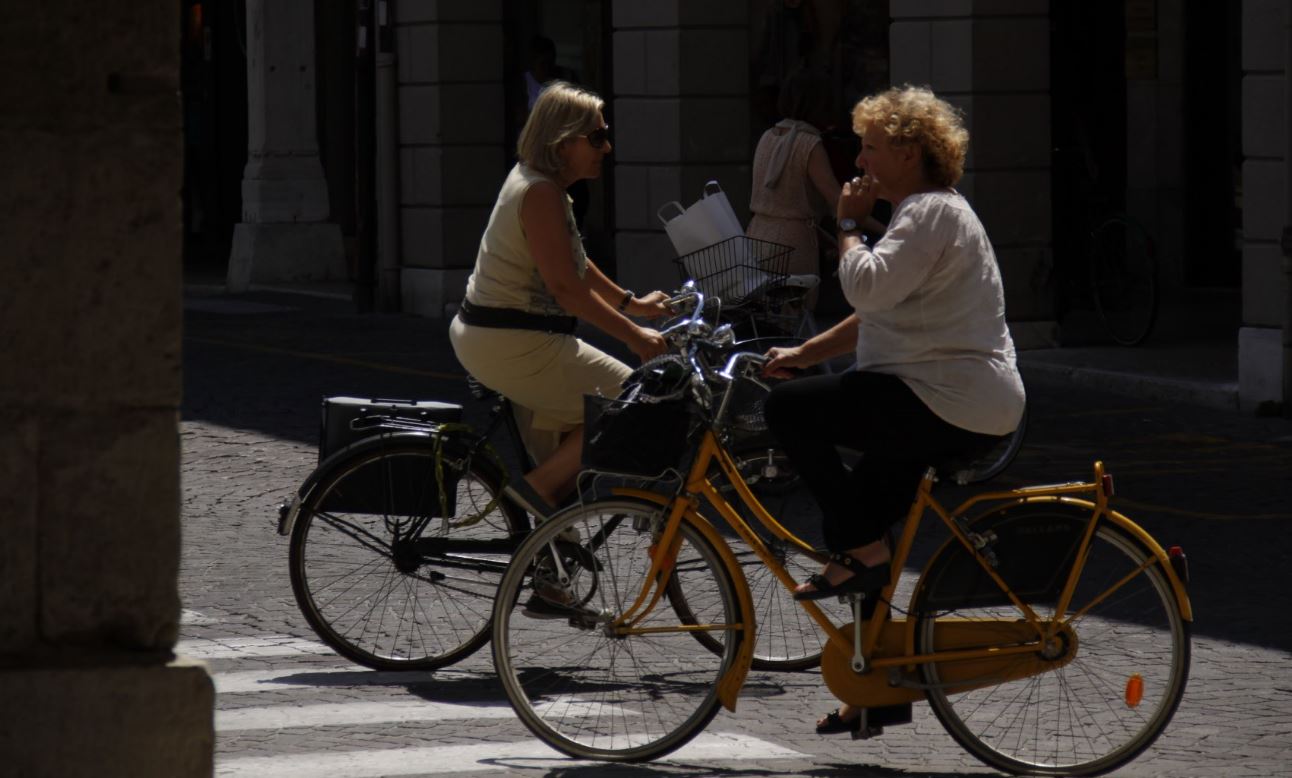 They cared less about tech specs and widgets, and more about what the bike could do for them. A bike could mean access to a beautiful nature path. A bike could be an opportunity to spend more time with kids or grandkids. A bike could mean mobility for someone that no longer felt comfortable driving. The more you can connect with an older rider's needs and aspirations, the better they're likely to respond. 
It's also important to think about any product tweaks or adjustments that might make your bikes extra appealing to an older rider. Step-through frames can be great for people with a little bit of joint pain. Other sought after features include wider and more comfortable saddles, as well as swept-back handlebars that make upright riding easier. 
Even more important than your products are the services you offer that allow older new riders to make the most of their purchases, and to feel comfortable with your company and biking in general. We found that features like a prominent phone number on your website (as well as thoughtful and patient sales / support staff that is willing to spend 30-60 minutes on the phone to get every question answered) go a long way with a population that's less comfortable making purchases online. Other features like longer warranties, pre-assembly / easy assembly, and no hassle returns, really resonate with the 50+ set. Most importantly, offering more features like these lets your brand focus on the value it provides, as opposed to merely having to compete on specs or price.
At the end of the day, moving away from a race to the bottom on price is incredibly important to the health of our industry. And by helping provide mobility and community for the aging demographic, not only are we growing the bike market, we truly are helping people live better lives. That's what I especially love about the longevity economy; this is an opportunity to not just do well, but to do some good too. 
About the Author: Boris Mordkovich is Co-Founder and CEO of EVELO Electric Bicycles.
Catch more trade opinions here.