Cycle infrastructure benefits everything from house prices to kids' school results, finds DfT commissioned study
A report published this week and conducted on behalf of the Department for Transport has shown in great detail 'the value of cycling' to the economy and the return upon investment when cycling infrastructure is prioritised.
It's often not, as we showed in great detail yesterday, but could this be an indication of the DfT exploring cycling's potential? The chancellor certainly needs reminding that the £300 million set aside for cycling is unlikely to bring about meaningful change – something which you can do here.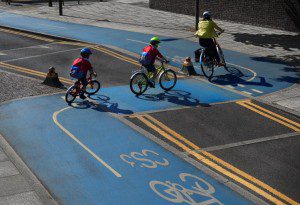 As you might expect, the findings tell a largely positive story, but in many more ways than you might think. Some surprise inclusions point to how cycling having a high modal share locally can affect house prices. Furthermore, the findings show a positive influence on a child's academic results, a reduction in public costs on everything from school travel to health and much more.
Here's just some of the headline findings from the independent study:
Local and wider economy
Economic growth can result from high density, cycle friendly urban design
Reduced infrastructure maintenance costs come with catering for active travel and are typically 33% lower.
Cycle parking allows 5 times more retail spend than the same space for car parking. Furthermore, a compact town optimised for walking and cycling typically delivers a 'retail density' (spend per square metre) 2.5 times higher than typical urban centres.
Residential property values rise 1% when motor traffic is reduced 50%
Employment benefits
Facilitation of cycle to work leads to lower staff turnover.
Cycling can reduce absenteeism
Personal benefits
Children who walk or cycle to school tend to be more attentive and achieve greater results
Environments catering for active travel encourage exercise in later years of life
Public expenditure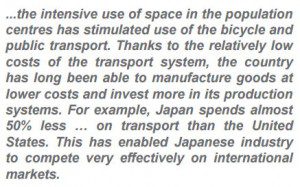 It's been known for some time that cycling's cost-to-benefit ratio is incredibly high, but this study re-affirms an average range of between 5:1 to 19:1. In some cases that figure peaks as high as 35:1.
A city decked out for cycling can be worth £377 million to the NHS (2100 prices) in cost savings
When parking for cars is replaced by cycle parking, the space freed up can be used for countless other revenue generating businesses or property. Donald Shoup, a source cited, states free parking amounts to subsidy, which can cost billions in lost revenue.
Tourism
Cycle tourists tend to spend on average 9% more than those arriving in cars. That equates to £81 per head, says the findings.
Where infrastructure is safe and inviting there is a greater propensity for cycle-tourism. In Germany, cycle tourism represents 10 percent of the overall income.
Logistics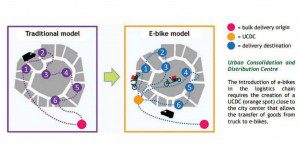 As shown across Europe, cycle freight offers competitive and cost saving advantages in city locations. Cost savings to businesses range between 39 and 64%
Cycle freight is not affected by shortage of qualified drivers
Cycling can increase the reach of public transport via intermodal usage
Industry
Domestic production of bicycles, parts and accessories has double between 2007 to 2013
Drawing on insight from researchers at numerous universities, transport orgs, Sustrans, the CTC and the ECF, among others, the report was commissioned to provide detail on the economic argument for building for cycling.
The report states that the findings may even come short of the true value to cities.
"There is a concern in the literature that the currently widely-used appraisal methods do not incorporate the full extent of benefits associated with cycling and this means that, as the mode competes for funding, it may always be seen as less viable than other options," says the text.
Later in the findings the paper points to new cyclists in particular as a stimulant for economic benefit, pointing to SQW (2007) research.
"Cycling investment that targets new cyclists in particular would generate substantial economic benefit. Where this can be shown to reduce car travel, the combination of health benefits and reduced congestion and pollution would in most cases justify investment," says that text.
The literature review has been undertaken by a partnership of University of Birmingham and Phil Jones Associates – an independent transport planning and design consultancy.
Read the findings in full here.