Disability bike specialist "may be forced to close" due to new anti-dumping tariffs
Mission Cycles, a long-standing disability bike and trikes specialist, has told CI.N that the provisional anti-dumping tariff's imposed on Chinese-sourced electric bikes could force its business to close.
Many customers of the Maidstone business depend on the products sold and customised by the business for basic mobility, though the imposition of tariffs has forced the importer to absorb costs beyond its control.
Managing director David Wilsher told CI.N: "I'm faced with a situation where Customs are asking me for the 6% duty, plus a further 37%. I've three containers, ordered back in April before these changes came in, that are landing in the coming weeks. That adds up to a further £20,000, plus VAT in costs on these specialist bikes. That's a serious and unsustainable stumbling block for our business. It's around £210 extra, per bike!"
The provisional anti-dumping tariffs, put in place earlier this month by the European Commission, came about in response to a complaint by the European Bicycle Manufacturer's Association. The claims made as part of the case are now being contested by importers as part of a lawsuit against the EU.
Wilshere has written to Conservative MP for Dover and Deal, Charlie Elphicke, who is said to be offering his full support in pressing the Government for alterations to be made to import codes, allowing for disability goods to avert such tariffs.
"I've countless customers that will testify that our disability bike, trike, hand cycles and other goods have changed their lives," adds Wilsher. "The disability bike and tricycle products that we import come with adaptations like rear steer, back supports, a range of pedals and more. We believe these should be classed as medical appliances, but they have duty placed on them all the same. We are sure that a tricycle was developed not only for comfort, but also for balance problems and other disabilities."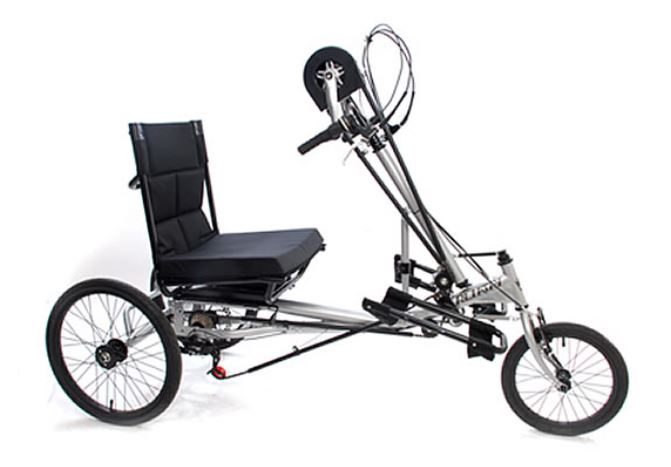 The letter calling for disability bike exemption, as sent to both the European Commission and the MP, reads:
I would like to record my absolute shock and horror at the Commission's imposition of provisional anti-dumping duty on imported electric bicycles and tricycles from China.
Our company imports specialist cycles from China for disabled customers in the UK, and many of the products we import are electric-assisted. Our customers rely on these electric assisted bikes, trikes and handcycles for mobility.
Many of our customers are, in part due to their disability, not wealthy at all, and our ability to provide affordable mobility products is extremely important for their quality of life.
Your decision to impose these duties is going to deprive these people, and others like them, of their mobility. We as a company are likely to go out of business as a result of your decision, as are other importers. This is going to leave our disabled customers with NO affordable supplier.
We were informed by our UK trade association, the Bicycle Association, of the anti-dumping investigation and possible anti-dumping duty being imposed.
But given the long lead times (typically 3-4 months) in the cycle industry, it is scandalous that registration and now provisional measures are imposed without advance notice.
My latest order was placed way back in April, and is waiting to be shipped now. I had no advance notice that duties of 37% (+VAT) would apply before I could clear this order through Customs.
Had I known about this, my order would definitely have changed or even been cancelled.
I am now at my wits end trying to find an answer as to how I can raise the huge extra amount of cash to pay for this order.
This 37% added to the 6% (43%) already charged will mean an increase of £210 on every electric tricycle I have ordered.
That adds up to a total of £17,640.00 which I must find before Customs will release the goods.
My container will have have to sit at the dock side with enormous demurrage charges mounting up until I can find the money for this huge duty and VAT and clear them through Customs. 
I am a small business and certainly do not have thousands of pounds sitting around in a bank account. 
It seems the EU and HMRC have no idea what devastation this will cause to many of the smaller companies in the cycle industry.
I would much prefer to order tricycles from Europe as it would indeed save me a lot of hassle, but there is no company in Europe that manufacture the style and type of tricycles my company imports for disabled persons.  
As far as classification is concerned, I do not believe that tricycles (with three wheels) should be lumped in with ordinary two wheeled cycles, because tricycles are overwhelmingly used by the disabled or frail. 
I also believe that governments should be giving incentives to purchase e-bikes to enable more people to have independent mobility and to commute to work instead of making e-transport more expensive.
I have had to explain the reason for this massive increase in price on my website, and have already had cancellations from people who were waiting to purchase.
I am very afraid that I may be disappointing them further if, as a result of these EU actions, my company goes out of business. 
I would appreciate the courtesy of a personal reply.
Yours faithfully
David Wilsher
Director
People with qualifying disabilities can purchase adapted trikes without VAT.
To view the Mission Cycles' portfolio head to the site here, or to make contact on 01622 815678.
The ongoing turbulence on tariffs took a new twist yesterday when it was revealed that the UK Government could cancel some anti-dumping imposition entirely under certain Brexit scenarios.