Forme Bikes invests big in electric and kid's bikes
Forme Bikes made its "biggest bike launch since 2017" at last week's CoreBike trade show, introducing shops to a range that is now 94 bike models deep.
Significant time investment has been sunk into revamping the offering on both the electric bike and children's bike front, with the latter given no less attention than that granted to adult bike design.
"Our kid's bikes line up is now really weighing up against the likes of Frog," said brand manager for Forme Bikes Leon Stimpson. "In around 80% of cases we've managed to get our finished product in lighter and the range has expanded to offer a serious bit of kit for whichever age a shop's customer is buying for. Our 14″ bike is now tipping the scales at just 6.12kg and at £230."
The spec sheet is impressive too, with Shimano eight speed cassettes replacing the freewheels of old, one-piece bar and stem combinations dropping weight and adding function, as well as alloy forks featuring throughout.
At the performance end, Moore Large will now carry both £875 and £1,000 full-suspension bikes that will be more than happy with trail centre use in both 24-inch and 26-inch wheel iterations. 80mm of rear and 100mm of front travel are on offer on the kid's full sussers.
The developments came alongside another launch for kids, the creation of the SureShift accessory that helps small hands apply extra pressure to shifters.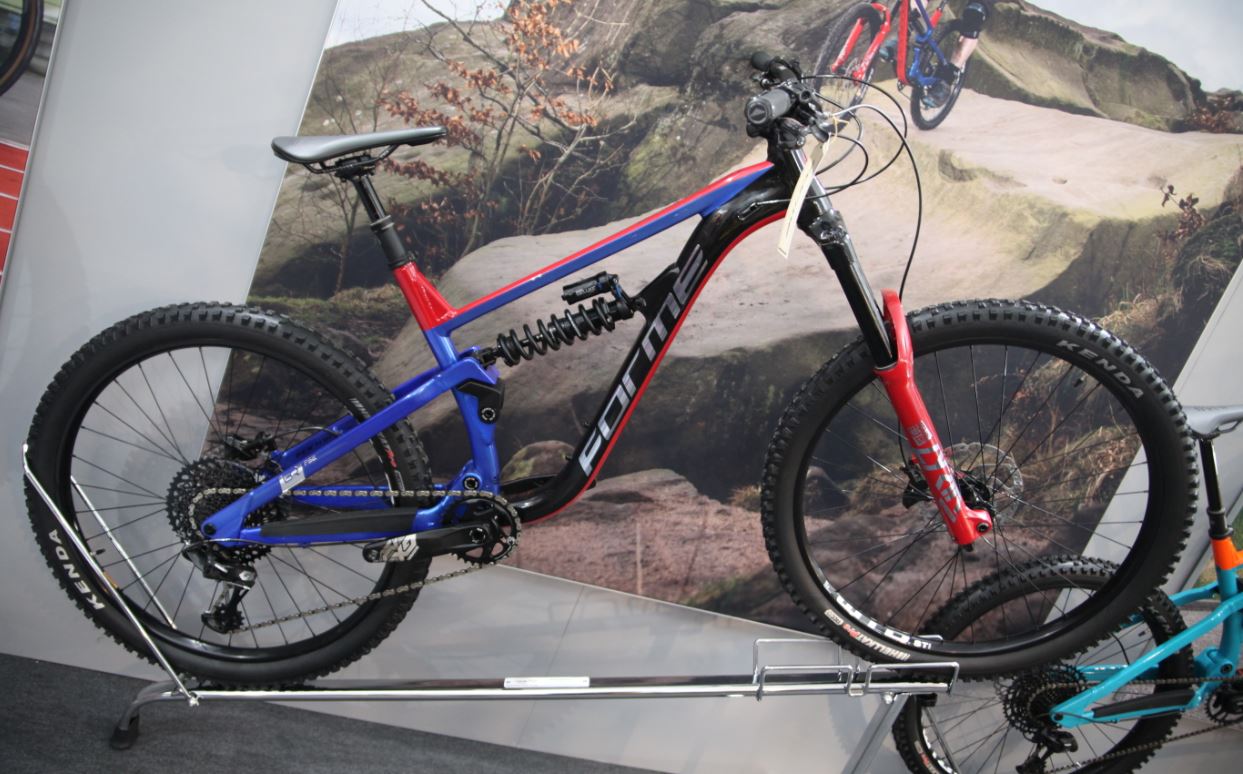 Electric and enduro bikes
There's now 24 electric bikes within the Forme catalogue, with Bafang, Bosch and Fazua motors utilised in accordance with the pricepoint.
"Both the Bafang motors and Bosch's InTube batteries are very impressive in their delivery of power and performance," enthused Stimpson, "The city hybrid seems to be a favourite thus far."
Adult full-suspension bikes land shortly too, with two enduro-suited bikes – the FS2 and FS1 – landing at £2,700 and £3,400 recommended retail, respectively. Each carries 170mm front and rear travel, with a key difference being the coil shock specced on the FS1, as well as the enduro casing tyres specced right out of the box. Each has UK friendly concealed bearings that should last a little longer than most.
Stock of both the kids bikes and the Bosch-driven e-Bikes will land this month, while Bafang specced e-Bikes and full-suspension kit is likely to land toward April. Tailorbuild remains an option for those customers wishing to drill down to a perfect spec, with Moore Large able to customise down to crank length prior to dispatch to the dealer.