Fully Charged to assist other bike shops considering electric bike market approach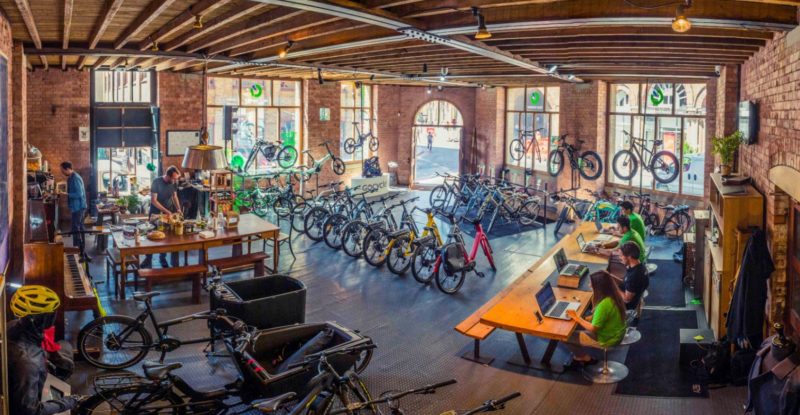 A theme running throughout the latest CI.N Trade Journal is how to grow the industry's overall ridership, something perhaps best exemplified by Fully Charged owner Ben Jaconelli's approach to business. Read on to discover how taking to the river with demos, as well as a scheme to assist other dealers grow their e-Bike trade is driving this e-tailer forwards… 
It was presentation alone that drew us to Fully Charged's dual floor 2,400 square foot store. Having seen some incredible photos of the Bermondsey Street branch, our initial plan was to visit the business simply to scope out some visual merchandising inspiration. The underlying message to this somewhat personal start to an article; don't underestimate the value of high resolution, bright and inviting photography when advertising your business. It may be expensive, but the science is there supporting the notion that shoppers very quickly make a decision on whether to engage a business based on the very first visual impressions. For us at CI.N, (and we've visited a few hundred bike shops in our time) Fully Charged was irresistible.
Owner Ben Jaconelli knows this too. Never before have we seen a workforce mobilised in such force to get a bustling bike shop ready for our admittedly unskilled photographer. This, it turns out, was just part and parcel of ensuring everyone who comes through the door leaves having received a very personalised service.
Jaconelli is, like all good managers, careful with his team's time investment.
"We only service bikes bought here," he says. "Unfortunately, one of the downsides of being an electric bike specialist is the hangover that exists to this day of poor quality imports stemming back a decade or so. For that reason we've only ever carried brands that speak for themselves in quality, never anything dubious in origin."
For this reason, Fully Charged has become a destination for a number of brands that you'll not find elsewhere in London, namely Moustache and Coboc, brands that were primarily handpicked on engineering and functionality merits.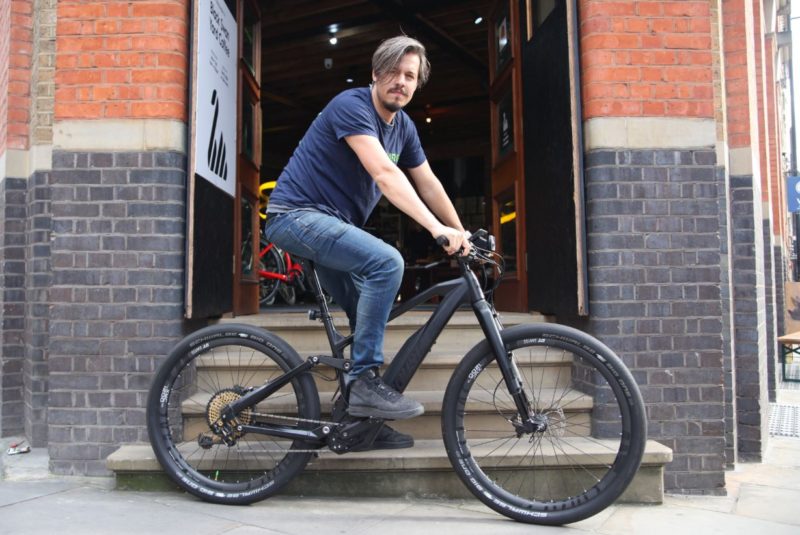 A formed automotive industry man, Jaconelli says that he left in order to join a business that is "of benefit to people's lives", citing an incoming "new age of transport" as a driver for his switch from four to two-wheeled trade. Like so many others, it was slinging a leg over an e-Bike for the first time that sold the concept and determined the direction of the business.
"It's all over the Mintel reports, e-Bike growth is coming, but we're still so far behind mainland Europe at the moment in terms of sales and getting bums on saddles for tryouts," he explains. "It's the same with cars, hotels, most design-led industries, the UK is playing catch up. The signs are ubiquitous, though. Moustache had to push their 2018 production forward as 2017 demand was so much greater than expected."
It's an acknowledgement that the UK has a severe lack of year-round demos at which electric bikes can be trialled that has sparked a rather unique idea to draw in entirely new customers.
"Our business has just received fresh investment which will go toward some ideas we've been developing, one of which is the purchase of the Fully Charged Barge – a floating demo that'll cover the canals spanning Little Venice to Regents Park. Naturally, it'll be electric. It should be prove a high-engagement project and we'll have a live webcam focused on what we anticipate should be between 50 to 100 demos per day."
From the barges back to bricks, Fully Charged is assessing using its new investment to add two new physical branches, taking aim at south west London and somewhere in the vicinity of the Olympic Park. It is anticipated that, as a result, the present team will grow from eight to 20 during 2018, with digital specialists a key ingredient to growing the firm's average of five online e-Bike sales a week into something larger.
"Crucial to our online presence will be a bookings system. If you're dropping a grand or more then a tryout is normally important. You might have spotted our photo and film studio downstairs too, which will assist us in developing our own content to keep our rankings high and customers engaged."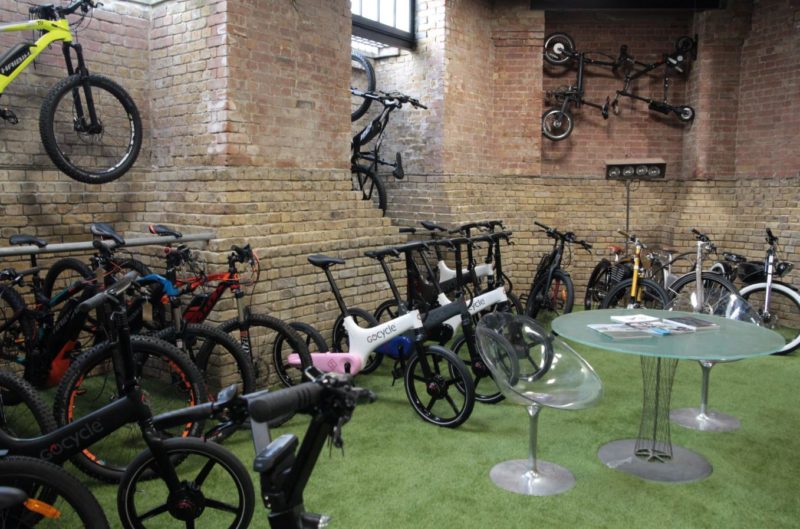 With an average sale price of £2,500 and a trend among city workers toward folding bikes averaging £1,100, Fully Charged is enjoying the fruits of a long-standing commitment to the sector. Averaging between five and ten test rides a day during the week and as many as 20 on weekends, Jaconelli's early commitment to the sector is paying off to the point where he's now looking to help the rest of the industry develop the bigger picture.
"We've a joint venture running with Peaslake's Pedal & Spoke whereby four of our e-Bikes will be present there at all times for demos and our customers can even click and collect via Howard's business, if they're local. That's something I'd like to extend to other bike dealers. If you've not got the funds in place to get a decent fleet of e-Bikes in but want to make sure customers have the opportunity to try some out, Fully Charged can help," offers Jaconelli.
One of the other benefits of having been an early adopter of the e-exclusive model is knowing first-hand what sells and what's dead weight in your area. In recent times Fully Charged has been brutal in moving its dogs along, consolidating its range by more than half to a streamlined portfolio of 75 of the best-selling models. With that analysis undertaken, Jaconelli has pledged to have stock of these bikes at all times with no exceptions. With space made at the firm's two locations for strong stock holding, Fully Charged is now offering same day delivery or collection inside London and next day delivery outside of the capital.
"We're not really targeting the cyclist, more the tube user. The constant strikes are excellent marketing for bicycles. It's part of our mission statement to educate people on cycling as a transport form. In fact, I consider electric bikes to be a gateway to pedal powered cycling in some cases, but introducing bikes as transport is crucial. Business can be erratic at times, but then again we can sell up to ten bikes in a day some days as our customers aren't necessarily cyclists to begin with. It's hard to pinpoint a peak time, but January's always popular, which I guess the rest of the industry doesn't see. New years' resolutions and easing into cycling go hand-in-hand," concludes Jaconelli.