Gazelle releases its take on "the bike of the future" with speed pedelec
Gazelle has today released pictures of a collaborative bike, produced alongside design firm Giugiaro Koninkijke, that it is touting as "The Bike of the future".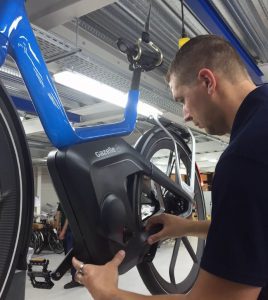 That phrase has been tossed around a lot lately, with cycling firms taking a keen interest in how city bikes will adapt to changing urban spaces and technology advances.
The Dutch firm's take on the concept, dubbed the Nº1, is capable of 45 kilometres per hour via motor assistance, placing it in the moped category within Europe.
Fully charged in three hours and with around 1,000 charges in the life of a battery, the bike's biggest USP for many will be the stunning 200 kilometre range.
When it comes to other tech, NuVinci's hub is integrated with a carboxylic rear wheel. Therefore the gear automatically switches alongside the pace set by the rider.
The smartphone is integral to the e-bike's user friendly design, with a controls on the bike's 'steering wheel'. The Cobi system is central to this functionality and as such the cyclists is afforded access to navigation, music, weather forecasts, trip data and much more.
"The touchscreen of the smartphone will not function when the driver goes faster bike than five kilometers per hour. This has a reason: Gazelle will always prevent unsafe driving behavior," says Huub Lamers, CEO of Koninklijke Gazelle.
With weight centralised and the centre of gravity low, the pedelec comes in at 25.5 kilograms, achieved in part thanks to a part carbon frame. Other carbon parts are the steering wheel, the belt drive, the top frame, front fork, side panels and seat post.
Gazelle says the concept is an experiment with parts and technologies that will be commonplace inside a few years.