Hope teases carbon MTB frame "because we can"
It's been known for a while that Hope are dabbling in carbon manufacture at their Barnoldswick, UK headquarters, but the firm has now teased what looks to be a full suspension MTB frame.
With the hashtag stating 'because we can', the firm's 75,000 Instagram followers are speculating all sorts of ideas on what could come to fruition.
One said "Could this be a joint Hope and Orange carbon five", while others are speculating that it'll be a 26-inch wheel revival build.
Hope's Alan Weatherill has since confirmed to CyclingIndustry.News that this is "not a collaboration", though was tight-lipped over further details.
It's certainly not clear if Hope have tinkered with the frame simply because they now can, or whether this is a genuine production unit (we're asking the question), but knowing Hope and the typically extensive R&D that goes into a product it'll likely be a while before anything hits the market.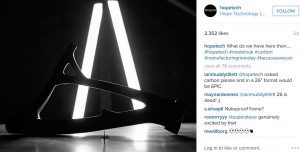 Hope recently revealed a handful of other fresh components that bike shops will be particularly pleased to see.