How investments in Graphene and e-mobility have changed the future direction of Vittoria
"Think of vase full of marbles, that's carbon," says Vittoria's Frank Levering, putting it simply as he begins to explain the potential of what is being dubbed cycling's next wonder material. "Graphene is the sand that fills the jar, adding an immense amount of new properties to an already excellent material."
Indeed, it's the long list of benefits that has engineers excited about the potential for cycling goods and not just necessarily at the top-end. China, which is rich in raw Graphite, has just invested heavily in exploring the new material's potential. In 2013, the EU too has set aside a €1 billion subsidy to develop Graphene's many possible uses.
Discovered by accident by Russian students at a London University, Graphene's existence is something of a paradox. Discovered in 2006 in the remains of a brittle pencil lead, the material is now touted as the world's strongest material. By 2011, the scientists behind the creation of the material had scooped a Nobel Prize for their work.
In 2014, having established a joint venture called Directa Plus Asia Ltd, Vittoria debuted the material in its Qurano wheelset, further bringing to market tyres utilising graphene at last year's Eurobike show. In both cases the brand was able to demonstrate stunning advances.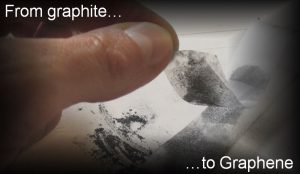 "We sent it to an independent lab in Finland and they returned with values never measured before, they couldn't fathom what we had done," says Levering. "It's a trade secret of ours exactly how our unique and environmentally neutral formula works, but we anticipate others will explore the many ways graphene formulas can benefit the bike world. We will not even reveal the percentage of graphene in our formulas though! Vittoria has exclusivity with our Italian partner Directa Plus, who offer us an absolutely pristine recipe. Our method is therefore a bit more complex and expensive to produce, but as far as we know it cannot be bettered. With this exclusivity our OEM trade becomes key."
Indeed others have taken note. Catlike's Mixino helmets have shaved 10 grams over prior models with the inclusion of 'nano-ribbons'. It further goes without saying that the potential for things as complex as strain gauges and lubricants, all the way through to frames is immense. But like carbon, quality varies wildly, potentially opening up a can of worms when it comes to marketing products containing the material.
Graphene oxide, we were told, is incredibly simple to make, but efficiency of the end product varies depending on the production method. Indeed, Vittoria say Graphene oxide offers just 15 to 25% of the benefits of their recipe. Outside of cycling, uses are likely to grow exponentially, with water purification potential just one discovery thus far.
When it comes to Vittoria's application, the material is considered by the brand to have opened new doors for what many will consider a tyre brand.
"You'll note our recent Zehus investment," says Levering. "This, among other things, signals our intention to move the business to align with what we predict will be a future of rapidly emerging urban mobility change. The city of the future has no place for cars and our aim is to become part of local Government discussions in how we can assist in developing urban mobility. Electric bikes and graphene are areas with huge potential and we'll be pairing the two where appropriate."
With this in mind ZW Industries has now been formed in Taiwan, which opens up Zehus's distribution and presents Vittoria with the opportunity to explore a plethora of new ideas, including where the wonder material fits within the regenerative hub motor. Heat dissipation is one improvement Vittoria has already singled out as a priority to advance a motor's capabilities.
So for the uninitiated, what does Graphene claim to offer in benefits? It's quite a list:
One gram can be stretched to cover 2,630 m² – can be stretched six times more than steel
200 times stronger than steel and with six times the flexibility
Just one atom thick
conducts heat and electricity with huge efficiency (more than 2 times better than diamond)
Half as dense as aluminium
It's transparent
Scientists expect that in the future the material may offer five second phone charges, or terabit uploads in just seconds.
Disposal of radioactive material (we think irrelevant to cycling application, but amazing nonetheless)
E-bike world take note; the potential to make batteries obsolete with the creation of high-power graphene supercapacitors.
Cheaper than carbon and widely available
Specifically when it comes to Vittoria's wheels the list thus far has been found to include:
10% better heat dissipation than carbon
15% weight saving
26% greater material strength
18% greater impact strength
20% better spoke hole strength
24% more flexibility
50% more lateral stiffness
Given the UCI's current extension on a ban on disc brakes in pro road cycling, the ramifications for rim braking are an area that Vittoria now has an upper hand.
On tyres, the benefit of the new compound extends life and performance in numerous ways, as well as significantly boosting puncture resistance.
Levering said on this: "It's been described to us as 'floatalicious'. Ottilie Quince used our Qurano clinchers at the Transplant games, paired with the our tyres and won a 5km TT by 47 seconds, that's huge. But the implications trickledown to ordinary cyclists, as well as the pros. Our investment in Graphene starts at the top, but it's not going to be a pro peleton exclusive product in future."
Lead pic: AlexanderAIUS