Is the bike retail experience now ready for the shopping centre?
The retail experience that most consumers are familiar with very often takes place in pristine shopping centres where everything is familiar and well presented. As bike shops smarten up and become destination stores, CI.N asks, is it time bike shops came in from the cold to where the shoppers are?
In decades gone by the term "sea of wheels" was an off-the-cuff remark to describe bike shops that had done little to present their bike offering, instead packing them to the rafters. It was arguably much more common in days gone by for shop owners to retort "it's a bike shop, it's supposed to be mucky" to any customer that dare comment that, as retail businesses go, our industry's offering was a bit rough around the edges.
That said, pedal scrapes on front door frames, a distinct brown trail on the carpet thereafter when dirty bikes have been wheeled in and grease stained customer receipts are, to a degree, part of what gives the bike shop experience some character. Showrooms are for the car industry, right?
Well, increasingly, no. As bike shops wrangle with the margins available on bike sales and the shop floor taken by a big stock commitment it has been only natural to see the sea of wheels part. Quite organically the 'showroom' approach has become commonplace, in particular for those shifting high-ticket goods.
So, what's the formula? Generally it's space for customers to sling a backpack around without knocking bikes over; well-lit backdrops that show off the detailing in the paint; merchandising that puts key items at eye-level; signage that helps the consumer very quickly find what they're looking for and understand it quickly when they get there. Advocates of the sea of wheels would say it's soulless, but for the modern bricks and mortar shopper it's all too familiar; and familiar often means footfall.
Bridging the gap to shopping centre based retail, consumer-facing label Ribble has made the leap in Birmingham and Bluewater. Somewhat uniform in its presentation to the retail units around it, the onus was on Ribble to make their product stand out though the large glass storefront. Therefore, quite deliberately, there's absolutely zero to obscure the passing customer's eyeline to the bike at the back of the store. No POS stuffed with products, no sale rails, no workshop – the entire view is focused on the bikes inside which line the walls and two or three pride of place low window displays.
David Stacey, Commercial Director for the brand told CI.N that it's in part down to the strength of the firm's online retail experience that the physical destination works as well as it does.
"Many of our customers travel to our locations specifically to visit our showrooms (we think of this as being a 'destination' retailer), so we wanted to make this journey as easy as possible. Many of our customers also choose to collect their bike from our showrooms, so we also wanted to make the experience of getting the bike back to their car to be as convenient as possible too. Secondly, our showrooms act as physical embodiments of our brand and we wanted to maximise the brand exposure we would gain from our locations, and therefore the high footfall of shopping centres has proven to be a major advantage."
More than that, analytics of the Ribble demographic have been key in the decision. We're told that the stores have been chosen to call home any location where there is a mirror-image of the firm's customers.
"Many of these brands are predominantly based in shopping centres," says Stacey. "If we can locate our showrooms in the vicinity of other brands that we know our customers love, then we make their interaction with us that much more convenient and natural."
It remains something of a rarity in the bike industry, however, quite understandably given the overheads of running a shopping centre-based business. For Bike Spanner over in Northern Ireland, which occupies the Forest Side Shopping Centre, a further twist on the model exists – workshop only inside a shopping centre. At the time, the decision was made on one factor: "how can you say no to 40,000 people passing by a shop front each week? Nothing beats having thousands of people a week see you repairing bikes day in day out."
With the bike industry now going to great lengths to target those who do not yet cycle, does it not make sense to position a store in places where the masses are? Furthermore, is it worth noting that very rarely do people leave a shopping centre empty handed. The "purchase intent" is built in from the moment people enter, says Stacey.
"A high footfall location alone does not automatically make a showroom location a success for us. If a location has high footfall, but is difficult to access, and has poor parking provision in the immediate vicinity, we would see far less success than a location that was easy to access but that had lower footfall. In our experience, shopping centres tend to perform much better than high street locations due to the higher purchase intent within the centres; coupled with generally easier access for our destination customers."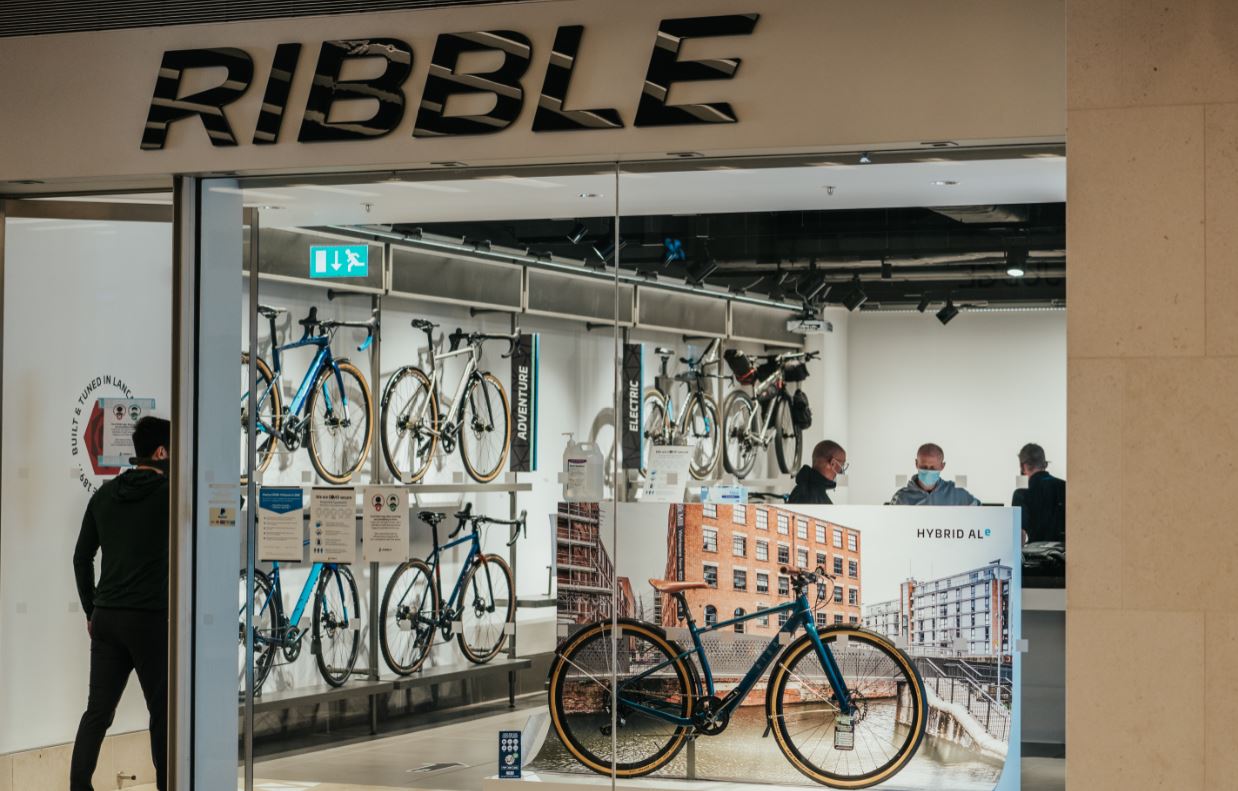 For the Birmingham Mailbox shopping centre branch, adjacent is the city's main transit hub Birmingham New Street. Surrounding the Ribble store and signalling where the brand sees its position in the market are the likes of Harvey Nichols, Hugo Boss, Paul Smith and even a BBC studio, which can't be bad for press attention.
Though none of those stores have the slightest draw for most cyclists, that's kind of the point. With affluent shoppers passing by, many pop in out of sheer curiosity, even more so since electric bikes began to decorate the shop window, we're told.
When you really boil it down, the showrooms are interactive marketing tools. Once the customer is inside, the sales team has a lead and can introduce new concepts, show off the fitting rigs and draw attention to a large screen tablet that allows the customer to design their own colourscheme. The retail experience is engaging inside and out.
"We have deliberately focused our window space to draw curiosity in cycling. It is exciting, colourful and has product that will draw the eye. In a shopping centre environment, a bright custom-painted hybrid bike, decked with accessories is just as likely to grab attention as one of our world-class race bikes, and we make sure our showroom presentation reflects this," says Stacey. "To generalise: Cycling Weekly readers already know all about our brand; but the average punter in a shopping centre has probably not heard of us yet, and we intend to change that. In this regard, our showroom expansion is definitely part of our brand marketing strategy."
While the shopping centre strategy may seem risky, it's in part thanks to investment in the online shop window that Ribble is able to make the model work. When you log on to the veteran manufacturer's website, you'll be greeted by the face of one of the firm's video chat consultants. Of course you don't have to take up the offer, but as a browsing customer you can ask any question you like with somebody at the Preston HQ, who thanks to a phone mounted on a gimble, can even zoom you right in on small details on any bike you express an interest in.
While that's an innovative solution to making the online retail experience feel a little more personalised and a great means of converting more online enquiries, it is also a chance to pitch the showroom destinations where a light bike fit can be undertaken to ensure you're getting the right product. No two customers are the same and nor should they be treated as such, says Stacey.
"Some customers have been browsing our site for literally months, obsessing over their chosen bike, reading reviews and asking questions through our Customer Service team before they decide to venture into one of our showrooms to purchase. Other customers will do the opposite: walk into one of our showrooms without knowing a thing about the brand, and subsequently deliberate for several days on our website before purchasing online or over the phone. We recognise that customers want the flexibility to engage with us however they choose, be it online, over the phone, via video chat or text chat, or in our showrooms, and we endeavour to make this experience as inter-connected and convenient as possible."
Asked how successful the one-to-one customer video chat is, Stacey sings its praises and, in particular, the timing. Ribble could not have predicted Covid-19, but having the ability to communicate live with customers who may we be sat on their sofa at home has meant that it has scooped up business where others have lost it. In fact, the service has been so popular it can be described as an entirely new footfall channel. "We have hundreds of customers each week taking advantage of this service," says Stacey.