Lean machines: Bosch and Herrmans on Industry 4.0 in the cycling industry
Every gram of a bike has to count, but it's not just the bikes themselves that have to be lean. Every inch of the production line, supply chain and the distribution network should be optimised too… which is exactly what increasing numbers of bike manufacturers are looking to achieve by applying Industry 4.0 concepts. Bosch and Herrmans speak to CI.N…
When the cycle world talks about efficiency it tends to focus on how aerodynamic a frame is, whether a bike fit would get more out of your pedal power or, these days, maybe squeezing more out of a battery to boost an e-Bike's range.
Efficiency in the cycling business is, admittedly, a slightly less sexy topic on the face of it, but optimising processes on production lines and in the supply chain can mean cutting waste and helping the environment, as well as ensuring a company is well equipped for handling unforeseen obstacles, like Covid-19. Using smart technology to achieve greater efficiency means getting the most out of your workshop with a decent online booking system, saving precious reordering time with a good distributor B2B webshop and – for manufacturers – using connected assembly tools to help produce bikes and components quickly and with the fewest errors possible, cutting down on expensive and brand-damaging recalls.
Industry 4.0 is the broad term covering the use of smart technology to optimise traditional ways of manufacturing, used prolifically in big industries like automotive and – increasingly – in the cycle and sportingmanufacturing worlds. It's little surprise to see global players like Bosch e-Bike Systems are heavily interested and invested in Industry 4.0.
"In our supply chain there are many innovative practices for Industry 4.0 solutions, following a holistic approach in the areas of material flow, production and plant environment," a spokesperson tells CyclingIndustry.News.
"These solutions enable our employees to increase the focus on value added tasks and they have a positive effect on internal process efficiency, product quality and environmental impact reduction.
"Examples of Industry 4.0 solutions within our internal processes are RFID (radio frequency identification), automated and intelligent goods receipt and milk run logistics supply, predictive maintenance, manufacturing execution systems and intelligent energy management."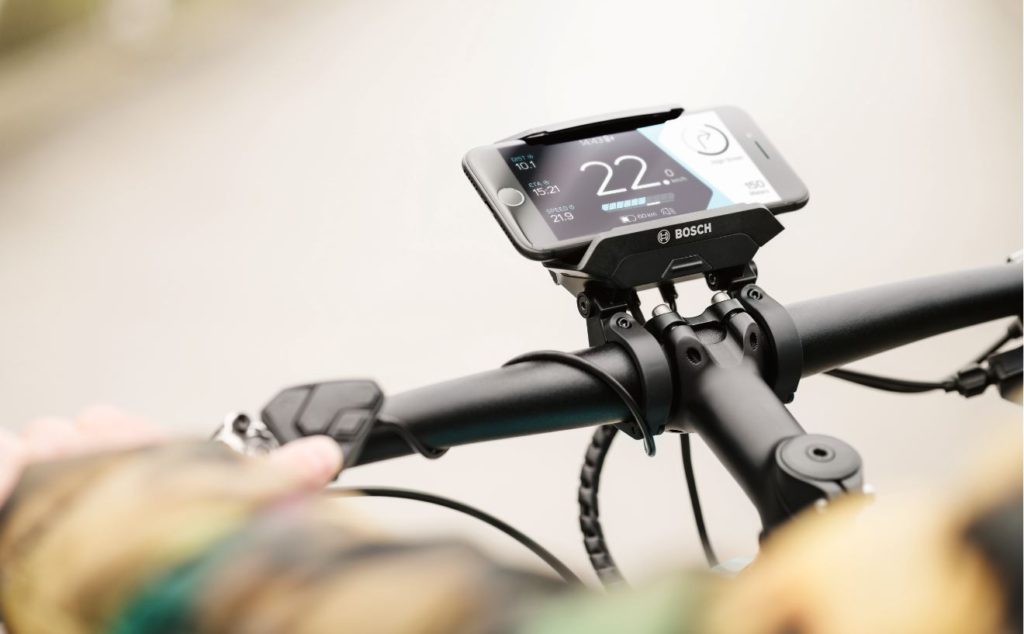 Bosch is far from alone. According to a survey from the World Federation of Sporting Goods Industry (WFSGI), over half of sporting goods manufacturers (60%) are looking to make their production leaner in order to eliminate waste. One such manufacturer is Herrmans, a Finnish firm that has been producing bike components since 1959. Production Manager Andreas Wiklund explained to CI.N that Herrmans is currently introducing more 'smart products' to its factory in Jakobstad.
"We've nothing fancy at the moment [Industry 4.0 measures]. Today we have just standard robots picking parts and putting them into the delivery boxes but we are working on some new fully automated production lines for more complex products."
Introducing more Industry 4.0 measures would help spot production defects before they even get off the production line: "The idea would be to have an automated camera controlling the products before it they are put into the tray for transportation or before assembly. When we are talking about lenses and lightguides the tolerances are usually so small that the human eye will find it difficult to locate defects. Today we do not use Industry 4.0 in any other sense than quality control and manufacturing reliability.
"We are looking into a more complex assembly line that would be fully automated. This line would involve 2,000 plastic mouldings, final assembly and packing at the same machine."
With bicycles and accessories becoming (in some case) more technical, CI.N wonders whether demands on bicycle production lines are becoming greater. "The products we manufacture today except the front and rear lights are not that effected by the new demands. Regarding the lights we see an increase in complexity, especially in the high-end range."
Automation is closely linked with Industry 4.0 and it can be an emotive topic, not least in an industry like cycling that has decades and centuries of tradition. "Humans are naturally afraid of change," explains Wiklund. "But so far the things we have implemented have first been received with a bit of scepticism but later on accepted as a good and working solution that benefits everyone in the production line."
Both Herrmans and Bosch operate in other sectors beyond cycling, perhaps making them particularly suited to importing techniques and concepts to the industry from other markets. With the advent of 5G and a greater awareness of how connected devices, robots and tools can benefit production, and a seeming willingness of sporting manufacturers to explore these possibilities, the cycling industry seems increasingly likely to move further along the Industry 4.0 road to greater efficiency and optimisation, on the bike and in bringing bikes to market.
If you have any comments or want to share some Industry 4.0-based insights or news, email jon@cyclingindustry.news
This article originally appeared in CyclingIndustry.News Trade Journal earlier this year. You can subscribe here.