London Green Cycles: "The cargo bike business is the best in the cycling industry"
"The thing people don't realise without having a go on a cargo bike is the capacity for change they can
bring. There might be 5,000 bicycles in a square mile radius and they'll carry the same number of people. The cargo bike can remove a family car or a delivery van from the road entirely and that's got huge implications for modern cities," says London Green Cycles owner Roman Magula.
Magula's right, of course. Cities where the cargo bike is increasingly present have been shown to function efficiently and save businesses who use the bikes for logistical purposes money.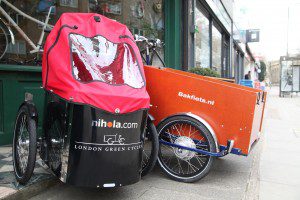 London isn't as yet noted for its cargo bike use and London Green Cycles is perhaps considered the only 100% dedicated specialist serving the niche in a city where the infrastructure isn't yet conducive to widespread usage. (Though there are growing list of specialists serving the UK)
"The problem in London is certainly freedom of movement," says Magula of the infrastructure. "Investment in roadworks is big money, but it seems that cycling developments are too often an afterthought. Cyclists aren't part of the thought process in road design, which is a big barrier to getting around efficiently."
His take on the way cities should function is a breath of fresh air in an otherwise murky environment.
"I often clean 2mm of black dust from the parapet of the shop. The residents opposite never open their windows, not just because of the pollution, but the anti-social noise that motor traffic brings. But people don't seem concerned, it's so normalised!"
London's pollution problem is well documented, with levels of dangerous particles in the air now reaching the same levels as found in cities notorious for smog, such as Beijing. With that in mind we ask whether the typical customer comes in with such a thing in mind.
"They often come in looking to replace the car, yes, but for a variety of reasons. In fact many come in with an entirely unique plan for how they might use the bike, so it's often a learning experience for both parties. That's the beauty of cargo bike design – they offer an unparalleled versatility in their use. Our sales swing back and forth between family purchases and corporate adaptations year by year. The cargo bike works very effectively as a marketing instrument, so lately we've had a lot of businesses testing our custom build limits. Our toughest yet – a build incorporating a grill. We had to design in a 75kg cooking unit and two 6kg gas cyclinders into a bike frame. Though the project was a success, unfortunately I personally mark it down as a failure. The last I heard the bike was used rarely and therefore the design, in this case, has sadly failed in its purpose."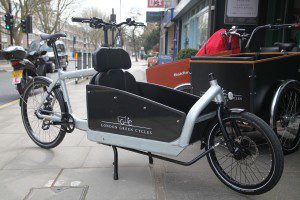 You can tell Magula has a passion for the design side of the cargo market as he guides round the store.
"The Bullitt is perhaps the market's most famous. They simply marketed it brilliantly, so it's often the most talked about. My current favourite is a Pedal Power rig we carry. It's brilliantly considered in its geometry and functionality and handmade in a workshop within the interesting part of Berlin."
Geometry is crucially important in bike design, we all know that. But beyond the obvious weight distribution issues, why else is this pored over by designers?
"A track bike with its short wheelbase is often instantaneous in its steering," explains Magula. "Now consider the length of some cargo bikes. The longer wheelbase means a delay in steering. The magic for many designers in this market is the trial and error in engineering and the things you discover with such varied design. Each design will require differing levels of getting used to. Often first timers can't steer two wheeled designs in a straight line. That's why the designs favoured by the Dutch often win out in test rides. They do take speed out of the equation, but the upright posture allows you to sit higher and more comfortably in the saddle, almost forcing you to take in your environment and enjoy the ride more."
In taking two bikes, including the Bullitt, out on the shop's 'test track' at the rear of the store I immediately understand how try before you buy is a necessity. The Bullitt handles better at speed and rightly so with the cycle courier demographic in mind. Leaning at a deeper angle into turns, but harder to handle at lower speed, the build immediately outlines that cargo bikes are not a one size fits all purchase.
Magula speaks highly of the 13 or so brands carried on his shop floor and even of some that aren't carried.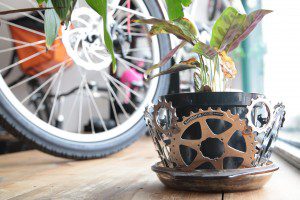 "I try to visit them all. That's the thing about this market, there's a sense of relationship between the retailer and the supplier that you might not get in other segments of the market. The businesses are small and the margins often similar, but you can have faith in your stock and the partners. There's relatively little specialist competition at present, though many are taking an interest finally. I don't object to increased competition in the market, the more promotion the cargo bike receives the better," says Magula.
Now into its fourth year trading, three of which have been at the current Albany Street location, London Green has become embedded in the local community. While we were in store Camden's cycling officer rolled through, while Magula says plenty more community work is taking place to develop both cycling and cargo awareness.
"Along with my former colleague Andrea Casalotti we are launching the Cargo Bike Life non-profit organisation. This will enable underprivileged communities to loan out cargo bikes. We're still working out the storage and rental details, but we expect that this initiative will allow more families to experience how powerful a cargo bike can be in changing family life for the better. We think that once families try the bikes they will be more willing to drop the car. The cargo builds that carry seating certainly allow young kids to better perceive their environment and with enhanced safety benefits to solo cycling."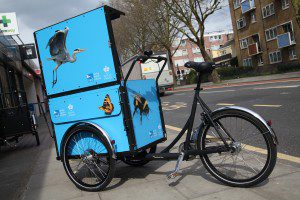 As an independent retailer paying London overheads, London Green has had to be smart when it comes to looking for revenue beyond the sales and workshop. So what else beyond bike sales does the business offer?
"It's not a huge money spinner when you consider the base cost of a few thousand, but we rent bikes out for corporate events at £95 a week. That's something we think pays off in effective marketing. When compared alongside a typical booth tent the cargo bike is met with curiosity by all ages," says Magula. "We've produced custom builds for all sorts of purposes from food production to sound system builds. In fact we're at a bit of a crossroads in deciding whether to invest in the next step. Custom builds require different skillsets and tools to your average framebuild."
Despite relatively low margins and slow burners, the London Green business has however grown each year it has been trading.
"Ten years ago it was perhaps simpler, but today there's never a typical customer, which means it's never dull. There's too many components in the chain for business to really explode," concludes Magula. "I am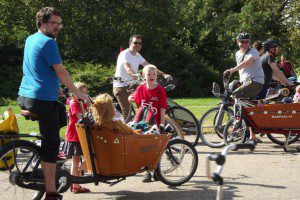 however convinced that this is the best market within the cycling industry to run a business and certainly this kind of bike can bring about the most meaningful change for families and urban areas."
www.londongreencycles.co.uk
Phone: 02079356934
Twitter: @LdnGreenCycles
You'll find the store at: 4 Chester Court, Albany Street, London, NW1 4BU
Related: Study proves businesses can save money with last mile cargobike delivery
In the bicycle business and like our content? You can receive newsletter updates here.