Madison's Partner Store Programme: Why is it worth a bike shop's consideration in the present climate?
Earlier this week Madison made the surprise announcement that it would roll out its long kept under wraps Partner Store Programme to UK bike retail in its entirety following an extensive beta launch. Many questions remain as to exactly what retailers stand to gain by signing up, so CI.N has tracked down Madison CEO Dominic Langan to find out just why it might be worth consideration…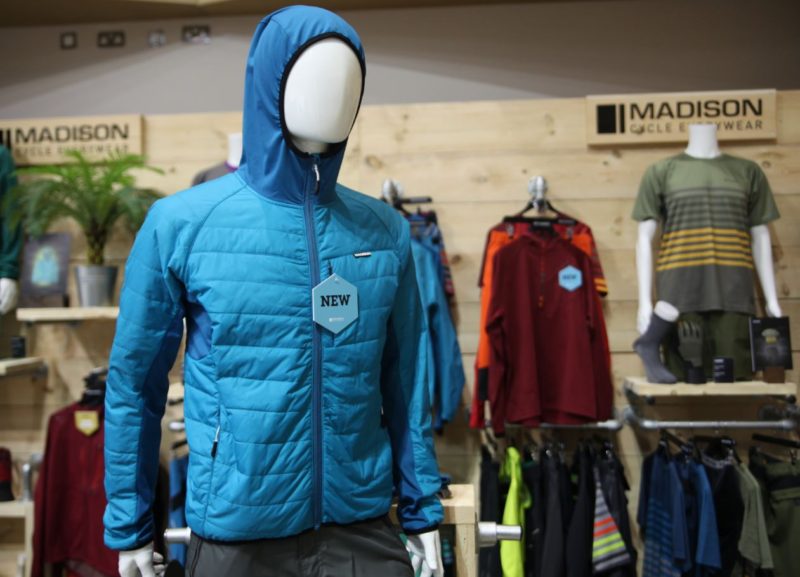 Where did the PRP scheme concept stem from; was it a Madison/Sportline idea or something borrowed from other industries also experiencing change?
The idea came to me after going on the road for a few days visiting stores. I was frustrated by the depth of stock in store and the standards of visual merchandising. We spend a huge amount of time and money promoting brands in magazines, online and at events to make them aspirational and desirable in order to hook the consumer, only for them to not necessarily have the best retail experience when they go into a typical bike store.
Most stores do not sit down each year and determine their ranging. Either because of credit restraints, promotions from suppliers, or availability issues, so retailers end up with a number of brands in store in the same categories and often at the same price points. I often liken a typical bike shop wall of product as looking like someone just fired a blunderbuss of brands and products at a wall. The ranging ends up making no sense to a consumer and only serves to confuse and force them to look online.
There is often a disconnect between the retailer and the supplier which is crazy. I read on trade forums all the time about "what has a distributor ever done for the IBD?" However, it is a two way street. Retailers in the most part don't range plan their stores. They don't commit or forecast requirements so suppliers have to guess and take risk in the hope the retailer may take it. The PRP initiative is a partnership programme. It's not about price, it is about working together for a common goal. It is about being a professional retailer and working together with a supplier who can support them deliver a successful retail strategy but it only works if there is mutual trust.
Need some food for thought on your store layout? Check in with John Style's piece that asks: is your store back to front?
To what extent is PRP a reaction to the changing face of retail and the new pressures on bricks and mortar stores?
What is happening in retail is not sudden and out of the blue, it has been happening for a while now. This is why we started trialling the PRP initiative over two years ago. I don't want a bicycle industry without a strong independent specialist bricks and mortar retailer network. The number of stores which have closed in the USA over the last ten years is incredibly worrying and sad. Madison wants a future with a strong IBD network and we think there is a way we can ensure their survival and ours too, so long as we work together.
What are the key benefits to the bike retailer?
Quite simply it's a closer working relationship with Madison and Sportline, built on mutual trust. We support the retailer with consignment stock, which they only have to pay for when they sell it. We work together on stock planning and sell through, as well as making sure we provide the products the retailer needs for when they need them. This frees up capital for the retailer to invest in other parts of the business such as staff, premises and marketing to further strengthen the retail proposition. In return, Madison gets a well-run retail business properly supporting the brands we either own or represent to ensure the consumer gets the best brand experience possible.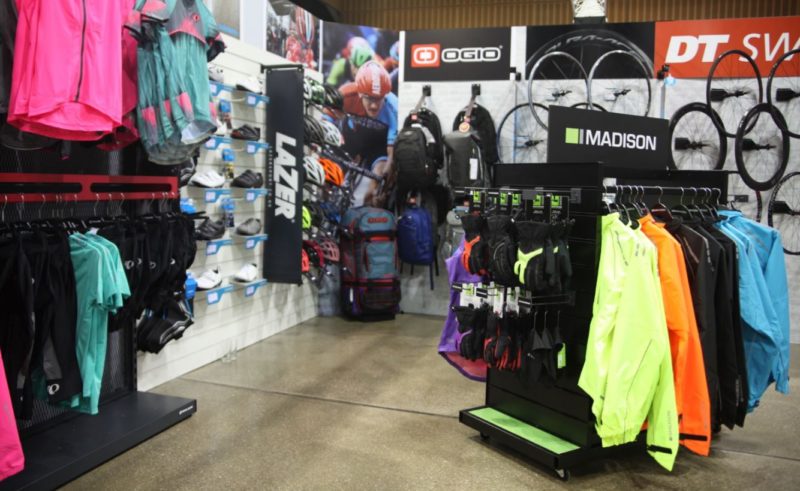 How key is strong merchandising in the scheme and how does the PRP assist the retailer in design and latterly sell through?
Being successful at retail requires a huge amount of hard work and effort. It is not enough to have a store, switch on the lights and open the doors each day. Consumers are becoming more sophisticated and used to shopping in very professional retail outlets. People like to buy from people, but they also like to feel comfortable in the store and valued by the business they are buying from. Failing to do these things simply forces the consumer to a competitor, or to buy online. It's not all about price as many like to think. Yes, it is a factor, but it is just one of many and one that can be overcome. We have proven this so.
Understanding your customer, ranging carefully to meet their needs and displaying stock in depth in a meaningful and logical manner is crucial to closing a sale. The store staff are also the key to success. They need to be knowledgeable, personable and capable of giving the customer a positive experience. PRP allows the retailer to use the cash otherwise tied up in stock to invest in the store environment and the staff to give the consumer the best in store experience possible. We have proven that good stocks of a well thought out localised range, combined with good staff, results in a sales uplift.
You mention that the PRP has seen retailers up sales of accessories by up to 50%. In this case, what has the retailer done to drive that progress?
In the main they have reviewed their range planning, as well as taken a step back to take a critical view of their businesses.
We are encouraging them to look at what is working well for them and what is not. If something is not working when they think it should be, we are encouraging them to look into why that it is the case and addressing the issues. This can be simply de-cluttering the stores, adding better visual merchandising, sometimes through the use of better fittings and sometimes just using our help and guidance how to do things better.
Good stock availability helps. For example, holding Shimano in stock in key areas, rather than ordering if a customer asks, has resulted in some extremely positive sales uplifts. Convenience and local technical support from a retailer has a value but only works if you have the product in stock when the customer actually wants it.
PRP has been in its trial phase for a while now, but kept under wraps for the most part. Was the lack of promotion just to ensure the concept worked for all parties?
It wasn't a massive secret, but it was a trial and like all trials you don't always know what the outcome would be so we didn't publicise it. We have learned a huge amount and we've had to make many amendments and refinements to ensure it worked properly for all parties. We think we now have it pretty well dialled hence us opening it up.
If a store signs up are they encouraged to carry primarily Madison/Sportline brands?
There is a full legal agreement between Madison and the retailer with an agreed set of terms, expectations and commitments from both sides. Of course the agreement revolves around the brands carried by Madison and Sportline as with regards to brands, this is the only area I can support the retailer with. 
Now over 100 strong, what's the ambition for the PRP? Is it actively driven, or just for retailers who need help?
PRP is not a life-ring for failing businesses and we undergo a due diligence process before approving a retailer for PRP. PRP is there to support retailers who are held back primarily by cash restraints. Good businesses who have drive, ambition and great vision for their businesses but that need that extra help and support to make it happen are the people we are looking to support with this partner initiative.
We have a whole support team dedicated to the PRP programme. We have huge ambitions for PRP and we plan to launch a website to support them, as well as non PRP Madison/Sportline customers, of course. The new website will be called Freewheel and is designed to drive consumers to the retailers and give them access to the products they want, but locally and backed up with the technical support of their local independent specialist bicycle retailer. The scope of services we will be able to offer through the website for the retailers is huge and very exciting. The online proposition will not be price driven but driven by localised service, support, convenience and loyalty.
Has Madison/Sportline ever considered own brand, destination or showroom stores of its own to raise brand profiles?
We have thought about it and historically we have done it but we are not interested in that option as a route to market. We are not retailers. We believe in the strength of a local independent bike store. They know their customer, they have built trust in their community and they have the technical know-how. We want to support that and help them every way we can to build upon it and compete both locally and online.
Are there any criteria or minimum terms to be met to become a PRP? Can retailers opt out after a certain period?
Yes there are. Primarily they relate to stock integrity as we are placing a significant value of stock in PRP stores and we need to ensure there is good stock management and reporting protocols in place. The initial sign up time is for two years following which a contract may be renewed or opted out of.
With more shops than ever in difficulty, are there any specific offers you can make shops considering an exit?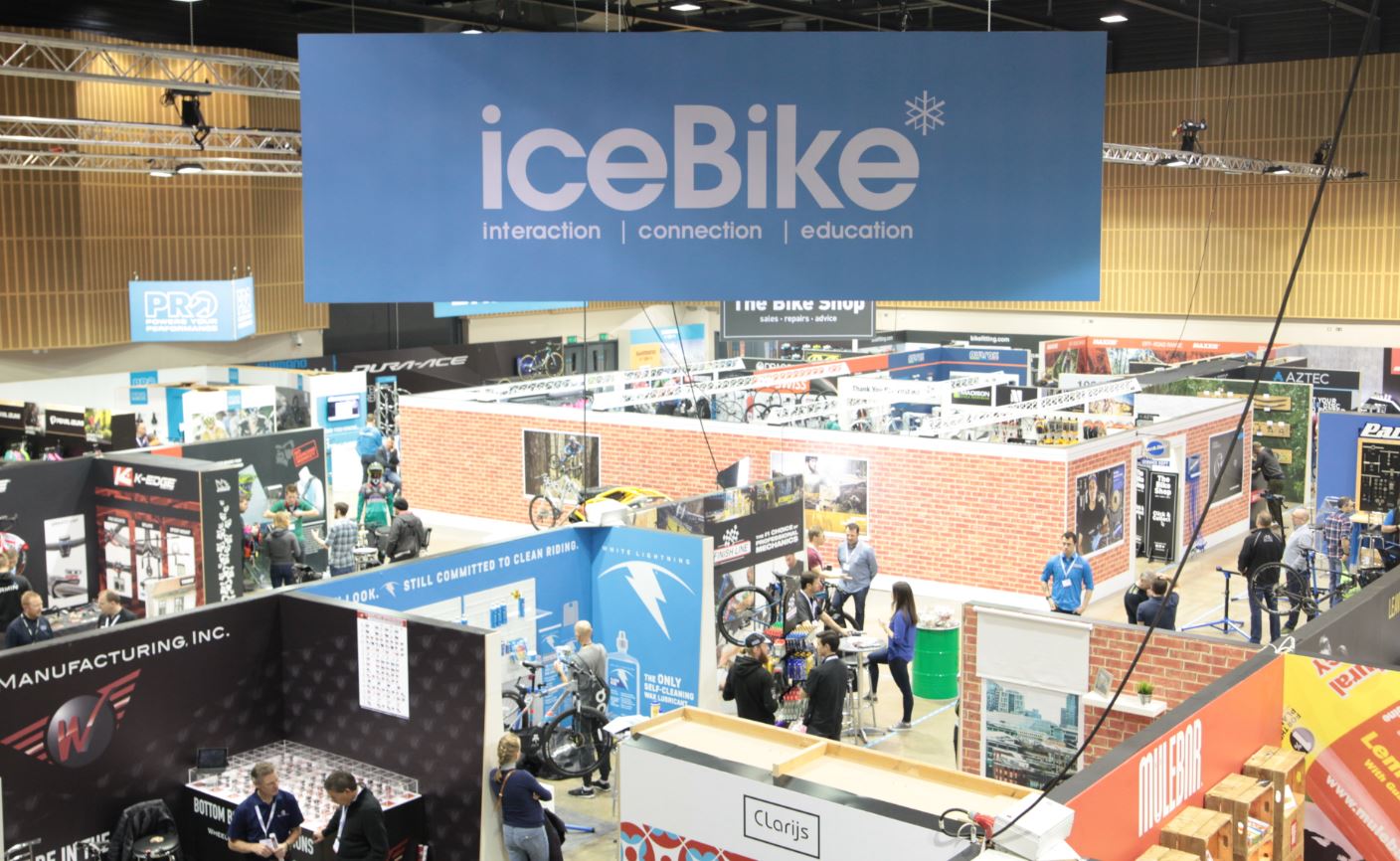 We are not interested in taking on any stores directly. If stores are thinking of closing, it is sad, but it is a commercial decision for the business owner. We will, as now, work closely with them and do all we can to assist in an orderly closure.
How can stores become involved in the PRP if they choose?
The best place to start is to come a see us at iceBike* in February, for which you can sign up here. We have created a specific business zone at the show this year where we can go through the PRP programme detail face to face.
Stores can also get a discussion started via email here.